A Quick Refresher on Taylor Swift's Complete Dating History to Distract You from Doomscrolling
Taylor Swift gets a lot of extremely unfair sh*t for dating celebrities and then writing songs about them. But without Taylor's openness and honesty about her romantic life, we wouldn't have some of her best lyrical work—including her collaboration with a certain someone who goes by the name William Bowery. On that note, here's a look back at everyone who's been lucky enough to date Tay (lol, hi Tom Hiddleston, nice to see you again).
JOE JONAS: JULY 2008-OCTOBER 2008
Joe and Taylor barely dated, yet their breakup was somehow the most dramatic thing ever. Probably because he rudely ended things over the phone—which Taylor confirmed during a November 2008 appearance on Ellen, saying:
Taylor later released a Joe-inspired song called "Forever and Always" which includes the pretty pointed lyrics "Was I out of line? / Did I say something way too honest, made you run and hide / Like a scared little boy."
While Taylor has since apologized for putting Joe on blast, just a fun reminder that in 2009 she mentioned their breakup in her Saturday Night Live opening monologue:
What is having chill, even?
LUCAS TILL: MARCH 2009-APRIL 2009
Kay, so Lucas played the guy in Taylor's "You Belong with Me" video and apparently they dated for a minute. At least according to Lucas, who told MTV:
TAYLOR LAUTNER: FALL 2009
Taylor and Taylor (help) were an item while filming Valentine's Day, where they shared several iconic scenes together:
She allegedly wrote "Back to December" about him, and when asked what he thought of the song in 2016, Twilight Taylor mused, "That's what she does."
Wow, the implied rudeness is enough for me to join Team Edward FOR LIFE.
JOHN MAYER: DECEMBER 2009-FEBRUARY 2010
Who can forget this relationship? NO ONE, THAT'S WHO. Taylor and John Mayer dated for just a few months, and their breakup was a massive mess thanks to John's terrible reaction to Taylor writing "Dear John" about him.
John complained to Rolling Stone in a highly whiney interview, saying "I never got an e-mail. I never got a phone call. I was really caught off-guard, and it really humiliated me at a time when I'd already been dressed down. I mean, how would you feel if, at the lowest you've ever been, someone kicked you even lower?"
He added, "I will say as a songwriter that I think it's kind of cheap songwriting. I know she's the biggest thing in the world, and I'm not trying to sink anybody's ship, but I think it's abusing your talent to rub your hands together and go, 'Wait till he gets a load of this!' That's bullshit."
@ John, you need to calm down.
JAKE GYLLENHAAL: OCTOBER 2010-JANUARY 2011
Us Weekly broke the news of these two dating in a December 2010 cover story, blessing the universe with these photos: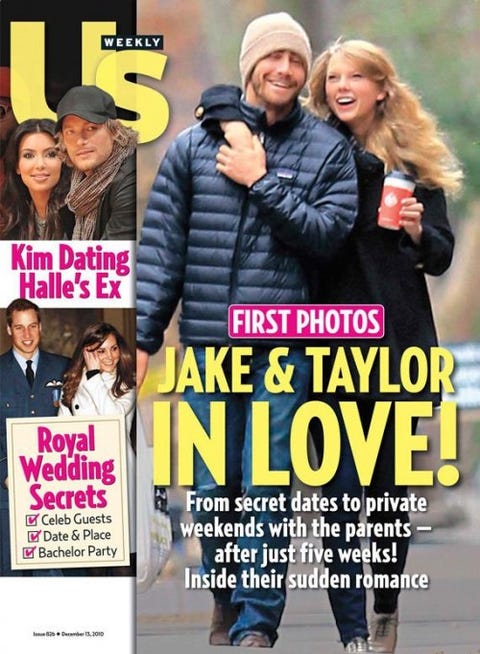 Fast-forward to January and the magazine reported that Jake broke up with Taylor completely randomly. "It was a 180-degree turn and so out of the blue," a source said. "Jake just told her it wasn't working out…Taylor is really upset and hurt. She doesn't know what she did for him to put a stop to it. She feels really burned by him."
A bunch of songs on Red were allegedly inspired by Jake and he was completely cool with them. Taylor didn't exactly name names, but she did tell New York magazine that the man in question told her…
CONNOR KENNEDY: JULY 2012-OCTOBER 2012
Good ol' Us Weekly also broke the news of Connor and Taylor's relationship after they were photographed together in Hyannisport, Massachusetts, and an onlooker revealed that "Connor put his arm around Taylor and they kissed behind the boat shed."
The good news is that the split was "totally amicable, and down to the distance between them," according to E!, but I'm personally still bummed Taylor didn't become a casual Kennedy.
HARRY STYLES: NOVEMBER 2012-JANUARY 2013
QQ: how much coffee have you had? Because the Harry Styles section of this timeline is best described as EXHAUSTING despite spanning just three months. Rumors about Haylor started flying around after Tay was spotted wearing Harry's silver airplane necklace—which she also wore in the video for her Harry Styles breakup song "Out of the Woods." See?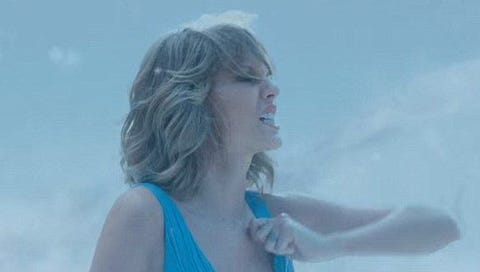 In December, these two "went public" when they were photographed strolling around the Central Park Zoo—but after just a few months of dating and one vacation where Taylor was seen sitting alone on a boat, Haylor broke up. Things were pretty awkward henceforth, especially when Taylor dissed Harry during her 2013 Grammys performance by using an English accent.
CALVIN HARRIS: FEBRUARY 2015-MAY 2016
Taylor and Calvin met at the Elle Style Awards in February, and good news: there is photo evidence.
https://www.instagram.com/p/BCOesElJyXk/?utm_source=ig_embed&utm_campaign=loading
A post shared by david corbell – songwriter (@david.makes.music)
A month later they were spotted in matching outfits at a Whole Foods in Nashville, the setting of all love stories.
Source: Read Full Article