Attention: JoJo Siwa and Her Girlfriend Kylie Prew Are Back Together 🥺❤️
JoJo Siwa is living her best life now that she is out and proud! A year ago, JoJo hopped on Instagram and revealed she is a member of the LGBTQIA+ community. Now, the famous dancer and singer is sharing even more of herself with fans by posting on-again girlfriend Kylie Prew to her Instagram seven months after their split, gushing about their relationship. Here's what you need to know about JoJo and Kylie!
JoJo and Kylie first started dating in January 2021
In February 2021, JoJo shared a pic of Kylie along with a message so freakin' cute your heart will melt. JoJo wrote:
https://www.instagram.com/p/CLCm2cknaX6/?utm_source=ig_embed&utm_campaign=loading
A post shared by JoJo Siwa (@itsjojosiwa)
Fun fact: Kylie also posted pictures of their fun holiday endeavors to her Instagram feed on Christmas Day 2020, a month before JoJo made her big announcement.
https://www.instagram.com/p/CJOpFsusPFp/?utm_source=ig_embed&utm_campaign=loading
A post shared by ky☀︎ (@p._kylie_.p)
They initially met on a cruise ship
JoJo covered People magazine and gave an interview all about how she's doing since coming out, and of course that included intel on her and Kylie's relationship—including how they met on a cruise ship!
"I told her my whole spiel that I tell everyone when they ask me my life story," JoJo recalled. "She goes, 'I could have Googled that. I want to know your life story. You just told me about your career. I want to know about you.' And I was like, No one's ever asked me that before."
They're in a long distance relationship
LDR's are tough to deal with, but Jojo revealed that she and Kylie are in one after she shared a tearful snap to her Instagram Stories in April 2021. "I. Don't. Like. Saying. Goodbye," she captioned the photo.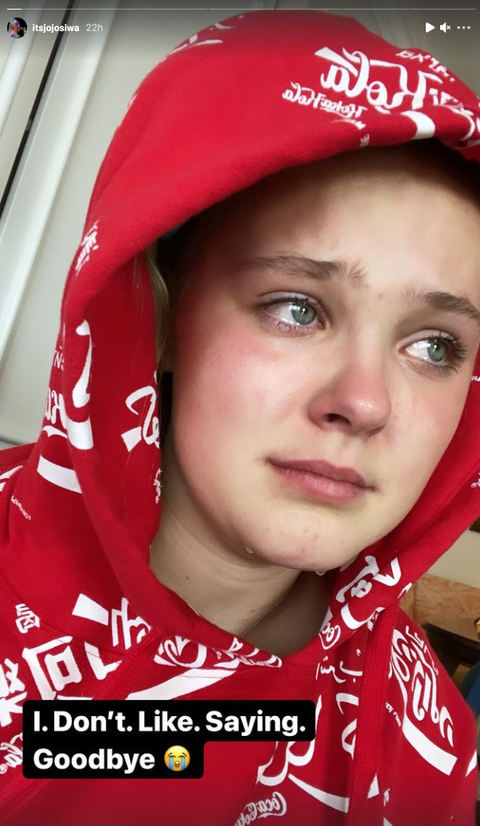 "Nothing happened, we're just long-distance, and we had to say goodbye today," JoJo explained in a video shortly after her initial post. "I'm sad. It happens every time we say goodbye, and I wish we didn't have to, ever. But we do, and it just makes when we say hi to each other even more special."
"I'm going to go keep doing this [crying] for a lot longer," she continued. "But I just wanted to come on here because I knew you all were panicking for a second. But no need to panic, [it's just] the reality of long-distance. It's very, very, very hard, but it's the most worth it ever."
Even though coming out as a public figure was scary for JoJo, Kylie was there for her
During JoJo's appearance on The Tonight Show With Jimmy Fallon, she said coming out was a scary experience at first. "I was like, 'Technically, that was a really big risk that I took posting that,'" she told Jimmy, referring to her coming out video on IG. "But if I lost everything that I've created because of being myself and because of loving who I want to love, I don't want it…if I can't love who I want to love. That's one of the most important things to me."
In her interview, JoJo added that her girlfriend Kylie is "the most amazing, wonderful, perfect, most beautiful girlfriend in the whole world."
Kylie and JoJo briefly broke up
JoJo and Kylie broke up in October 2021 after just a few months of dating. Their split initially took place while JoJo was filming Dancing With the Stars, and a source confirmed the news Us Weekly at the time, saying: "JoJo and Kylie did break up. Some cast are aware about the breakup. Kylie stopped attending the show, so she hasn't been seen in the audience since they split. JoJo is focusing on the competition and giving her all. While it's a rough time for her, she's handling DWTS very professionally and still putting on a smile and giving 100 percent. She doesn't want to let down her fans."
But now they seem to be doing better than ever!
Every couple has its fair share of ups and downs, but after not being together for seven months, JoJo and Kylie reconciled! And they announced it with super sweet pics that were taken at the Happiest Place on Earth™️ with the caption, "If you love something let it go, if it comes back….🤍♾."
https://www.instagram.com/p/CdMC_BTJM-S/?utm_source=ig_embed&utm_campaign=loading
A post shared by JoJo Siwa (@itsjojosiwa)
Eagle-eyed fans were quick to notice that just four days prior, JoJo's dad uploaded this pic of himself and the couple to Instagram:
https://www.instagram.com/p/CdCElZhrEGt/?utm_source=ig_embed&utm_campaign=loading
A post shared by @itstomsiwa
For her part, Kylie took to her own IG to post hew own Disneyland pics:
https://www.instagram.com/p/CdO8z5oMSWK/?utm_source=ig_embed&utm_campaign=loading
A post shared by ky☀︎ (@p._kylie_.p)
In the most recent pic of the couple, it was JoJo who shared yet another memory of the "magical" theme-park trip (this time, in the form of a developed film photograph of the two of them kissing). How cute are they? ❤️
https://www.instagram.com/p/CdWQIA_rexK/?utm_source=ig_embed&utm_campaign=loading
A post shared by JoJo Siwa (@itsjojosiwa)
Source: Read Full Article