Christina Haack Likens Media to 'Tornado' While Slamming Critics of Her New Relationship
Just hours before calling out the critics, the 'Flip or Flop' star treats her Instagram followers to some sweet pictures of her and Joshua Hall from their tropical vacation.
AceShowbiz -Christina Haack (previously Christina El Moussa) has had enough with people minding her personal life. When calling out trolls criticizing her new relationship with Joshua Hall, the "Flip or Flop" star put the blame on the media and likened it to "tornado."
On Thursday, July 8, the 38-year-old shared on Instagram a photo of her and her new man from their tropical vacation. She kicked off her caption, "I met Josh when I wasn't in a state of fear or fight-or-flight… I had taken time off social, hired a spiritual coach and smoked a Bufo toad (which basically reset my brain and kicked out years of anxiety in 15 mins)."
"When we met this past spring, the synchronicities hit us so hard and fast they were impossible to ignore. I felt immediately crazy protective over him and wanted to keep him for myself and get to know each other before the tornado (media attention) hit," she added. "We've had a few solid months of just us getting to know each other and I've loved every second of it. So called 'fame' provides so many things but it comes with a cost. They build you up then tear you down."
"When I saw a camera behind us at the airport my heart started beating out of my chest and my hands shaking – And not for me but for him. I know they dig and dig and I didn't ever want to see him stress over the media stalking him and his family," the mother of three went on. "Which obviously has already begun to a uncomfortable degree. False narratives being thrown around left and right."
Christina also made it clear that he and Josh will not be "looking at all the nonsense online." She further explained, "I may be a bit crazy and im definitely not perfect but I will never live my life based on other peoples judgments or opinions. We pride ourselves on never judging others and always wanting others to be happy and we wish others would have the same respect."
"Josh doesn't have social media, but I want to thank him for whisking me away on a romantic tropical vacation he planned entirely on his own," the HGTV personality concluded her message. "So yes 'another relationship' and guess what. I'm 38 -I'll do what I want."
Christina and Josh's relationship became public after they were caught on camera at the Los Angeles International Airport together on July 6. The new couple was filmed walking hand-in-hand as they made their entrance to the airport.
On Thursday, Christina finally treated fans to some pictures of her and her new beau from their Mexican trip. The snaps in question, which were shared on her Instagram Story, saw the two smiling to the camera as they sat next to each other at their resort.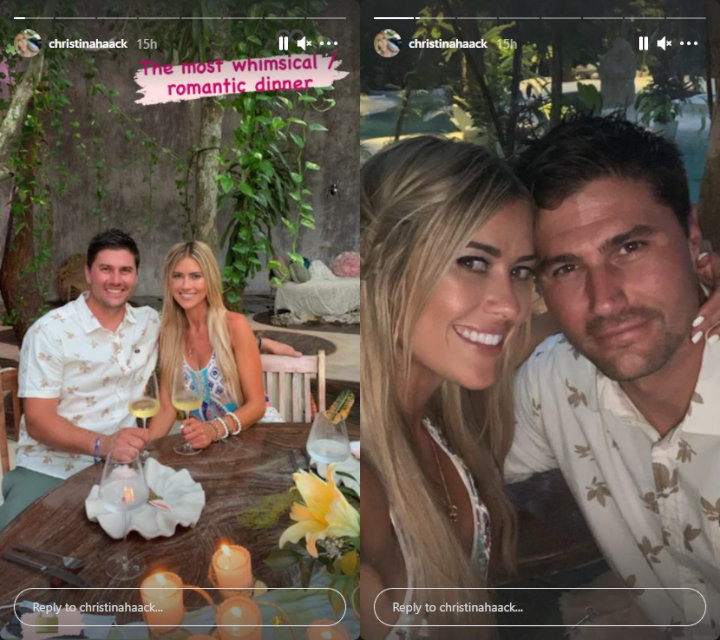 Christina Haack shared sweet pictures of her and boyfriend Joshua Hall.
The new relationship came after Christina split from ex-husband Ant Anstead, who is now reportedly dating "Bridget Jones's Baby" actress Renee Zellweger. As for Christina, she was previously married to Tarek El Moussa.
Source: Read Full Article