Erika Jayne Gets Candid On Dramatic Season Of RHOBH
Erika Jayne's legal woes with ex-husband Tom Girardi have been the main focus of Season 11 of "The Real Housewives of Beverly Hills," and now she's getting real about the drama with fans.
Erika participated in a rare Twitter Q&A session with fans and her answers about the legal situation she's embroiled in did not disappoint. When one fan asked if she had any good times filming this season, she replied, "Ummmm…no." Another asked about Erika's favorite makeup product, as fans know her glam team is legendary. Erika responded with "waterproof mascara?" and added two laughing-crying emojis, essentially poking fun at herself for a few tear-stained faces during her confessionals throughout the season. One fan wondered if she would make a "Pretty Mess" part two, hinting at a sequel to her 2018 book "Pretty Mess." Erika responded, "Well Im currently living it," along with another two laughing-crying emojis. At least she has a sense of humor about her ordeal!
Despite her sunny facade, it seems new rumors about Erika's legal troubles are circulating every day. Keep reading for more details.
Erika Jayne's legal troubles keep getting worse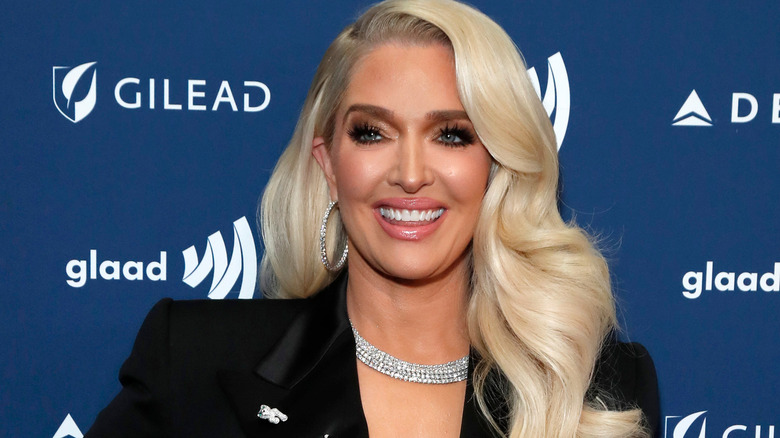 Tom Girardi, a lawyer and Erika Jayne's estranged husband, allegedly embezzled money that his clients, plane crash victims, were owed by the airline. While Erika's "RHOBH" co-stars confronted Erika about the situation — asking point-blank if she knew this was all happening — she firmly denied it. 
But now, lawyers in charge of the bankruptcy of Girardi Keese (Tom's law firm) discovered that Erika Jayne's company allegedly shelled out more than $25 million on her American Express bill, assistants and a glam team, according to Page Six. The letter alleged that money was transferred from Tom's law firm to EJ Global LLC. In addition, the letter also states that Erika is the sole owner of that company. "Mrs. Girardi signed under penalty of perjury the return and personally approved the charges allocated to the breakdown," the letter reads. Erika's lawyer did not seem to agree and claimed "no money whatsoever went to Erika" and she did not have a managerial role at Tom's company.
The lawyers uncovered some shocking findings — if true. "From 2008 to 2020, $14,259,012.84 was charged to an American Express card," the outlet claimed. Allegedly, another $1.5 million was spent at an agency dedicated to dancers and choreography and there was another $1.4 million reportedly spent on "unknown purchases." It appears Erika's company purportedly also paid various public relations firms. But her lawyer is putting up a fight, referring to the findings as "malicious" and a "reckless publicity grab."
Source: Read Full Article