Fans Have Discovered a Throwback of Sarah Jessica Parker and Cynthia Nixon 16 Years Before They Starred in SATC
Sarah Jessica Parker and Cynthia Nixon may have just reunited for the SATC reboot, And Just Like That, but did you know they actually starred together in a film back in the eighties?
Yep, it turns out they both starred in the made-for-television film My Body, My Child in 1982. We'll be the first to admit that we had ~ no idea ~ but it turns out there's plenty of cute pics (plus the movie itself) to prove it.
An Instagram account (@velvetcoke) shared a snap of SJP and Cynthia looking very young, with the caption, "Did you know? Before they became Carrie and Miranda, Sarah Jessica Parker and Cynthia Nixon played sisters in the "My Body, My Child" TV movie."
Cue fans going absolutely bananas. One person commented, "This is incredible!" while another added, "I didn't know that but I love it," another wrote, "40 years later, still working side-by-side."
You can see the cute snap here:
https://www.instagram.com/p/CX_1X6XIEjH/?utm_source=ig_embed&utm_campaign=loading
A post shared by Velvey (@velvetcoke)
According to IMDb, the film follows the story of a woman who "must choose between having an abortion or giving birth to a deformed child." It was released in 1982, a whopping 16 years before SJP and Cynthia took on their now-iconic roles of Carrie Bradshaw and Miranda Hobbes in HBO's Sex And The City.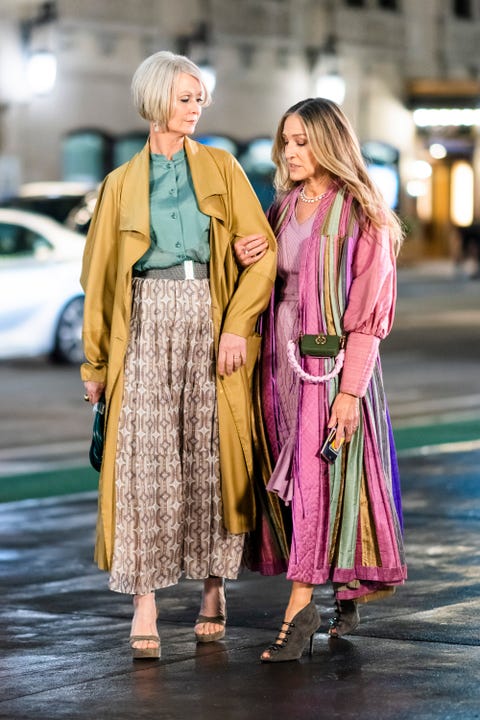 It comes as Patricia Field, SATC's costume designer, appeared to throw shade at Cynthia for her fashion choices back in the day. Speaking to The Sunday Times, Patricia was asked what she thought about the styling on And Just Like That, which is being led by her former assistant Molly Rogers.
She responded, "I like some of it, I don't like all of it, but I know what she's dealing with," before adding, "I know those gals! Sarah Jessica [Parker] thinks she knows everything – and she does. Cynthia Nixon thinks she knows everything – and she doesn't! Even today, when I speak with Molly, it's about Cynthia. I say, 'I remember what you are going through."
Ouch.
Source: Read Full Article