Hoda Kotb reveals 'I wanna be set up' by Today co-host Jenna Bush Hager
Hoda Kotb is ready for love! The much-loved TV personality broke up with her longtime partner, Joel Schiffman, earlier this year but she's now bravely jumping back onto the dating bandwagon.
The mom-of-two chatted with her co-host, Jenna Bush Hager, on their show Hoda & Jenna and revealed not only is she looking for someone special – she'll let her colleague set her up.
MORE: Inside Hoda Kotb's beautiful homes where she lives with her daughters
In the clip, which was later shared on Instagram, Hoda chatted about how great Jenna was at matchmaking.
WATCH: Hoda Kotb's family life – all we know
A stunned Jenna then turned around and said: "I want to set a person in pink up," as Hoda looked down at her own rose-colored suit.
It was then that Hoda added a twist and confessed: "I really, I wanna be set up."
MORE: Today's Hoda Kotb's difficult career goodbye revealed
MORE: Savannah Guthrie shows support for co-star Hoda Kotb in the sweetest way
Jenna didn't miss a beat and took her for her word: "That is a challenge that I'm gonna go for," she added before admitting she had chills of excitement.
A post shared by TODAY with Hoda & Jenna (@hodaandjenna)
Hoda admits she's ready for Jenna to set her up on a date
Hoda said she would never allow anyone who wasn't close to her to take on this challenge and added: "You know me and I trust you."
Fans adored their interaction and are rooting for Hoda to find love again. They commented: "Love this. Find her someone wonderful Jenna," wrote one, while another added: "YES!!! I have chills too. GO JBH," and a third remarked: "Good luck setting Hoda up. She needs a special man that loves children."
MORE: Savannah Guthrie pokes fun at herself as she shares upset over Roger Federer retirement
MORE: Savannah Guthrie departs from Today studio on royal assignment
Hoda was with Joel for eight years before they parted ways, but they both continue to co-parent their children, Hayley and Hope.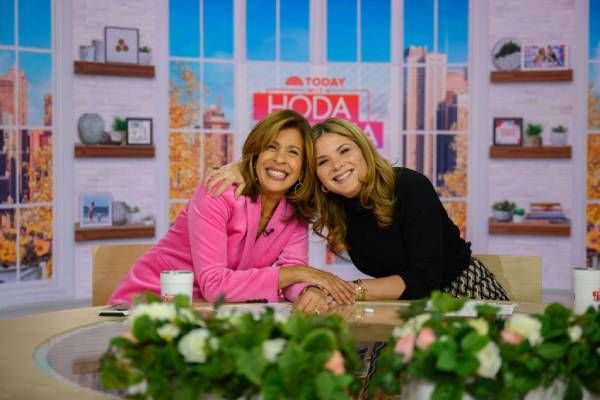 Hoda and Jenna are friends and co-hosts
She has thanked him for helping her make the decision to adopt her daughters.
She told Good Housekeeping magazine: "I don't think I would have adopted if it hadn't been for Joel. Having a stable relationship in that moment was really important.
"Once that fell into place, it didn't seem as scary to me. I ask read about Sandra Bullock and the children she adopted. I'd always felt a weird connection to her, though I only knew her from the show.
"But she was my age, and I just thought, 'Wow, she's really cool.' I called her, and we talked.
"She said adopting was the most important thing she'd ever done. When I had made the decision to adopt and was on the plane to pick up my [first] daughter, I called her again. She said, 'It's about to begin!' Sometimes all you need is a model before [you realize] I can handle it."
Read more HELLO! US stories here
Source: Read Full Article