Jay-Z's Backstage Demands Include 'Good Quality' PB&J and Matching End Tables
Jay-Z might be known to many as the husband of Beyoncé Knowles, but he is a bestselling artist in his own right. Year after year, Jay-Z proves that he is a force to be reckoned with in the world of business as well as music.
He has twenty-two Grammy Awards to his name and owns multiple businesses — and his net worth continues to climb. In spite of his incredible successes, Jay-Z has remained humble. In fact, his list of backstage demands is surprisingly normal, especially when compared to other high-caliber artists. 
Jay-Z is a hugely successful artist and businessman
Jay-Z first burst onto the music scene in the mid-nineties, after founding his own record label. He quickly earned renown as a rapper, all while building his portfolio by collaborating with other artists, including Kanye West and Sean Combs.
By the early 2000s, Jay-Z had become one of the biggest stars in the music industry. His romance with Beyoncé Knowles made headlines, but Jay-Z remained dedicated to keeping his private life out of the spotlight and has only opened up about his relationship on a few rare occasions.
Jay-Z owns several lucrative businesses, including the clothing retailer Rocawear, and has a vested interest in a few sports teams. Through it all, he has continued to make music and has toured with his wife on several occasions, selling out arenas and getting rave reviews from critics and fans alike.
It seems likely that Jay-Z will remain one of the world's most popular musicians for the next decade and beyond. 
Jay-Z's backstage demands
Most artists, especially when they make it to the big time, have a list of backstage requirements known as their "rider." Jay-Z is no exception and has a pretty lengthy list of demands.
However, his list of musts is significantly less outrageous than many of his celebrity counterparts. His list includes items such as two 48-count cases of Fiji water (half of them cold and the other half at room temperature), six cans of Red Bull, six bottles of Vitamin water, one love seat, one large couch, and two matching end tables.
Jay-Z's rider also includes a jar of "good-quality" peanut butter and a jar of "good quality" grape jelly — presumably, so the star can make his own PB&J sandwiches. Still, his list doesn't include anything about bread to make the sandwiches, so it is possible that he sends someone out to get local bread, or even brings his own with him.
Jay-Z also wants the room to be set at 72 degrees, and to have one hot tea service for four people, including a hot water kettle and both ceramic and disposable cups.
The most ridiculous artist backstage requirements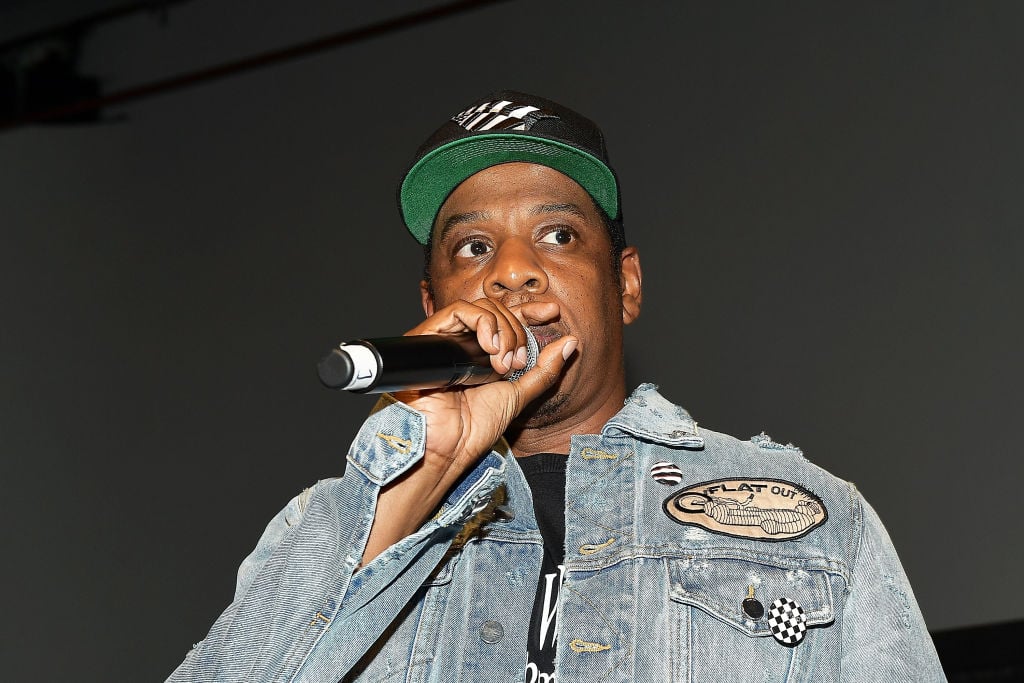 While most of Jay-Z's demands make sense, other artists' riders are truly baffling. Reportedly, when Kanye West travels with his daughter, North West, he asks for a personal chef to be available to make the child's favorite organic meals, and to have a special bed in her room valued at around $8,000.
Paul McCartney, one of the founding members of the Beatles, has a fascinating backstage request. Reportedly, the star has asked for six leafy trees to be artfully placed in his dressing room, as well as multiple flower arrangements, all set up to resemble a forest setting. However, the environmentally-conscious star has also prohibited animal products from his dressing room.
When compared to his fellow performers, Jay-Z does truly seem to be much more grounded — at least when it comes to his list of backstage requirements. Stay tuned to Showbiz Cheat Sheet for all the latest entertainment news!
Source: Read Full Article