Kobe Bryant's Widow Vanessa Celebrates Winning $16M Crash Photo Lawsuit
The 40-year-old philanthropist declares it's all for her late husband Kobe and daughter Gigi after she's awarded millions in the privacy lawsuit against Los Angeles County.
AceShowbiz -Vanessa Bryant's tears and pain amid her fight for justice are finally paid off. The widow of Kobe Bryant has scored a major victory in her invasion of privacy lawsuit against Los Angeles County.
On Wednesday, August 24, after two weeks of trial, a jury of ten found that Los Angeles authorities, who were on the scene of the deadly helicopter crash, unlawfully took photos of the remains and site. They decided that Vanessa has suffered and will continue to suffer severe emotional distress as a result of the photos that she fears will someday surface publicly.
After less than a day of deliberation, the jury awarded Vanessa $16 million. She was joined in the civil suit by Chris Chester, who lost his wife Sarah and daughter Payton in the accident. Chris was awarded $15 million.
Vanessa broke down in tears as the verdict was announced, Daily Mail reported. She was reportedly comforted by her daughter Natalia, who accompanied her to the court. A Law and Crime reporter said Vanessa turned in her seat to look at the jury and mouthed the words "thank you." She then hugged her lead lawyer, Luis Li.
Vanessa also received support from family friend Sydney Leroux, a soccer player, as she walked into the court on Wednesday morning. They later walked hand-in-hand as they left the court following the verdict, during which Vanessa remained mum and looked somber, while her lawyer flashed a smile as they were surrounded by paparazzi.
Over on Instagram, Vanessa celebrated winning the lawsuit by sharing a throwback picture of her with Kobe and Gigi. "All for you! I love you! JUSTICE for Kobe and Gigi!" she wrote in the caption.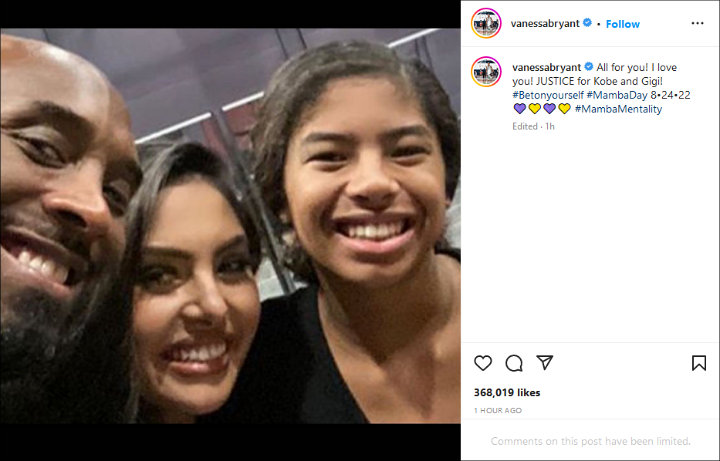 Vanessa Bryant celebrated winning $16 million lawsuit against L.A. County.
Reacting to the verdict, County attorney Mira Hashmall, a lead outside counsel for L.A. County, said, "While we disagree with the jury's findings as to the County's liability, we believe the monetary award shows that jurors didn't believe the evidence supported the Plaintiffs' request of $75 million for emotional distress. We will be discussing next steps with our client. Meanwhile, we hope the Bryant and Chester families continue to heal from their tragic loss."
Source: Read Full Article