The Truth About Blake Lively's Dating History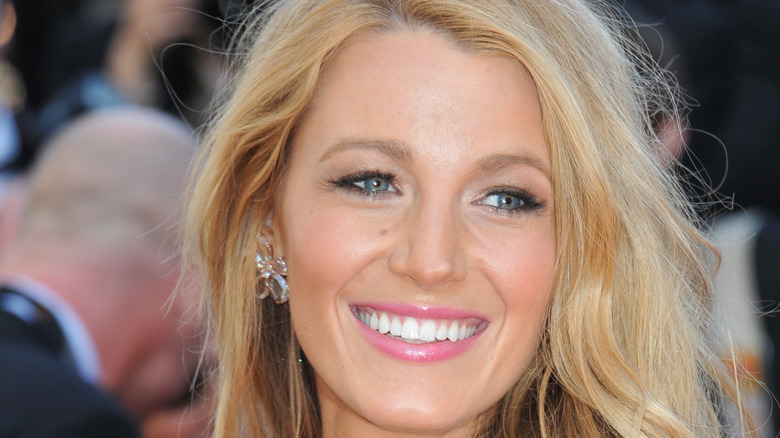 Blake Lively is arguably one of the most famous actresses of her generation, thanks to her breakout role in "Sisterhood of the Traveling Pants" opposite America Ferrera, Amber Tambyln, and Alexis Bledel (via IMDb). Lively truly solidified her status in the entertainment business after she landed the role of Serena van der Woodsen on the wildly popular teen drama, "Gossip Girl," in 2007, going on to star in buzzworthy films like "Age of Adaline," "Green Lantern," "Hick," "The Shallows," and "A Simple Favor" opposite "Pitch Perfect" star Anna Kendrick.
In addition to her impressive resume as an actress, Lively took a note from fellow A-lister Gwyneth Paltrow and started her own lifestyle blog, Preserve, in 2014. However, Lively herself shut down the site just one year later, telling Vogue at the time that she and her team had "launched the site before it was ready, and it never caught up to its original mission; it's not making a difference in people's lives, whether superficially or in a meaningful way."
While it's clear that Lively has a long list of career milestones, the list of guys she's dated in Hollywood is actually the opposite, as the "Gossip Girl" star has only been in a relationship with a handful of dudes, all of which have one thing in common: they're all actors. Read on for everything to know about Lively's short, star-studded dating history.
Blake Lively dated two of her co-stars from 2004-2007 and 2008-2010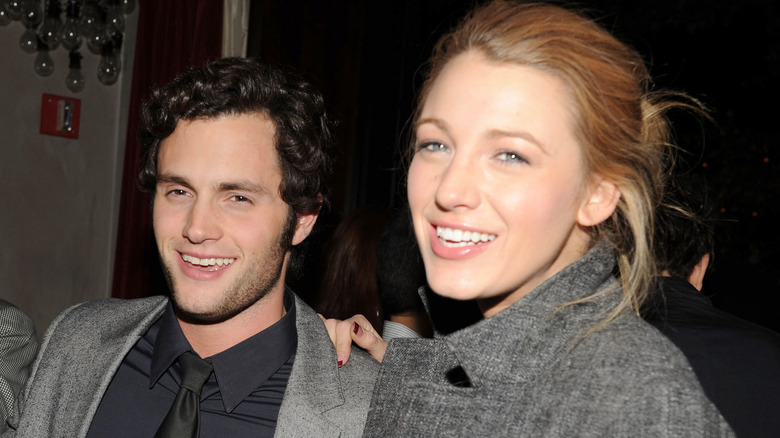 Blake Lively started dating her "Simon Says" co-star, Kelly Blatz, in 2004 — just one year before she started making a name for herself in the entertainment industry, thanks to her breakout role in the 2005 feel-good friendship film, "Sisterhood of the Traveling Pants" (via E! News). The pair called it quits in 2007 after three years together, and Lively soon struck up a romance with her "Gossip Girl" co-star, Penn Badgley, in 2008.
Lively and Badgley dated for about two years before hanging up the towel on their relationship, and although they continued to work together for years after their breakup, "Gossip Girl" executive producer Joshua Safran revealed that they were so amicable and professional on set, that no one even realized they were no longer together.
"The shocking thing was, I found out on the set of the Season 2 finale that Blake and Penn had broken up months before," Safran said (via CheatSheet). "They kept the breakup hidden from the crew, which you could never do now. I don't even know how they did it. They kept it from everybody which is a testament to how good they are as actors. Because they did not want their personal drama to relate to the show."
Blake Lively was rumored to have dated Ryan Gosling in 2010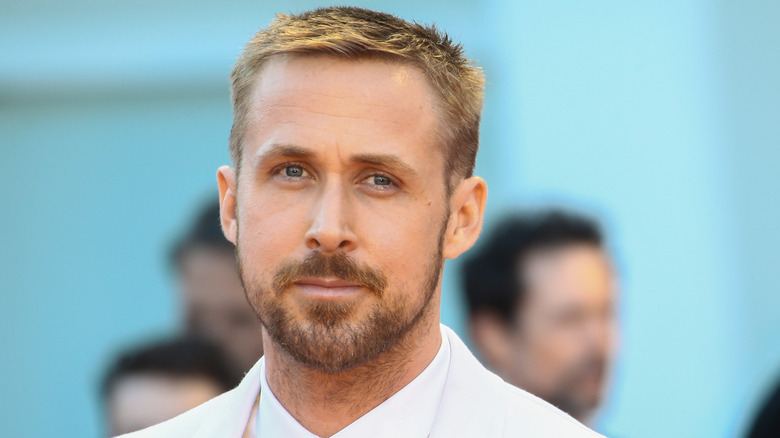 According to Insider, Blake Lively was rumored to have dated "The Notebook" hunk Ryan Gosling for a very short time in late 2010. The pair fueled romance rumors after they were spotted on a romantic Disneyland date while Gosling was filming "Drive" in Los Angeles, just before Lively headed back to New York City to continue filming "Gossip Girl."
Per E! News, a source close to Gosling dished all about the couple's romantic outing, telling the outlet at the time, "They've been out a few times and are definitely into each other, but I don't think it's super serious or anything right now. Yeah, they're casually dating, but I could see it becoming more."
Although Lively and Gosling never confirmed their rumored, short-lived romance, both stars seemed to have moved on from one another just fine — in 2011, Gosling started dating his current partner of a decade, Eva Mendes, who starred in the film "Place Beyond The Pines" with him (via Insider), and the same year, Lively moved on with one of Hollywood's most in-demand actors.
Blake Lively and Leonardo DiCaprio dated in 2011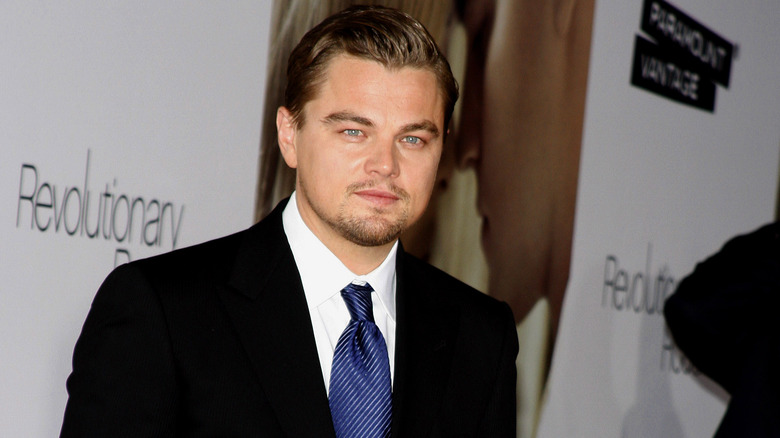 Blake Lively and "Titanic" alum Leonardo DiCaprio had a whirlwind romance in 2011, and although the pair were only together for five months, fans of the couple couldn't get enough of the actors' relationship. Lively and DiCaprio were first spotted hanging out together on a yacht in Cannes after it was confirmed that the "Wolf of Wall Street" star broke it off with longtime girlfriend, model Bar Refaeli, in May 2011 (via E! News).
While Lively had kept pretty mum on her relationships at the time, "Gossip Girl" executive producer Joshua Safran gave fans an inside look at her and DiCaprio's relationship, telling Vanity Fair, "We learned a lot from Blake. When I think about shooting the L.A. episodes, Blake was dating [DiCaprio] at the time, and she had this thing where she had a doll that she took photos of that she sent to Leo. Blake was way ahead of the curve. It was pre-Instagram. She was documenting her life in photographs in a way that people were not yet doing."
After months of hanging out together in places all across the globe, including the French Riviera, Italy, Los Angeles, New York City, and Australia, the couple called it quits "the very same day" reports of Lively spending "quality time" with her now-husband, Ryan Reynolds, started making the rounds, and a source told E! News that the "Age of Adaline" actress and DiCaprio had split because of "distance and timing."
Blake Lively and Ryan Reynolds have been together since 2011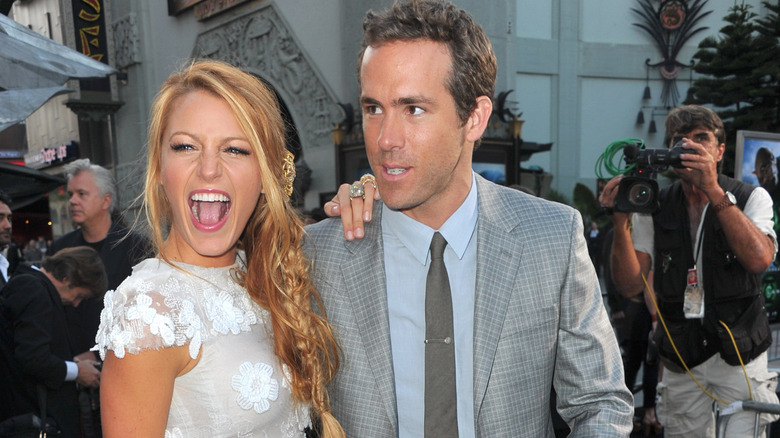 Blake Lively and Ryan Reynolds' love story is 100% what rom-com dreams are made of, as he told Us Weekly's SiriusXM show: "We went on a double date. She was on a date with another guy, and I was on a date with another girl — and that was, like, the most awkward date for the respective parties because we were just like fireworks coming across."
While the pair started out as "buddies" — they starred in 2010's "Green Lantern" together — it seems as though Reynolds and Lively were destined to be together, as he revealed to Us Weekly. "I remember it was funny, because for about a year after 'Green Lantern' had come and gone and all that stuff, we were both single," he said of their film. "I think the best way to have a relationship is to start as friends."
In an interview with GQ, Reynolds detailed the night that solidified the couple's romance. "We were hanging out at this little restaurant in Tribeca that's open really late, and this song came on and I was just like, 'Want to dance?' No one was in there, so it was just totally empty," he recalled. "And it was just one of those moments where halfway through the dance, it was like, 'Oh, I think I just crossed a line.' And then I walked her home … I don't really need to go into what happened after that."
Blake Lively and Ryan Reynolds tied the knot in 2012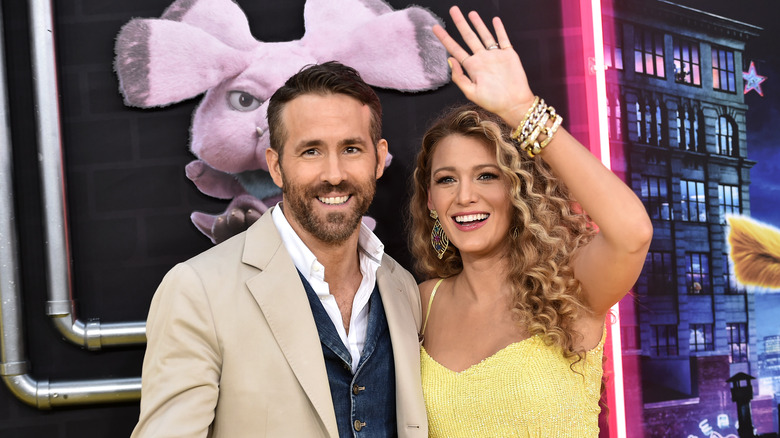 Ryan Reynolds and Blake Lively tied the knot in 2012 at Boone Hall in South Carolina — something that Reynolds recently said was "a giant f****** mistake." In an interview with Fast Company in 2020, Reynolds revealed that he and Lively regret marrying at the former slave plantation, telling the outlet, "It's something we'll always be deeply and unreservedly sorry for" (via People).
"It's impossible to reconcile," Reynolds continued. "What we saw at the time was a wedding venue on Pinterest. What we saw after was a place built upon devastating tragedy. Years ago we got married again at home — but shame works in weird ways. A giant f****** mistake like that can either cause you to shut down or it can reframe things and move you into action. It doesn't mean you won't f*** up again. But re-patterning and challenging lifelong social conditioning is a job that doesn't end."
Blake Lively and Ryan Reynolds have three children together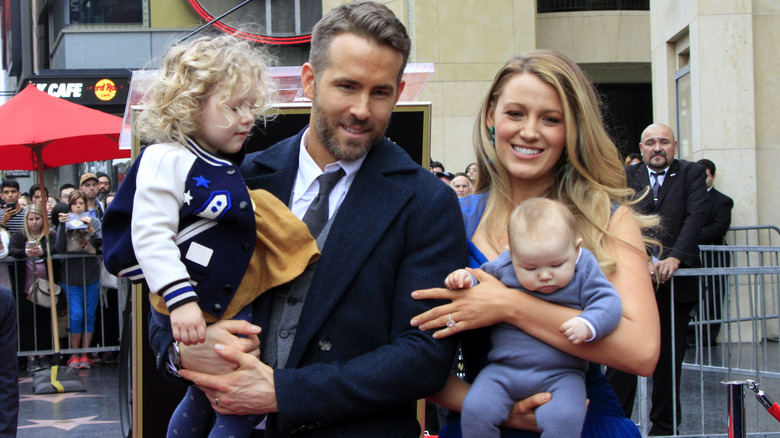 In October 2014, Blake Lively announced her first pregnancy on her lifestyle website, Preserve, by posting a gorgeous photo of herself posing at dusk while cradling her baby bump (via Us Weekly). "He's going to be a great father and leader and patriarch — he's so meant to be all of those things," Lively told Vogue just two months before the couple's baby announcement. "The fact that he lived so much before we got together, he's the exact realized person that he should be. And so I get to share my life with the person he's become, and we get to grow from there."
Lively gave birth to a beautiful baby girl just before the new year (via Page Six), and it was later revealed that the couple had named their first born James (via Glamour). Reports that Lively and Reynolds had welcomed their second child together, a daughter whose name was later revealed to be Inez, began to surface in late 2016 (via People). The couple welcomed their third daughter, Betty, in 2019, and although they tried to keep their little bundle of joy's name a secret, it was a Taylor Swift song from her surprise "Folklore" album that let the cat out of the bag (via PopSugar).
"I named all the characters in this story after my friend's kids, and I hope you like it!" Swift, one of Lively's BFFs, confirmed in a tweet at the time.
Ryan Reynolds and Blake Lively have one of the most enviable relationships in Hollywood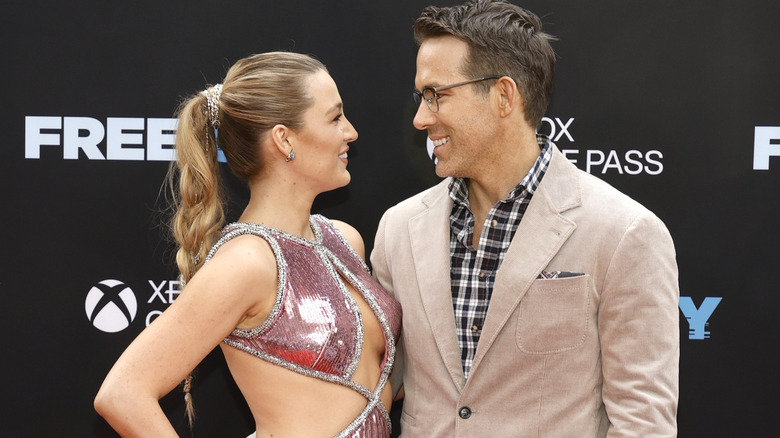 Blake Lively and Ryan Reynolds have one of the most coveted relationships in Hollywood, as evidenced by the fact that they never stop gushing about one another. "I knew he would always be my best friend for my whole life," Lively told Marie Claire in 2016. "That was the biggest thing for me. I'd never known anything like the friendship that I had with him. I could like him as much as I loved him."
Reynolds also praised Lively for helping him mend his relationship with his estranged father, James "Jim" Reynolds, who died after a long battle with Parkinson's disease in 2015 (via Today). "She always responds with empathy," he wrote of his wife in a comment on the Humans of New York Instagram page in 2017 (via People).
"She meets anger with empathy. She meets hate with empathy. She'll take the time to imagine what happened to a person when they were five or six years old," he continued. "And she's made me a more empathetic person. I had a very fractured relationship with my father. Before he died, she made me remember things I didn't want to remember. She made me remember the good times."
Source: Read Full Article