The Untold Truth About Bethenny Frankel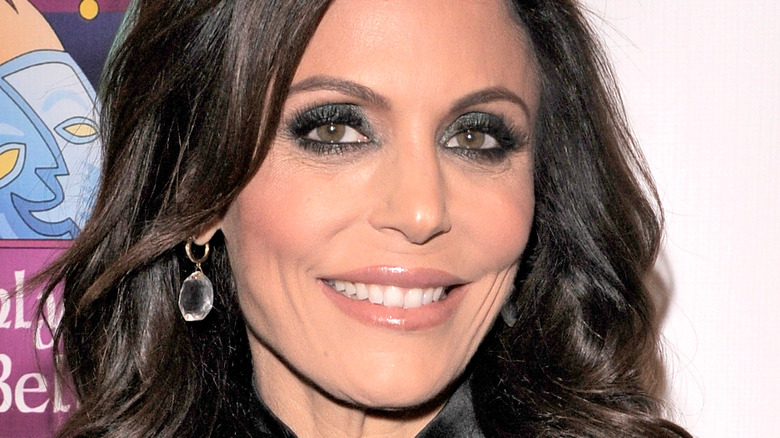 "Real Housewives of New York" star Bethenny Frankel first joined the Bravo network in 2008 (via IMDb), and since her reality television debut, Frankel has consistently made a name for herself. Her star quality was apparent after her first few seasons, earning her a spin-off titled "Bethenny Getting Married," the subsequent series "Bethenny Ever After," and a short-lived talk show. Even though her relationship to ex-husband Jason Hoppy didn't last, Frankel's success certainly has.
Calling Frankel a girl boss sounds almost patronizing considering the countless accomplishments she's made. "It's female empowerment without talking about it. Girlboss and boss b***h and all of that stuff is a turn off. It's just not me," Frankel told Interview Magazine in 2021.
Frankel has become more of a multimedia mogul with her Skinnygirl empire, which started with a low-calorie cocktail line and has since expanded to apparel and supplements (via Bethenny). Frankel has also earned the titles of entrepreneur, investor, author and host with her HBO Max mini-series, "The Big Shot with Bethenny," in which she searches for a second-in-command to join her executive team.
The multi-hyphenate may seem too busy to sleep, but the single mother of one remains determined to "have it all." And while her life is pretty much seen from all angles, there's still a new things you may not know about the rising mogul. 
Bethenny founded the BStrong Foundation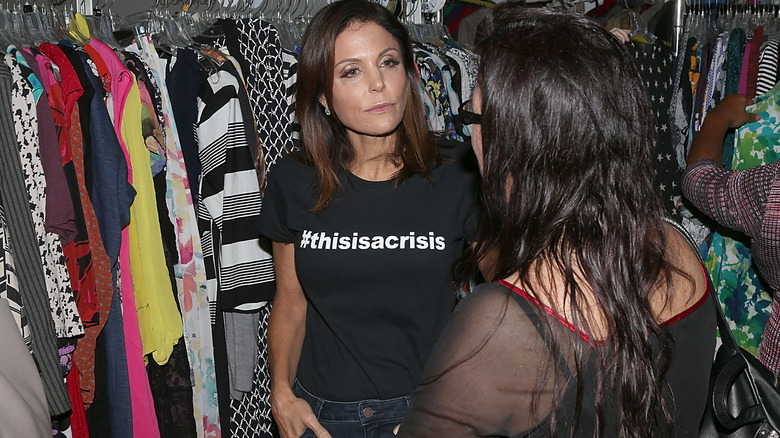 Bethenny Frankel's relief efforts began in 2017 when Hurricane Maria hit Puerto Rico (via Money). The Skinnygirl mogul used personal funds in addition to raising over $300,000 by launching her BStrong initiative. She arrived in Puerto Rico with four planes worth of medical supplies, food, water, hygiene products, 2,000 pounds of nonperishable foods, $25,000 in cash gift cards and $25,000 in Costco gift cards, all before former President Donald Trump set foot on the island (via The Cut).
Frankel was horrified by the lack of government support the people of Puerto Rico were receiving. "People have been living on their roofs for 13 days," she told People. "It is like nothing I have ever seen. People's entire homes and cars are immersed in mud, the likes I've never seen." The shock from personally witnessing the hurricane's wreckage inspired Frankel to partner with Global Empowerment Mission to aid with natural disaster relief around the world.
Since Hurricane Maria, Frankel has worked to raise funds for COVID-19 PPE, the 2021 Miami condo collapse, the Texas winter blackout, Hurricane Dorian and many more (via Bethenny). It appears Frankel has been bit by the philanthropic bug and it doesn't seem like she'll be stopping efforts any time soon.
Bethenny would return to reality TV under one condition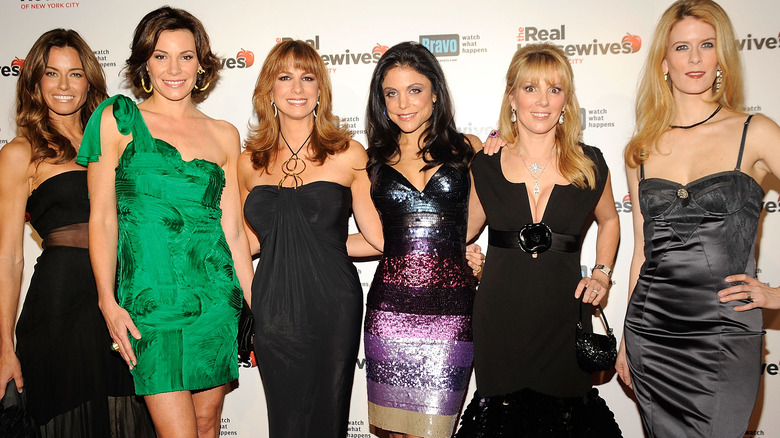 In August 2019, Bethenny Frankel announced she would be leaving "Real Housewives of New York;" the show  that made her a household name for a second time. 
"It's time to move on and focus on my daughter, my philanthropy and my production partnership with Mark Burnett, producing and starring in shows which represent a shift in the conversation for women" she explained via Variety. Frankel previously left "Real Housewives" in 2010, stating she was "a little embarrassed to be a Housewife," but eventually returned to the series in 2015 (via Daily Mail). 
However, the rumor mill is churning with the hopes that Frankel may be making her second return to the franchise. On a 2020 "Watch What Happens Live" appearance, Frankel joked to host Andy Cohen that all it would take to get her back is "a Brink's truck full of a lot of cash," adding, "It's all about the Benjamins, baby," (via People). 
With her HBO Max mini-series and podcast titled "Just B with Bethenny Frankel," the former Housewife has rebranded herself. Therefore, Frankel wouldn't be interested in returning without a major overhaul. She noted, "It would have to be a different show, and I have had ideas, " via People. Cohen seems hopeful for Frankel's return, stating on his SiriusXM radio show, "We are much like the mob — you can't get out."
Bethenny feuded with the Duchess of Sussex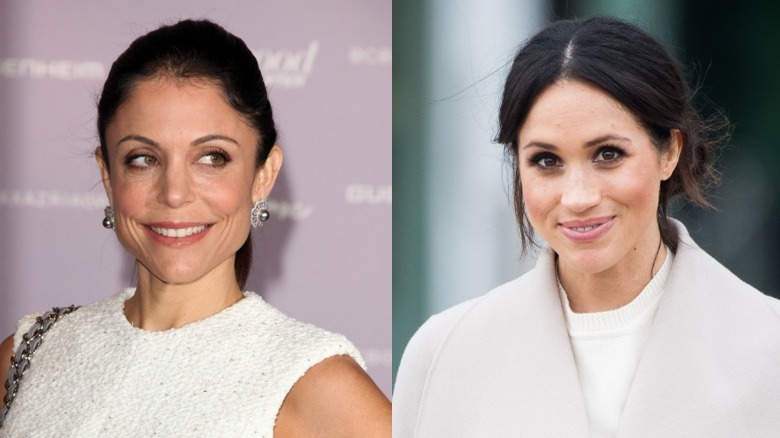 Though Bethenny Frankel has been vocal about her mission to empower women, the former Housewife made headlines in March 2021 after criticizing Meghan Markle for participating in a tell-all Oprah Winfrey interview during a global pandemic. "This isn't the way to generate less press & cannot be filed under the guise of wanting privacy to prevent a repeat of previous events," Frankel wrote, according to Page Six. 
In response to Markle calling out British press for racist and defamatory storylines, Frankel tweeted, "Cry me a river…the plight of being a game show host, fairly unknown actress, to suffering in a palace, w tiaras & 7 figure weddings for TWO WHOLE YEARS to being a household name w @Oprah on speed dial, fetching 7 m for interviews, hundreds of millions in media deals."
However, Twitter users took Markle's side against Frankel, calling the "RHONY" star a hypocrite who had similarly used her reality television platform to suit her narrative for almost 10 years. Frankel eventually apologized to the Duchess after the Winfrey interview aired, tweeting, "I watched [Meghan and Harry] sit down. Emotional distress & racism must feel suffocating & powerless… I'm sorry if it hurt or offended you."
Bethenny is a secret yogi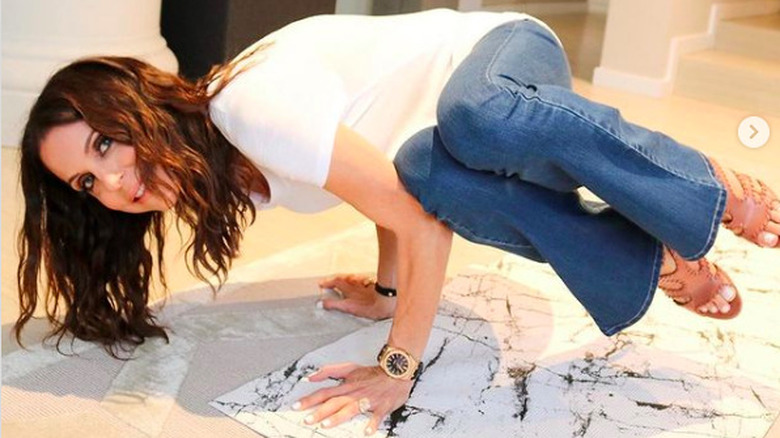 Bethenny Frankel is in her early fifties, but you'd never know it thanks to the reality star's physical regime. "I've always said exercise should be a good friend that if you don't see for a while you welcome and are nice to and have a good relationship with when you do reconnect," Frankel told E! Online. For the Skinnygirl inventor, yoga falls into this non-judgmental category of working out. 
Rather than be in a gym class "with someone screaming at me" Frankel opts to keep calm and carry-on. "Yoga is the greatest gift to yourself… I'm very grateful after I do a yoga class." Frankel compares the practice to getting a massage, therapy and a workout simultaneously. In a 2021 interview with Bustle, Frankel revealed how she continued her yoga journey during the pandemic.
"I recently made it a priority to just wake up and do it in my pajamas, so that's at least an hour where I've done something good for myself. And I have this great infrared mat with electromagnetic-something in it [the HigherDose Infrared Mat] — I lie down on it, and it's what I call my sanity mat." Clearly it's working for her!
Bethenny has found love again
In January 2021, Page Six revealed that Frankel was legally single and officially done with her tumultuous divorce from ex Jason Hoppy. The post-nuptial legal proceedings took the reality star almost 8 years to complete, but according to Frankel, it was worth it. Following the end of her divorce and custody battle, Frankel is now free to tie the knot with fiancé Paul Bernon.
"He's a good person who I love," Frankel told People. "I don't know if it's a yin to my yang, but he's really relaxed, he's mellow and he's very, very funny." The couple announced their engagement just months after Frankel's divorced was finalized. Bernon and Frankel first began dating in 2018 after meeting on an online dating site (via Today), but separated in 2020 due to the pandemic forcing them to take their relationship long-distance. 
Luckily, their love persisted and fans celebrated when Frankel posted an Instagram selfie with Bernon on Valentine's Day 2021.
Source: Read Full Article