Twitter Thinks Kate Middleton Was Super Rude to Queen Letizia of Spain
So, Kate Middleton and Queen Letizia of Spain both attended the very-fancy-sounding Order of the Garter in London, and everyone is—feel free to dramatically eye-roll—freaking out about a video of Kate allegedly being "rude."
In the video below, Kate hops out of her car, says hello to a couple people, and then seemingly fails to acknowledge Queen Letizia.
👀👀👀🤣🤣🤣🤣 pic.twitter.com/shMvfUq0HV
And because Letizia is a queen, a lot of people are all up in arms about how Kate should have curtsied to her, with comments ranging from "Lawd no she didn't just snub a Queen. Girl clutch the pearls," to "Wasn't she supposed to curtsey or something? She didn't even look at her. That's rude in any gathering."
As usual, it's important to think about things like context before analyzing a clip like this! Fact is: Kate and Letizia had an entire conversation at the same event, and they couldn't have looked more enthusiastic about chatting.
A post shared by 𝔇𝔲𝔠𝔥𝔢𝔰𝔰 𝔬𝔣 ℭ𝔞𝔪𝔟𝔯𝔦𝔡𝔤𝔢 (@katemiddletonvideos) on
Meanwhile, body language expert Judi James says that there was some tension during Kate and Queen Letizia's carriage ride—but there's a good reason for that as well. "A clue that all might not be as it seems in terms of any hints of slight awkwardness might come from the fact that Kate appears to dislike carriage rides because they cause her motion sickness," Judi said. "Her body language reflected tension during the ride at the Trooping of the Colour and this could be a similar problem for her here."
In other words, time to channel Taylor Swift and calm! T! F! down!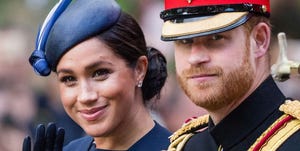 Source: Read Full Article