What You Don't Know About Chrisley Knows Best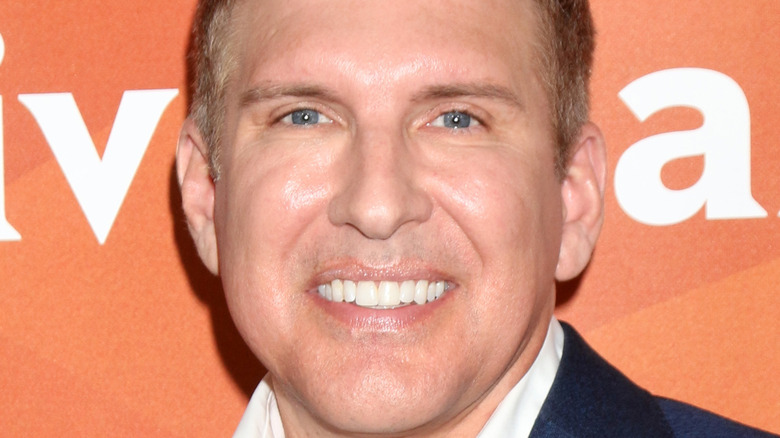 In the crowded genre of reality television, it can be hard to stand out, but that's never been an issue for the Chrisley family of "Chrisley Knows Best." The southern stars have been going strong on USA Network since 2014, proving that they have both mass appeal and staying power — not an easy feat for the vast majority of reality television personalities. Whether it's Todd Chrisley's southern drawl, the antics of Chase Chrisley, Savannah Chrisley's dating life, or Chloe Chrisley's adorableness, fans keep returning to "Chrisley Knows Best" — and frankly we're here for all of it, grandma included.
If you're a longtime viewer of the reality series, then you might be tempted to think that you know all there is to know about the Chrisley clan. After all, they do allow cameras into their home and broadcast their intimate lives to the viewing public. But in spite of their candor, there's still stuff about this affable family that might not be on your radar. To that end, sit back and enjoy as we present to you what you don't know about "Chrisley Knows Best."
The stars of Chrisley Knows Best aren't as rich as you think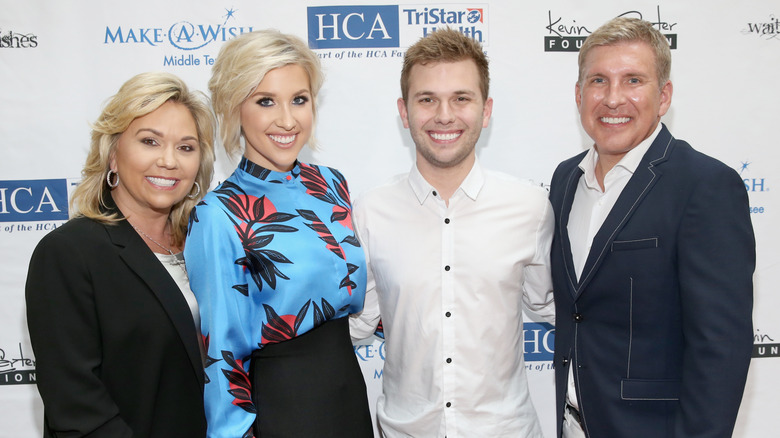 Based on what you see on "Chrisley Knows Best" when the cameras are rolling, you'd be hard-pressed to suspect that they're anything but rolling in the dough. For one, each member of the cast has a seriously nice wardrobe, and they all drive some rather impressive vehicles. Don't forget the palatial estate that the Chrisleys call home, or the elegant furnishings inside of the home, either.
However, from what we were able to dig up, the Chrisleys' financial situation isn't nearly as rosy as it seems. According to People, Todd Chrisley had to file for bankruptcy back in 2012 to the tune of almost $45 million, thanks to a real estate SNAFU. "He guaranteed a real estate development loan and it failed," Chrisley's lawyer explained to the magazine. "He was on the hook for $30 million. If he hadn't had that happen, he would have been fine, financially." Okay, maybe, but the Chrisley patriarch also had other bills at the time, including a half-million dollar debt to the IRS, a cool $12 million in mortgages, and $4.4 million owed to his wife.
Per the Daily Mail, Todd — who is reportedly worth negative $5 million, according to Celebrity Net Worth – agreed to settle his bankruptcy case in 2014, though things still aren't exactly on the up and up for the Chrisley family yet.
The Chrisleys were embroiled in a tax evasion scandal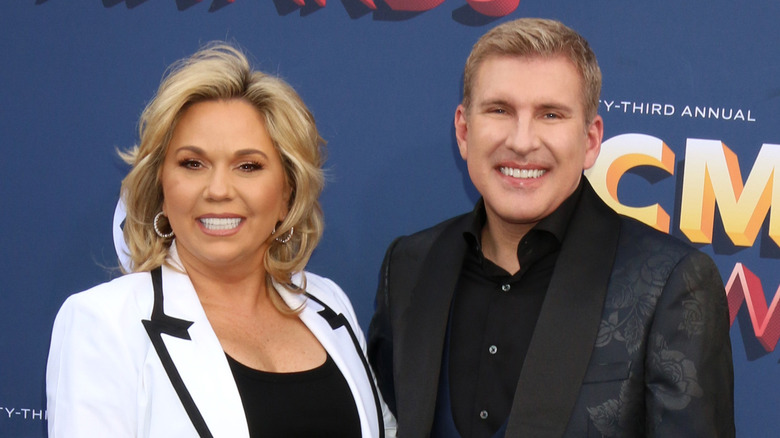 Todd Chrisley's bankruptcy filing isn't the only financial scandal that's plagued the stars of "Chrisley Knows Best," as he and Julie Chrisley were also charged with tax evasion. According to 11 Alive, the Georgia Department of Revenue accused the Chrisleys of owing $2 million in state taxes between the years of 2008 through 2016. Yikes.
Fortunately, things mostly worked out for the Chrisleys, who forked over $147,944.75 (and were refunded $66,000 of it) to settle these matters in 2019. The settlement also detailed that the only year the Chrisleys actually owed for was 2009, which was offset by other years in which they were due refunds. "Julie and I knew all along that we had done nothing wrong and that when the facts all came out, we would be fine," Todd revealed in a statement. "We're just glad that the Department of Revenue was willing to keep an open mind and look at all the evidence."
While the Chrisleys' issues with the state of Georgia seem to be settled, there are still federal tax charges — including "wire fraud, conspiracy to commit wire fraud, conspiracy to commit bank fraud, and tax evasion" — to face, as noted by another piece by 11 Alive. Todd maintained their innocence in a 2019 Instagram post, and says that he and his family "have nothing to hide."
Julie Chrisley reportedly refused to pay a debt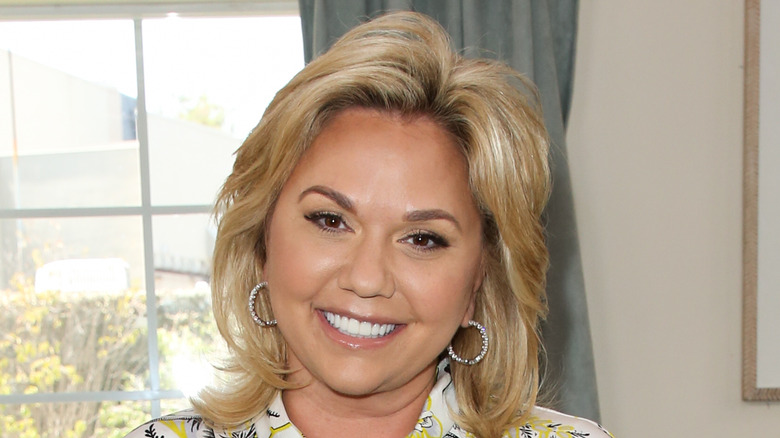 We're not quite done exploring the finances of the stars of "Chrisley Knows Best," as there's one more money matter that's caught our attention. As noted by the Scoop: Nashville, Julie Chrisley allegedly had a debt that she tried to avoid paying multiple times, thanks to another real estate deal gone bad. Apparently, Julie was left with a sum of $12,743 to deal with, which ballooned to $20,802.87 once all of the legal fees were factored in.
However, since it appears that Julie did everything she could to avoid coughing up the cash — including filing nine continuances and dodging creditors who attempted to get the money from her bank account — the cops reportedly ended up showing up at her home to collect on February 12, 2016. According to documents, they were to take assets such as "jewelry, clothing, and other personal property" to satisfy the loan. But at the 11th hour, Julie produced a check in the amount that was owed, and that put the matter to rest. 
Todd Chrisley's son Kyle Chrisley had some serious drama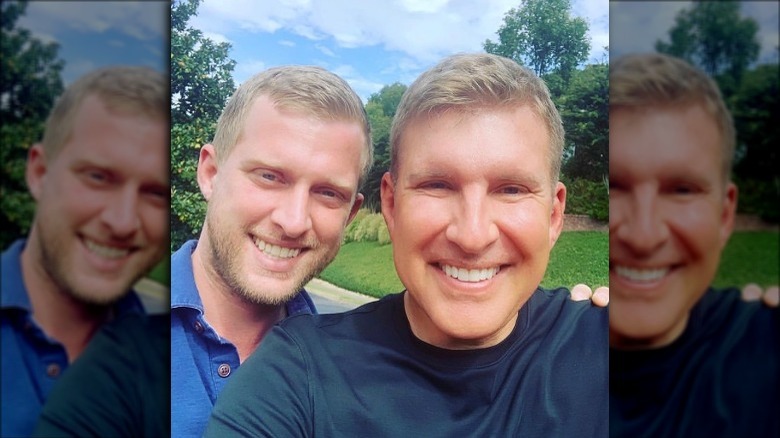 On "Chrisley Knows Best," viewers are invited into the lives of Todd Chrisley and his family, including his children Savannah, Chase, and Grayson Chrisley. However, it turns out that those three children aren't the only kids that Todd has parented, as he also has another son, Kyle Chrisley (who appeared in early episodes of the show). And while the two appear to get along quite swimmingly now, that wasn't always the case.
The reason? Kyle had a pretty rough go of things for a while, according to TMZ. Apparently, the eldest Chrisley son was arrested in Oklahoma for felony possession of methamphetamine, and had a warrant out for his arrest back in Georgia as well. Regarding the latter charges, his estranged wife (they've since divorced) alleged that he had threatened to kill his her via text messages, so it's not surprising that custody of his daughter, Chloe Chrisley, was awarded to Todd and Julie Chrisley. Kyle also said some pretty terrible things about his father to the Daily Mail, too, even accusing him of having Chloe on the show for ratings.
Fortunately, all of that negativity appears to be behind Kyle, who revealed that he had mended things with Todd in a revelatory Facebook post in 2019. "His words were 'I love you always, and you are forgiven' and just like that I was welcomed back into his life with open arms," Kyle shared. "I will be forever grateful for his love [and] graciousness." We're glad all that got sorted out.
Todd Chrisley and Lindsie Campbell have had issues as well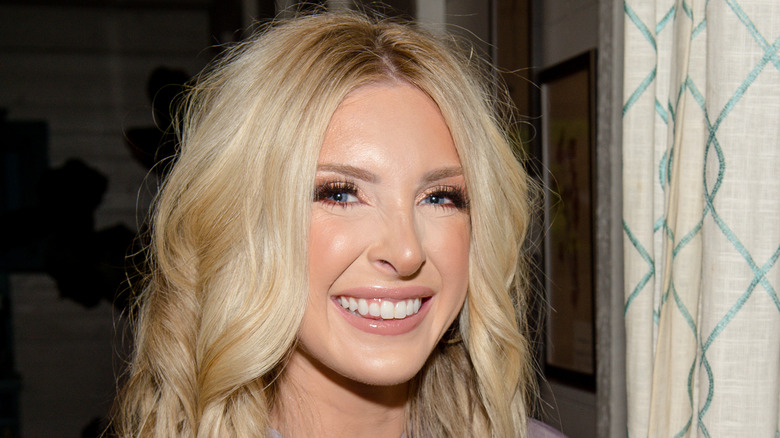 In addition to having a son who doesn't appear on "Chrisley Knows Best" any longer, Todd Chrisley also has a daughter, Lindsie Chrisley Campbell; Todd's eldest daughter was spotted from time to time on the reality series from 2014 until 2017. So what was the real reason Lindsie decided to stop showing up on "Chrisley Knows Best" after three years? "There was an altercation that happened after the cameras shut down," she confessed on an episode of "Dr. Phil," referring to a fight she had with her stepmother, Julie Chrisley. "From that, I felt like the environment was volatile and I didn't want to be around it." She added that departing from the show was the right thing for her family and her health.
While things had been tense for years between Lindsie and her parents, that rift was blown wide open when Lindsie accused Todd and Chase Chrisley of buying a sex tape featuring her and "The Bachelorette" contestant Robby Hayes (via TMZ); Lindsay accused her brother and father of doing that for blackmail purposes, a claim Todd denied. "Sadly, for reasons we can only guess at, she ran to the sheriff's office to accuse her brother of buying a sex tape of her and Robby, which was a complete lie," Todd told Access Hollywood. "Although our hearts are broken, Lindsie is our daughter and we will always love her."
Why some viewers aren't sure about Todd and Julie Chrisley's relationship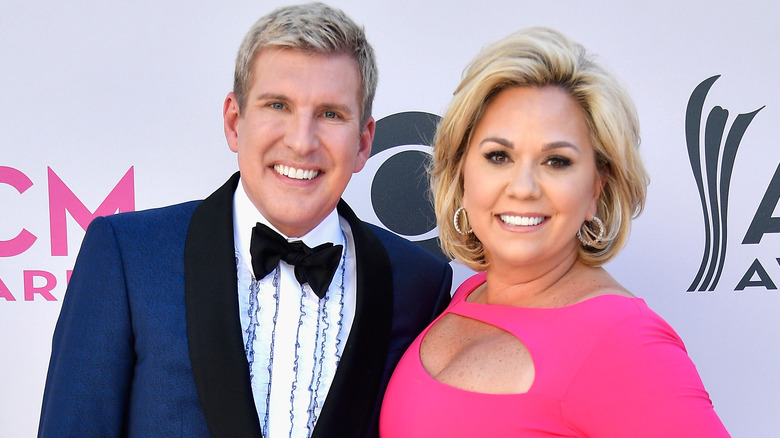 Todd and Julie Chrisley have been married for a long time — over two decades, as noted by E! News. However, there are a couple of reasons that some folks suspect that their relationship is just for the cameras on "Chrisley Knows Best." For one, an insider claimed that Todd and Julie are different when the cameras stop rolling. "It is hard for anyone who works with Todd or Julie to believe that their marriage is authentic," the alleged source revealed to Radar Online. "It's made for TV. They do not display the same level of affection and love towards each other off-camera as they do when they are filming."
Secondly, some folks have wondered if Todd is actually gay — though his wife has called him "metrosexual" on the show — but as Todd put it, he is indeed heterosexual. "I'm flattered that people think I can get laid on both ends," he revealed on "The Domenick Nati Show" in 2017. "And my wife certainly is flattered that as many men want her husband as there are women." Todd also made it a point to say that he's not bothered by the rumors, as he believes a person's sexuality is given to them by God, and therefore an innate part of them.
Is Chrisley Knows Best actually scripted?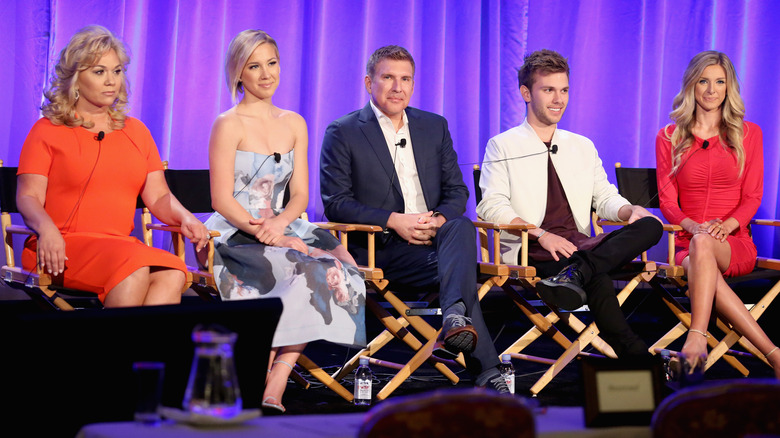 It's an open secret that reality television isn't exactly real all of the time. But it would seem that "Chrisley Knows Best" just might be even less real than some of its viewers expected. The reason? For all of those funny jokes that Todd cracks, he might not be the person who comes up with them. "Todd uses a team of comedy writers for his show, and has been using them to write dialogue for several seasons," a source who allegedly has insider knowledge of the show revealed to Radar Online. "Todd does not come up with this stuff on his own, and is not as funny as people think." We really hope that's truly not the case, as Todd's sense of humor is our favorite part of the show!
So just how much of what you see on "Chrisley Knows Best" is the authentic real deal, and how much was allegedly dreamed up by a production team? "More than half of the dialogue on the show is scripted and a large majority of the scenes are re-shot when they are not as funny as he wants them to be," the source noted. The jury's still out on this tidbit, though.
Savannah Chrisley says viewers of Chrisley Knows Best can be harsh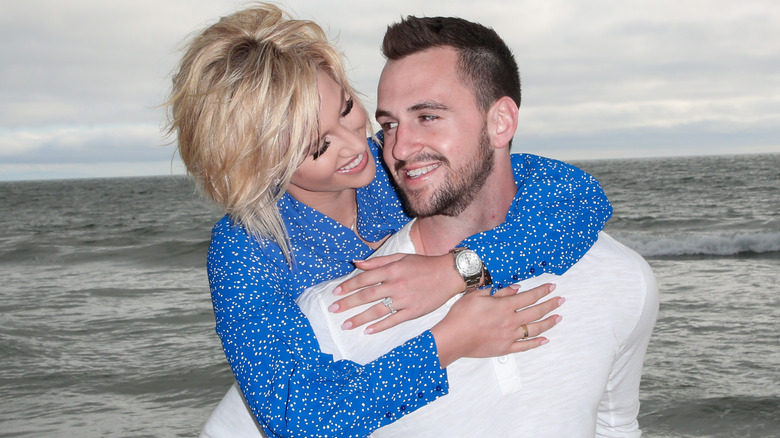 Becoming a reality television star definitely has its perks, like fame and fortune, to be specific. And while Savannah Chrisley, who's had a stunning transformation, seems to be doing quite well with both of those — she's worth about $500,000, according to Celebrity Net Worth, and has millions of followers on Instagram — she has been open that it's not always champagne and roses. In fact, she says that fans of "Chrisley Knows Best" can actually be super harsh at times.
Notably, when Savannah's relationship with Nic Kerdiles began to have problems, she shared that people were less than kind about the fallout. "The hard part too is that people only see the 30 minutes of something and love to come at you on social media, be hateful, and kind of give their opinions where they're not really needed," she revealed in a chat with Entertainment Tonight. Fortunately, Savannah has a good head on her shoulders, and knows that she can't let the haters get to her.
The Chrisleys deal with real issues on Chrisley Knows Best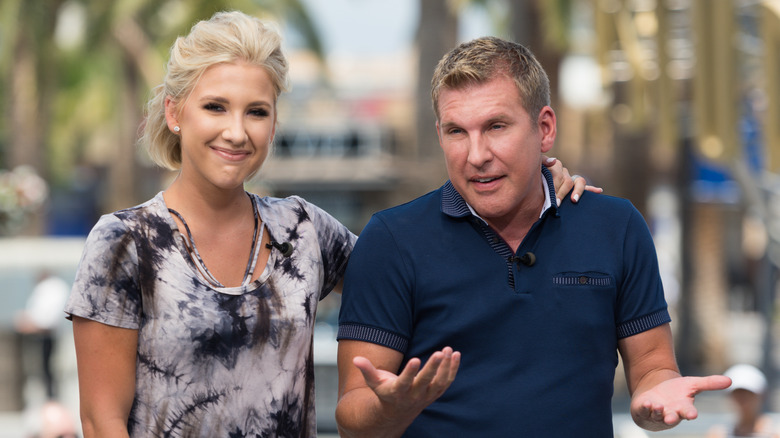 While fans of "Chrisley Knows Best" may suspect that some of the show is scripted, or that the Chrisley family is different when the cameras are rolling, that doesn't mean they aren't going through real issues on the show. That's certainly the case for Savannah Chrisley, who has talked about some extremely personal details on "Chrisley Knows Best." "For me, I go through all my relationship ups and downs and I talk about struggling with endometriosis," she told Entertainment Tonight. "I have a doctor telling me, 'Alright, you need to finish having kids by the time you're 30.'" That means you'll see Savannah discussing her options with her doctor, such as freezing her eggs, which is about as real and intimate as it gets.
Additionally, Todd Chrisley has let "Chrisley Knows Best" fans into some serious issues as well, namely when it came to the health of his brother, Randy Chrisley; Todd opened up about the matter, sharing that Randy had been diagnosed with stage four cancer. "As of today, they have started the arduous and long road of radiation and chemotherapy," a representative said in a statement obtained by Us Weekly. "The family remains hopeful of a full and speedy recovery for their beloved Randy."
Chrisley Knows Best star Todd Chrisley had a severe case of COVID-19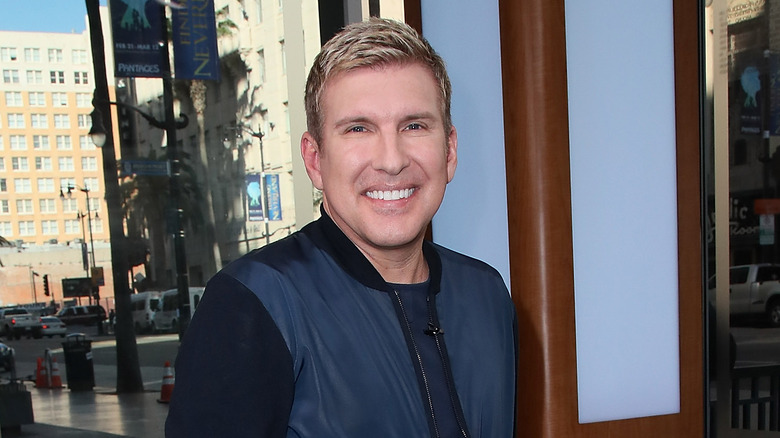 From the looks of things on "Chrisley Knows Best," the entire Chrisley family is pretty healthy and full of vitality. However, Todd Chrisley went through some seriously intense sickness when he contracted COVID-19 in March of 2020. It was his youngest daughter, Savannah Chrisley, who broke the news to the public. "Dad was diagnosed with the coronavirus about 2.5 weeks ago … and I have never been so scared in my life," she revealed in a post on her Instagram page. At the time, he felt sick so he got tested, and when the result was positive, Todd quarantined at home.
However, about a week later, Todd's symptoms got so severe that he told his wife to take him to the hospital, where he had to stay by himself. "He stayed at Vanderbilt for 3 days and those were the hardest 3 days I think I've ever endured," Savannah continued. "At one point I fell on my hands and knees and begged God to not take him … to not take my best friend." That sounds terrifying.
Fortunately for the Chrisley family and its fans, Todd made a full recovery from COVID-19, though he had a severe case of it; he dealt with symptoms for weeks, including a temperature of 103 degrees — no wonder Todd shared that he'd never been sicker on his podcast, "Chrisley Confessions" (via CNN). Oh, and he also called the virus a "b**ch," naturally.
Chrisley Knows Best inspired a spinoff show, Growing Up Chrisley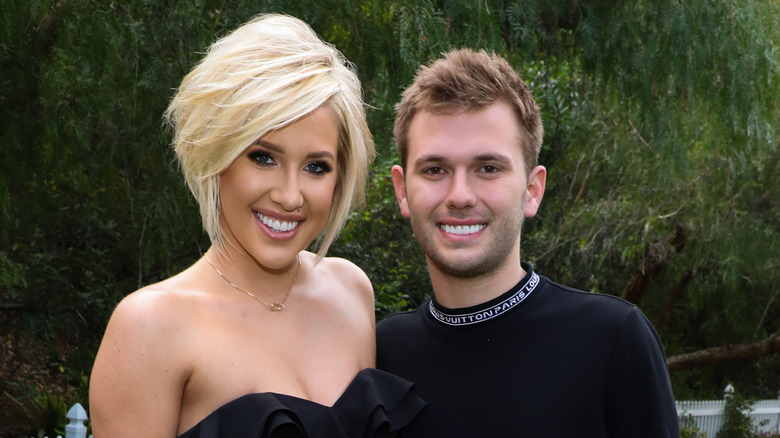 "Chrisley Knows Best" is a successful reality television series that has proven it attracts viewers and keeps fans engaged. It's been so well-received, in fact, that it inspired a spinoff show, "Growing Up Chrisley," starring Chase and Savannah Chrisley. The program debuted in 2019, with Seasons 1 and 2 of the show following the siblings as they try to make it in the city of angels, Los Angeles — and we all know it's not easy to thrive there, given that it's both competitive and expensive.
Apparently, ratings for Seasons 1 and 2 of "Growing Up Chrisley" were good enough to warrant renewal for a third season (despite tabloid reports that said otherwise), as noted by Deadline. And though it was delayed significantly, presumably due to COVID-19, Season 3 of "Growing Up Chrisley" sees Chase and Savannah back in Nashville, having returned from their adventures in Southern California. Good for you, Chase and Savannah!
The entire Chrisley family got a crash course in racism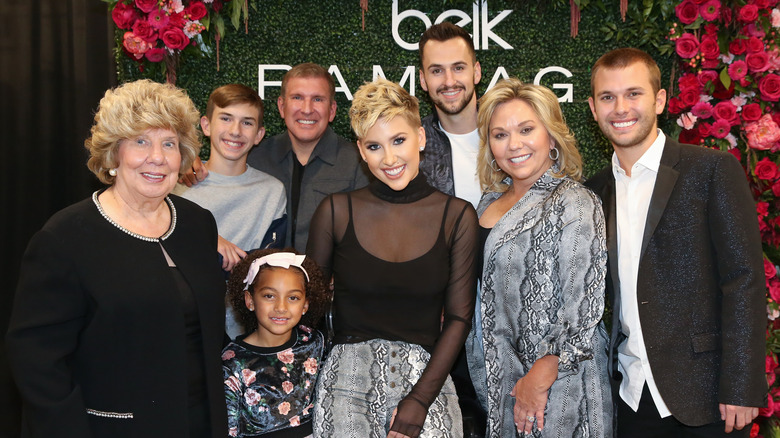 It's not surprising to learn that racism hasn't been a huge issue for the stars of "Chrisley Knows Best," given that they're a privileged white family. However, the whole squad got a crash course in racism after Kyle Chrisley had a baby girl with a Black woman named Angela Johnson, Chloe Chrisley (via Radar Online). And for a variety of reasons, Todd and Julie Chrisley have full custody of their granddaughter, who also appears on the show. 
Well, the Chrisleys got to see racism in action when racist bullies started showing their true colors in the comments section. Naturally, that took some adjustment. "We had never dealt with racism. We have learned that it's a very prevalent situation in this country," Todd confessed in an interview with People. "And we learned that, unfortunately, the hard way with negative things that were said about [Chloe] on social media."
Protective patriarch that he is, Todd wasn't going to stand by and let anything hurt his grandchild. To that end, he spearheaded efforts to educate himself and his family, and took a public stand against racism. "We made a conscious decision that she is our child," he continued. "She is our family member, and we're not going to be a part of anything that causes her to feel less than."
The Chrisley family is grateful for all that Chrisley Knows Best has given them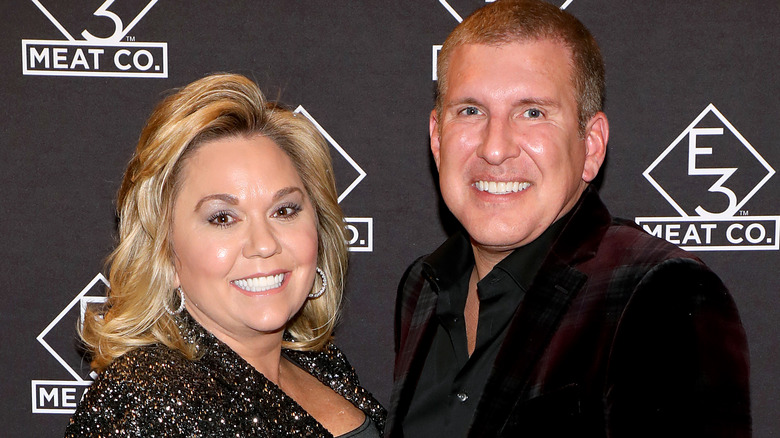 At the end of the day, no matter what being a reality television star brings with it, Julie Chrisley has her head on straight. In fact, she has a message for viewers of "Chrisley Knows Best," and we're heartened by the self-awareness that comes with it. "I want our fans to know that we, as a family, feel blessed that you bring us into your lives each week," she shared with StyleBlueprint," and that we consider this a privilege that you allow us to live out our lives and hopefully impact others in a positive way." Julie also said that she has educated her children to internalize this gratitude, and that they all strive to "pay it forward."
As for Savannah Chrisley, she also recognizes that she's been able to have a positive impact on viewers. "Growing up on TV has had [its] pros and cons, but overall it's given us a platform to help others and meet a lot of people," she explained in an interview with People. "I don't think we can complain too much." We love to see it.
Source: Read Full Article