Why Scooter Braun Feared For Justin Bieber's Life
There probably would be no Justin Bieber without Scooter Braun. In 2007, the young record executive came across the then-14-year-old Canadian's YouTube video while looking for a different singer, per The New York Times. Bieber created his channel to share videos of his covers of Usher and Chris Brown with family and close friends. But Braun immediately saw his potential when he clicked on one of his videos by accident, per the NYT. Together, Bieber and Braun created a worldwide phenomenon.
With an age difference of just 13 years, Bieber and Braun developed a strong bond over the partnership. "He's family," Braun told the Wall Street Journal in 2017. Bieber also values his friendship with his manager, often thanking him publicly for standing by his side through thick and thin. "You walked with me through a lot of sh*t," he said during a January 2020 event in Los Angeles, according to Variety. 
Bieber shot to stardom quickly, and with it came a series of scandals that could have ended his career. 2014 was particularly troubling for the star, as Bieber was arrested for driving under the influence and accused of using racially charged language as a teen, CNN noted. Braun told the WSJ in 2017 that "[s]ome of the biggest people in the industry" told him to move on as Bieber's career was over. He didn't, but that's not to say Braun didn't worry about Bieber. Read on to learn why he feared for Bieber's life.
Scooter Braun feared Justin Bieber would overdose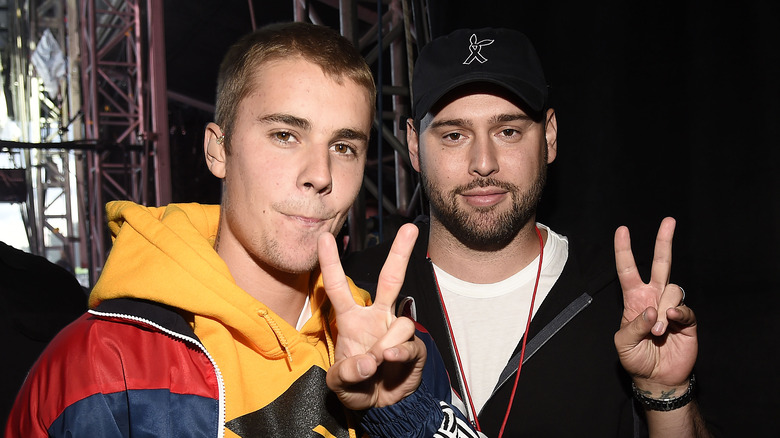 Scooter Braun feared that Justin Bieber's drug use would cost him his life. Speaking on the "The Red Pill" podcast in 2018 (via Page Six), Braun described how he kept Bieber from working to allow him time to focus on his health. "There was a time when I would go to sleep almost every night — when he had the money to fly away from me — and I was worried every night that I was gonna lose him," Braun told host Van Lathan. 
The previous year, Braun urged Bieber to cancel the Purpose world tour because Bieber's "soul and well-being" mattered more than work, according to a separate Page Six report. "I thought he was going to die. I thought he was going to sleep one night and that he would have so much crap in his system that he would not wake up the next morning," Braun told Lathan.
Bieber got candid about his drug addiction in the 2020 docuseries "Justin Bieber: Sessions." "My security and stuff would come into my room at night to check my pulse. People don't know how serious it got. It was legit crazy scary. I was waking up in the morning and the first thing I was doing was popping pills and smoking a blunt and starting my day. It just got scary," Bieber said in the documentary, via USA Today.
Justin Bieber wants to be a "good husband and future dad"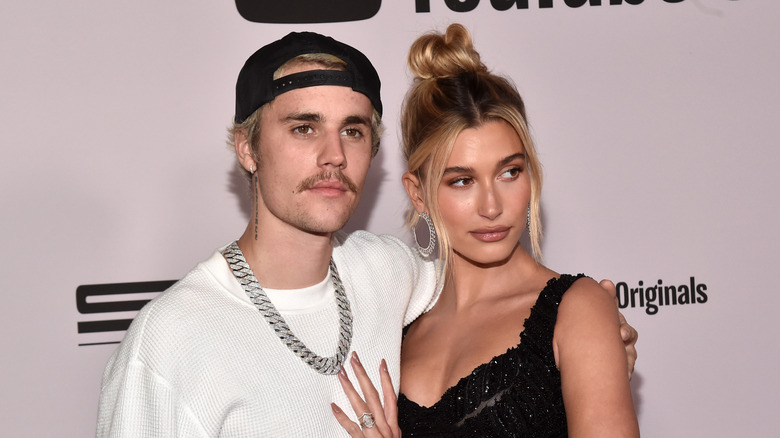 Justin Bieber has spent several years working to overcome his drug use. In 2014, his pastor, Carl Lentz, asked Bieber to spend time in his home so he could help him get clean, Vogue reported in 2019. Bieber has been sober ever since his "informal detox," only drinking alcohol socially, according to the report.
In the fall of 2018, Bieber took a break from music to turn his focus inward, per Vogue. "I've been successful since I was thirteen, so I didn't really have a chance to find who I was apart from what I did. I just needed some time to evaluate myself," he said. Bieber also married Hailey Baldwin that year, whom he described as a blessing from God for his recovery, he said. "I'm really proud of him. To do it without a program, and to stick with it without a sober coach or AA or classes — I think it's extraordinary," Baldwin said. 
In 2020, Bieber used his Instagram to reflect upon his journey, from where he started out to where he ended up. He noted that he was "never motivated by money or fame," but that his insecurities began to shape his values. Now, he wrote, he was ready to be "motivated by truth and love," adding, "I want to give up my selfish desires daily so I can be a good husband and a future dad!"
If you or anyone you know is struggling with addiction issues, help is available. Visit the Substance Abuse and Mental Health Services Administration website or contact SAMHSA's National Helpline at 1-800-662-HELP (4357).
Source: Read Full Article