How to Watch Disney's Live-Action 'Mulan' Literally RN
After multiple delays of its theatrical release, Disney's live-action Mulan—based on the Chinese Ballad of Mulan and starring Liu Yifei (aka Crystal Liu)—is debuting right in time for the long weekend. Critics are already calling Mulan one of the best live-action Disney films ever made, so you're probably going to want to cancel your plans (to be clear, I have no plans) and check it out for yourself. And nope, that does not involve heading to a movie theater.
First, You're Gonna Need Disney+
Mulan is streaming exclusively on Disney+ starting September 4, so if you don't already subscribe, go ahead and sign up. It's $6.99/month, which, sure, okay, does add up on top of all the other endless streaming services we subscribe to as a society, sigh, but you can always cancel! Stop yelling at me! GET DISNEY+ HERE
Then You're Gonna Need "Premier Access"
Here's the catch: Disney was presumably poised to make millions with Mulan's theatrical release, so putting it on Disney+ for "free" right away would be a big financial loss. In other words, it's going to cost fans a bit extra—at least at first.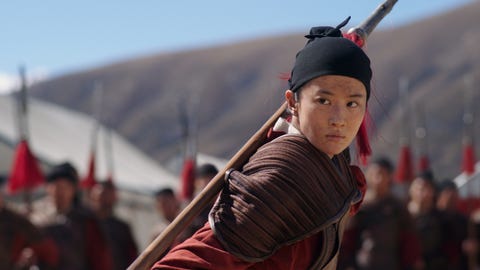 You'll need "premier access" to watch Mulan on September 4—and sure, at $29.99, said access is kinda pricey—especially compared to a movie ticket. On the + side (HAHAHA GET IT), once you have premier access to the movie, you can watch it as many times as you want—with as many people as you want (…socially distanced…in masks…preferably outside on a projector!).
What if I Wanna Watch for Free?
If $29.99 is a bit steep for your long-suffering credit card, Mulan will be 100 percent FREE to Disney+ subscribers…you just have to wait until December 4. Meanwhile, you'll have the option to watch on ~premier access~ until November 2. Unclear what happens in the month between those dates…but either way, enjoy your at-home viewing experience!
Source: Read Full Article