'PS I Love You' Sequel 'Postscript' to Be Adapted as Film From Alcon Entertainment
Hilary Swank and Gerard Butler starred in 2007 romance
"Scott Pilgrim vs. the World" (2010) 
There are more than a few genre-bending films on this list, but maybe none more interesting and ambitious than "Scott Pilgrim vs. The World." This meta cult classic co-written and directed by Edgar Wright blends rom-com tropes with comic books as Scott Pilgrim (Michael Cera) fights off The League of Evil Exes to win the heart of the girl he's fallen for, Ramona Flowers (Mary Elizabeth Winstead). The film truly is singular. (Watch the trailer here).
Universal Pictures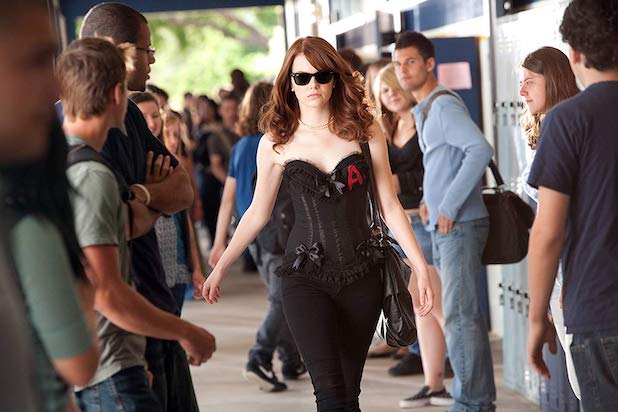 "Easy A" (2010) 
Emma Stone pops up a few times on this list, but her performance in "Easy A" might be the one that truly helped cement her as a Hollywood fixture over the course of a decade. There's often quite a deal of overlap in rom-coms and teen comedies. In a riff on "The Scarlet Letter," Stone's Olive Penderghast decides to lie about losing her virginity in an attempt to up her social status, but things get out of control as classmates ask for help doing the same. (Watch the trailer here).
Screen Gems
"No Strings Attached" and "Friends With Benefits" (2011) 
In the same year, two different films cast charming lead actors as attractive people who become friends and, in order to avoid emotional feelings, decide to simply sleep together. Surprise, they end up catching feelings. "No Strings Attached" starred Ashton Kutcher and Natalie Portman, while "Friends With Benefits" starred Justin Timberlake and Kutcher's now wife, Mila Kunis. Emma Stone also makes a John Mayer-loving cameo in the latter. (Watch the trailers here and here).
Paramount Pictures and Sony Pictures
"Just Go With It" (2011) 
Directed by longtime Adam Sandler collaborator Dennis Dugan, this film is an early example of a middling Sandler comedy filmed in exotic, or paradisiacal locations, along with "Blended" and "Murder Mystery." Based on the 1969 film "Cactus Flower," which is itself an adaptation of the Broadway stage play written by Abe Burrows, the film stars Sandler as a commitment-phobic guy who pretends to be married while dating women, until he meets the girl of his dreams (Brooklyn Decker). He then enlists his assistant, Jennifer Aniston, to masquerade as his soon-to-be ex-wife. (Watch the trailer here).
Columbia Pictures
"Bridesmaids" (2011) 
This film took Hollywood by storm when it hit theaters with its all-star cast featuring Kristen Wiig, Maya Rudolph, Rose Byrne, Ellie Kemper, Melissa McCarthy, Wendi McLendon-Covey and Chris O'Dowd. At the center of the wild virtually all-girl romp of a comedy is a love story between Wiig's Annie and O'Dowd's awkward cop as she winds her way through the rituals of being a maid of honor. (Watch the trailer here).
Universal Pictures
"Beginners" (2011)  
This indie darling won Christopher Plummer the Academy Award for Best Supporting Actor. Director Mike Mills' film follows Oliver (Ewan McGregor) as he copes with the death of his mother and the revelation that his dad (Plummer) is gay. Oliver's depression and loneliness are eased when he meets actress Anna (Mélanie Laurent), but their relationship is complicated by their mutual fear of commitment. (Watch the trailer here).
Focus Features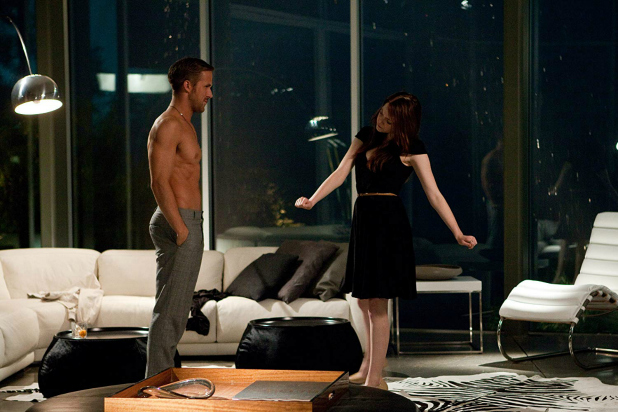 "Crazy, Stupid, Love" (2011)  
Honestly, who could say no to a Ryan Gosling and Emma Stone love story blossoming as Steve Carrell hilariously navigates the dating pool in the midst of a broken marriage? The film follows Cal Weaver (Carrell) trying, and failing to date in the aftermath of a separation from his wife. Enter suave ladies man Jacob Palmer (Gosling, obviously), who takes Cal under his wing and teaches him how to be a hit with the ladies. The film cements Gosling and Stone's onscreen chemistry, and has great bit parts from Marisa Tomei, Kevin Bacon and Josh Groban. (Watch the trailer here).
Warner Bros.
"Silver Linings Playbook" (2012)  
Yes, "Silver Linings Playbook" is a rom-com. It doesn't fit the typical mold, but this eccentric Bradley Cooper and Jennifer Lawrence-led film thrusts two broken people together as they find a way to find love, happiness and live with life's quirks and difficulties. (Watch the trailer here).
The Weinstein Co.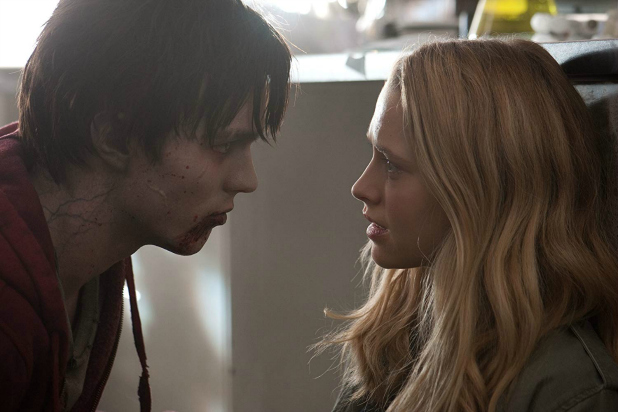 "Warm Bodies" (2013)  
Romantic comedies have been around for a long time, so every now and then filmmakers take an opportunity to have fun with the genre."Warm Bodies" stars Nicholas Hoult and Teresa Palmer, is part rom-com, part zombie flick as a young zombie (Hoult) falls for Palmer's character and begins to turn more human. (Watch the trailer here).
Lionsgate
"About Time" (2013)  
The film has virtually everything you'd want in a romantic comedy. No wonder it's written and directed by Richard Curtis, who should be on the Mount Rushmore of rom-coms, and imbued this time traveling tale with a Notting Hill of British charm. Domhnall Gleeson stars as a man who's able to travel back in time and uses this strange family gift throughout his life as he falls in love with a woman played by the charm-oozing Rachel McAdams. (Watch the trailer here).
Universal Pictures
"The Best Man Holiday" (2013)  
Rom-coms don't usually receive the sequel treatment, but "The Best Man Holiday" is a follow up to 1999's "The Best Man." The all-star cast includes Taye Diggs, Nia Long, Sanaa Lathan, Terrence Howard, Regina Hall, Morris Chestnut and Monica Calhoun as a group of friends reunite over Christmas 15 years after they gathered for a wedding — and show just how easy it is for old rivalries and romances to be reignited. (Watch the trailer here).
Universal Picutres
"Obvious Child" (2014)  
"Obvious Child" tapped into millennials' struggle adapting to adulthood. Jenny Slate, who'd already had a short stint on "Saturday Night Live," plays a twentysomething comedian whose unplanned pregnancy forces her to confront the realities of independent womanhood. (Watch the trailer here).
A24
"The Lobster" (2015) 
Maybe the weirdest romantic comedy of the last decade, in the best way possible. Colin Farrell and Rachel Weisz star in this quirky indie, set in a dystopian near-future in which single people are taken to a resort where they must find a romantic partner in 45 days or be transformed into animals. (Watch the trailer here).
A24
"Trainwreck" (2015)  
Amy Schumer became a household name in 2015 after writing and starring in this Judd Apatow-directed rom-com. "Trainwreck" hits a lot of the necessary tropes, but flips them by pushing against gender stereotypes in an expectedly raunchy way. (Watch the trailer here).
Universal Pictures
"La La Land" (2016)  
Emma Stone solidified her spot in the pantheon of great romantic comedy actresses with "La La Land." The film won her an Oscar for Best Actress. Directror Damien Chazelle's musical, which also stars Stone's charm-inducing counterpart Ryan Gosling, serves as a love letter to movies, Hollywood and to love itself. (Watch the trailer here).
Lionsgate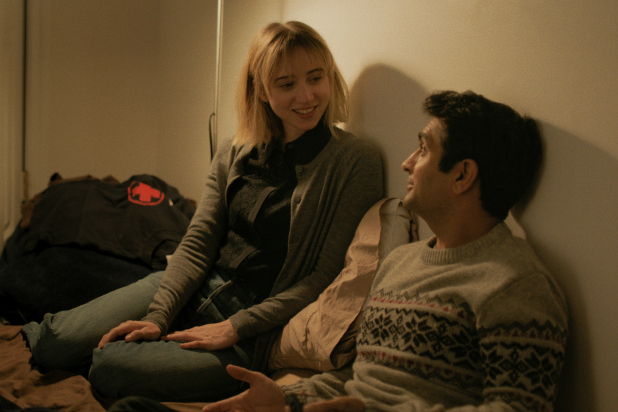 "The Big Sick" (2017)  
"The Big Sick," written by Kumail Nanjiani and Emily S. Gordon, is based on the true story of how the couple met and fell in love. It delved into the nuances and complications of cross-cultural love and became a box office hit. (Watch the trailer here).
Lionsgate
"Love, Simon" (2018)  
This teen romantic comedy,  adapted from a best-selling YA novel, follows 17-year-old Simon (Nick Robinson) who is keeping the secret that he's gay. His life gets complicated after he falls for an anonymous classmate online and struggles to figure out his even-more-closeted crush's identity. (Watch the trailer here).
20th Century Fox
"To All the Boys I've Loved Before" (2018)  
This Netflix hit cemented the streamer's Summer of Love with its look at a nerdy girl (Lana Condor) who after writing private not-to-be-sent letters to boys she's liked finds herself dating the high school's cool guy (Noah Centineo). The film was also marked a breakthrough for depicting an Asian American heroine. (Watch the trailer here).
Netflix
"Set It Up" (2018)  
Two overworked twentysomething assistants (Zoey Deutch and Glen Powell) decide to set up their bosses romantically in order to be able to enjoy their lives. The film was part of Netflix's Summer of Love rom-com push. (Watch the trailer here).
Netflix
"Crazy Rich Asians" (2018) 
"Crazy Rich Asians" broke down cultural barriers with its nearly all-Asian cast and was a box office hit — only the fifth romantic comedy to gross more than $100 million at the box office since 2009. The film was adapted from the best-selling book series by Kevin Kwan. (Watch the trailer here).
Warner Bros.
"Isn't It Romantic" (2019)  
"Isn't it Romantic" flipped the rom-com on its head, serving as a meta commentary on the genres main tropes. Rebel Wilson starred as an architect who, after falling into a coma, finds herself trapped in a fairy-tale PG-13 romantic comedy where she can go to bed with hunky Chris Hemsworth but quickly cuts to the morning after. (Watch the trailer here).
Warner Bros.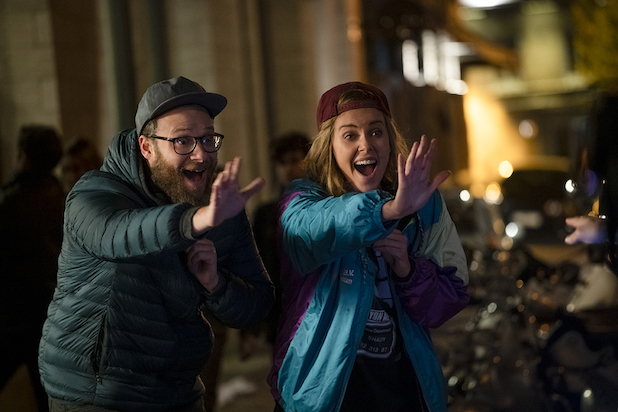 "Long Shot" (2019)  
Most might not pick Seth Rogen as the romantic lead, but he shines alongside Charlize Theron as a journalist who reunites with his childhood crush who happens to be the Secretary of State (Theron). She hires him has a speechwriter as she prepares to run for president. And yeah, you guessed it, they fall in love. (Watch the trailer here).
Lionsgate
"Always Be My Maybe" (2019) 
Ali Wong and Randall Park's perfectly crafted film reveled in Asian-American culture, following two childhood sweethearts who reconnect after having a falling out 15 years prior. Oh, and the film added fuel to the Keanussance with a killer Keanu Reeves cameo. (Watch the trailer here).
Netflix
"Someone Great," "The Perfect Date," "The Last Summer," "Falling Inn Love," "The Knight Before Christmas" and "Let it Snow" (2019)  
Netflix made a big bet to revitalize the romantic comedy in 2018 and doubled down on that investment in 2019, helping to end the decade on a hopeful note for the future of rom-coms.
Netflix
Here are some of the most endearing romantic comedies of the last decade
Source: Read Full Article