Jungkook from BTS Sets Billboard World Digital Song Sales Record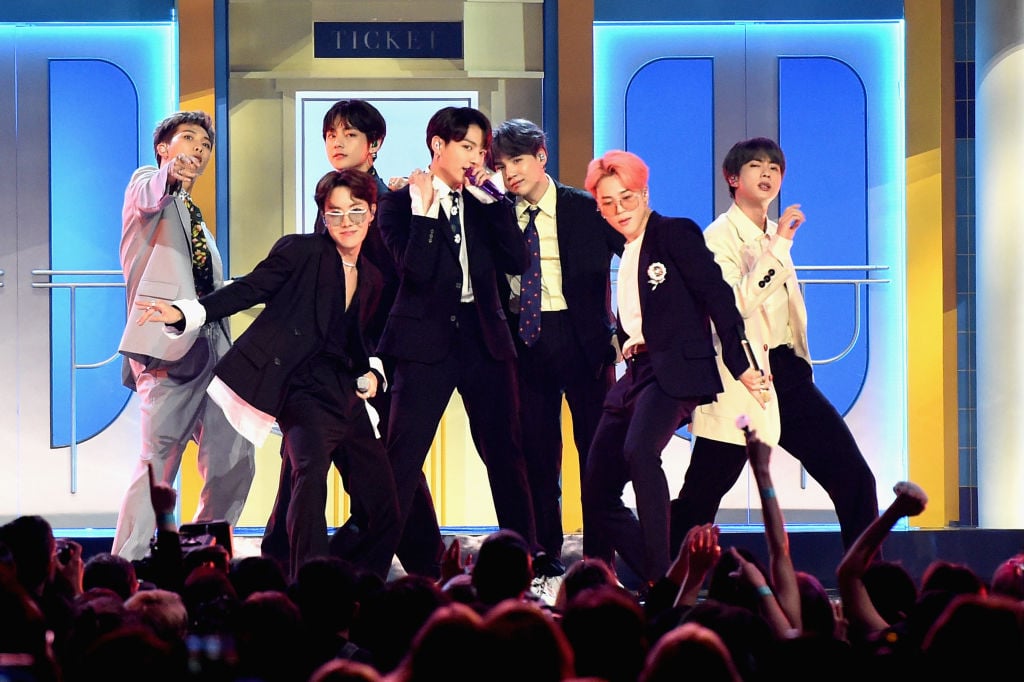 Jungkook is known as the "Golden Maknae" of BTS because he is good at everything he tries. The 22-year-old singer also seems to break every social media platform. His posts on Twitter and Weverse caused both apps to crash. Jungkook also breaks musical records, and recently the BTS member broke a Billboard record.
Jungkook broke a record on the Billboard World Digital Song Sales chart
Back in 2014, a K-pop artist named Taeyang released a single, "Eyes, Nose, Lips." The song charted on the Billboard World Digital Song Sales chart for 21 weeks. The song also won Song of the Year at the 2014 Mnet Asian Music Awards.
Jungkook's solo song "Euphoria" came out in 2018. It is one of BTS's most popular songs and showcases Jungkook's vocal ability. On Aug. 13, 2019, the song re-entered the chart at. No. 20.
This gave the song a total of 22 weeks on the Billboard World Digital Song Sales chart. As a result, Jungkook became the longest-charting solo male K-Pop idol on the chart. This broke Taeyang's record and cemented Jungkook as one of the most popular K-pop idols in the world.
Jungkook released another solo song on his birthday
On his birthday, Jungkook thanked his fans for their support on Weverse. In his post, he hinted that he would release something later that day.
"And I always put up cover songs on my birthday. Unfortunately, I couldn't do it today. I want to give you something else as a thank you. I'll upload it a bit later. Haha," he wrote in the post.
A few hours later, Jungkook posted a selfie thanking fans and then uploaded a video clip. The video is short and is only one minute and 19 seconds long. The image in the video is a black screen, but fans can clearly hear a keyboard and Jungkook's voice. The song lyrics are entirely in English and showcases Jungkook's lower register.
On his birthday, the other members of BTS posted celebratory posts about Jungkook and later posted photos celebrating with the youngest member. Jimin even flew back from Paris with presents to celebrate Jungkook's birthday.
Jungkook from BTS broke Twitter and Weverse
Musical records are not the only think Jungkook is known to break. In August 2019, Jungkook posted on Weverse for the first time since BTS went on hiatus. After just three posts, the entire app crashed.
When Jungkook posted on Weverse for his birthday, the app crashed again. As fans posted for Jungkook's birthday on Twitter, the app stopped working as well. By the time Jungkook released his new song, the app worked again.
However, fans still noticed that before Twitter crashed, #HappyBirthdayJungkook trended with over a million tweets. The fandom also trended multiple hashtags before Twitter released a message that it was overcapacity.
"SO you're telling me JEON JUNGKOOK trended in every single country available for Twitter and the entire world at #1 on his birthday? And simultaneously broke records for having over 20 MILLION tweets. When I tell you the WHOLE WORLD loves Jungkook…," a fan tweeted.
"DID WE JUST CRASH TWITTER FOR JUNGKOOK'S BIRTHDAY LMAO," wrote a fan on Twitter.
"jungkook moving to post on weverse cause twitter is broken but then we also break weverse now jungkook is gonna have to communicate to us using a flashlight and morse code," joked a fan.
Source: Read Full Article