Jungkook Is Officially Releasing a Mixtape and BTS Fans Are Not Ready
Jungkook has hinted he wanted to release a mixtape for ages. After the BTS member released an original song on his birthday, ARMY wondered if a mixtape was on its way. BTS fans are in luck, because Jungkook announced he is working on a mixtape while he appeared on a VLIVE with J-Hope.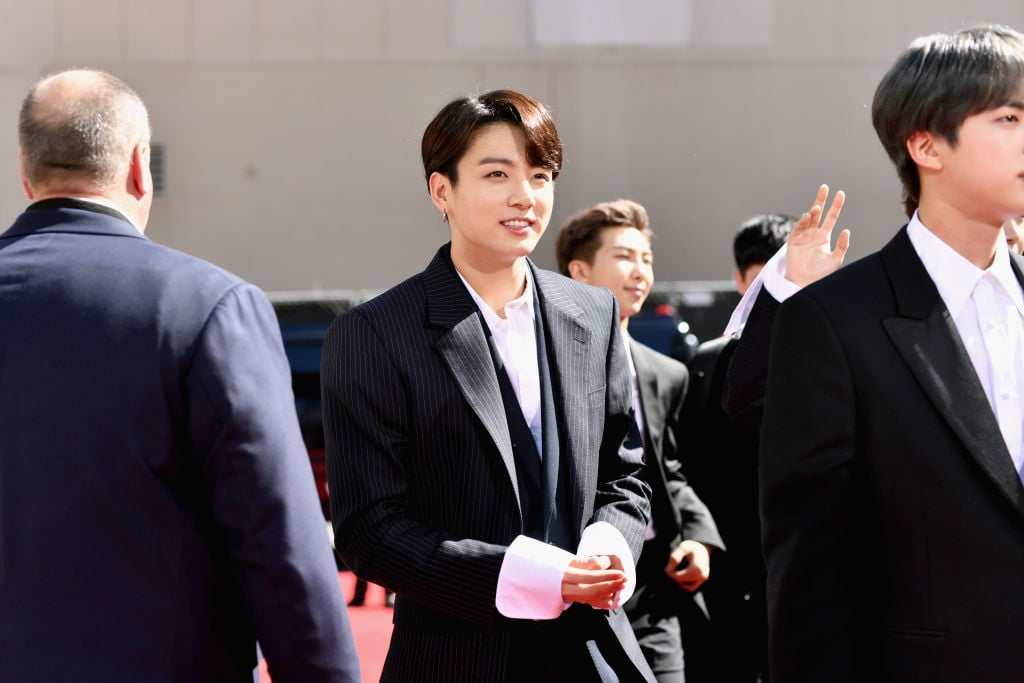 Jungkook hinted at the mixtape while on a VLIVE with J-Hope
After releasing his collaboration, "Chicken Noodle Soup," with Becky G, J-Hope hosted a VLIVE for fans. In the VLIVE, J-Hope discussed the production of the song and the collaboration. V and Jungkook both stopped by to take part in the "Chicken Noodle Soup" Challenge.
While Jungkook visited, he also revealed he was working on making songs. Apparently, Jungkook planned to release a song right after BTS's hiatus ended, but he was not happy with it. So the singer is working on multiple songs to release.
"'The idea was to share it after the break but I didn't feel satisfied, so it won't be a single song' THREE HOURS AGO JUNGKOOK BASICALLY ANNOUNCED HIS MIXTAPE, I CANNOT PROCESS EVERYTHING. JJK1 IS COMING," a BTS fan wrote on Twitter.
"WE'RE GETTING JUNGKOOK'S MIXTAPE SOON OH MY GOD OH MY GOD," a fan tweeted.
A Jungkook mixtape means Jungkook might release a music video
Fans also realized that a Jungkook mixtape means Jungkook could release a music video. Jungkook has been growing out his hair for months and fans love his long hair. If the timing worked out, he could film the hypothetical music video with his long hair.
A fan tweeted, "jungkook said he wanted to release a song after the break too but he wasn't satisfied with it so he's working on more than one song that means we're getting a whole mixtape? a whole jjk1? perhaps a music video? with his LONG HAIR?"
BTS fans are excited for Jungkook's mixtape
After Jungkook dropped the news he was working on a mixtape, ARMY freaked out on Twitter. There is no such thing as rest in the BTS fandom. BTS seems to never rest because they release so much content. ARMY never rests because of all the content released. Jungkook announced his mixtape just hours after J-Hope released "Chicken Noodle Soup."
"Thinking about how Jungkook broke the twitter app on his birthday & weverse got crashed when he just posted. His solo song 'Euphoria' achieves so many records with having a mv. Imagine how it'd be when he will drop his mixtape, this would be another level of POWERFUL," a fan tweeted.
"hoseok is working on his second mixtape,,,,,,,jungkook is currently working on his mixtape,,,,,,,,,rest? in this fandom??? sorry we don't know her," wrote another fan.
Jungkook released an original song on his birthday
In the past, Jungkook posted covers of songs for his birthday. This past year, Jungkook did something completely different. He posted an original song. The singer hinted he would post an original song instead of a cover in a Weverse post.
Jungkook then uploaded a video to Twitter. While the image in the video is a black screen, Jungkook's singing voice can be heard. The song featured English lyrics and was sung almost entirely in Jungkook's lower register. The next day, Jungkook posted even more videos of himself singing on Twitter.
Source: Read Full Article