Nicki Minaj Fans Slam 'Unfair' Grammys for Snubbing Her While Giving Noms to Latto After Their Feud
In October, the Trinidadian raptress called The Recording Academy out for putting her hit 'Super Freaky Girl' in Pop category while Latto's 'Big Energy' in Rap category.
AceShowbiz –Nicki Minaj's fans are left in shock as they can't find the raptress' name on the 2023 Grammy Awards nominations list. The Barbz quickly slammed the "unfair" Recording Academy for snubbing their idol while giving two nominations to Latto (Mulatto) after their heated debate over Rap category.
The Recording Academy announced the nominations list on Tuesday, November 15. Last month, Nicki complained that the Recording Academy decided to categorize her latest hit "Super Freaky Girl" as pop, while she wanted her work recognized in rap. As it turned out, the Trinidadian rap star was blanked on her submissions in any genre.
Nicki's hit "Super Freaky Girl" samples Rick James' "Super Freak". The song, which was released on August 12, spent 10 consecutive weeks at No. 1 on Billboard's Hot Rap Songs Chart.
Nicki has yet to publicly respond to the Grammys snub but her fans expressed their disappointment on social media, with many noting that Nicki's song "Do We Have A Problem?" being left out of a potential nomination as well despite the single went to No. 2 on Billboard's Hot 100.
"y'all saying if nicki kept her mouth shut she would've been nominated.. but [kanye west] peed on a whole grammy and got another one?? make it make sense..," one fan tweeted. Another person said, "Today we witnessed Glorilla and Latto get nominated for a Grammy over Nicki Minaj. Wow. No grammy nomination for Nicki Minaj? I'm having an actual heartbreak at this point it's unfair."
Another person echoed similar words, saying that despite the fact that Nicki hasn't won a Grammy throughout her 12-year career, they considered her iconic for it. "Nicki being the only female rapper without a grammy is more iconic to me than her getting one idk," the Twitter user expressed.
"They will intentionally give both Glorilla and [email protected] a Grammy. Just wait," someone else opined. "The idea is to award every single female rapper with one except for Nicki Minaj, the most successful, highest selling and most certified female rapper in history. It's sick." A separate user posted, "I seriously hope this is gonna be the last time ever that Nicki Minaj will submit any of her projects for Grammy. It's beyond ridiculous how unfair she gets treated every time during the nominations."
In the meantime, Latto is celebrating her new music career milestone after receiving two nominations, Best New Artist and Best Melodic Rap Performance. After news of her nominations broke, Latto shared an emotional tweet with fans.
"I'm crying so bad right now!!!! Never give up on your dreams yall!!! S**t gone get rough… but DONT GIVE UP," the "Big Energy" hitmaker first tweeted. In a follow-up post, she wrote, "ONE THING ABOUT GOD!!!!!"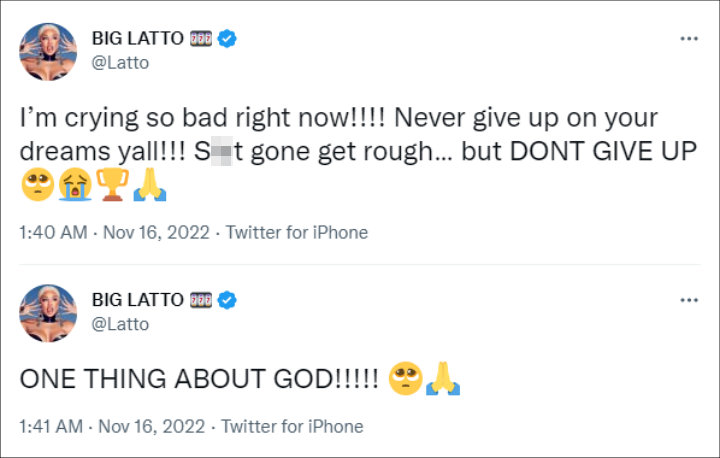 Latto reacted to receiving multiple nominations for 2023 Grammys.
Back in October, Nicki took to Twitter to discuss her frustration over her song "Super Freaky Girl" being put into the Grammy's pop song category for consideration. She explained that if Latto's "Big Energy" was a rap song, then hers should also be considered one.
Responding to Nicki's complaints, Latto turned to her own page to say that she "can't even celebrate" her achievements. The 23-year-old femcee then hit out at Nicki, saying that she's older than her mother and "tryna be a bully."
Source: Read Full Article