Ozzy Osbourne's Daughter Aimée Kept Her Interest in Making Music a Secret Because Nepotism Was Awkward
Being Ozzy Osbourne's daughter comes with certain perks, but Aimée Osbourne has never cashed in, especially when it comes to her music career. As the daughter of the Prince of Darkness himself, singer of heavy metal hits like "Iron Man" and "Crazy Train," Osbourne would have instantly had access to all manner of things to help kick start her career as a singer.
However, initially, she kept her interest in making music a secret. She thought nepotism was awkward.
Ozzy Osbourne's daughter Aimée kept her interest in music secret because nepotism is awkward
Osbourne was born in 1983, two months before her father released his third solo album, Bark at the Moon. In the early 2000s, she famously opted out of her parent's MTV reality show, The Osbournes.
"I want to be a singer, and I felt if I'd stayed with The Osbournes and done the whole thing I would have been typecast right away," she told the Independent in 2008.
She then starred in MTV's 2003 adaptation of Wuthering Heights. In 2014, she did voice work for Postman Pat: The Movie.
However, being born at the height of her father's solo career, Osbourne was always surrounded by music. However, she felt weird about wanting to go into her father's profession. She thought nepotism was awkward.
"I grew up around a lot of music," Osbourne told Tom Cridland, "and then I guess just having that kind of creative environment, it was kind of like a natural part of my everyday life. Then I always was interested in writing music and singing but I was very shy and almost embarrassed about it because I didn't want to do that whole nepotistic thing that just felt really awkward. So I kept it a secret.
"Then my mom's friend overheard me singing in my room or and then she said, 'Well, would you like to come and stay with me and I know these people that write music very similar to what you like, and I think just for fun you should just come and see what happens.'
"I was very hesitant and secretive about it. For some reason, I just felt very shy, and then the trip went really well, and I surprised myself. Then it kind of went from there."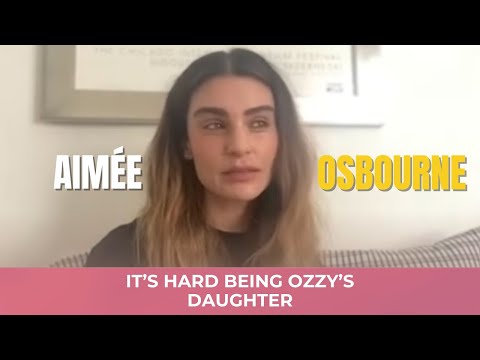 Osbourne releases music under ARO
When Osbourne was young, she always wrote poetry and stories. So songwriting came to her naturally. However, she wanted to remain anonymous when she started her career.
Osbourne began putting out music under the name ARO (her initials) to avoid "the obvious associations" with her last name. "I don't think I will ever cross-contaminate my private life and my family life with my public and professional worlds," she told Rolling Stone in 2015. "For me, nothing's more important than having a very clear boundary between the two. That's just part of who I am."
Osbourne further distanced herself from her family. Her music is different from her father's music. In 2015, Osbourne an avant-pop song called "Raining Gold."
Osbourne wrote the song during a time when she was frustrated with where her career was going. Then, finally, she found the right manager and production team.
She told Rolling Stone that her influences range from singers like Kate Bush to Portishead. "I've always been attracted to music and films and people that are just a little bit unusual and a little bit haunting," she said. "I don't really consider my music anything other than 'moody.' I don't know if that's a genre."
Shortly after releasing "Raining Gold," Osbourne performed her music. In 2020, she released her debut LP, Vacare Adamaré.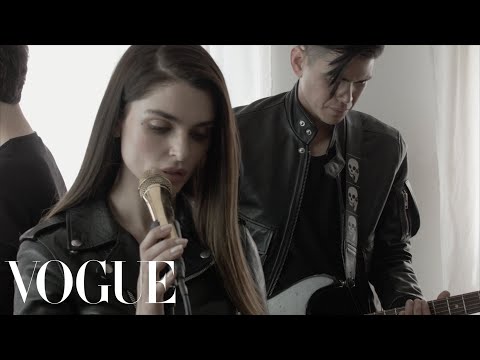 Her family helped her
Rolling Stone pointed out that Osbourne's music career "could have been easier for her had she not been so hell-bent on doing it herself."
"One would assume," she said. "Had I chosen a very specific career, it would have been easier. I'm a very what-you-see-is-what-you-get kind of person, and my family always laughs at me. They're like, 'You have minus-zero poker-face skills. We just have to look at your face and we know what's wrong with you.'
"I can't be passionate about something or really give myself to something if I don't know it's a hundred percent authentic to who I am. And this project is a hundred percent authentic. Sometimes it can take a little bit more time than for others who are willing to play the game a little bit more. I have a lot of respect for that, but that's just not something I could have done."
Her family has supported her. The Black Sabbath frontman tells her which songs are hits while her mother gives her advice.
"They're really happy and excited,' she said. "And I think because of the delays and because they know there is a part of me that is so private, they, as parents, might have had doubts that I was doing the right thing. But it's been great to put their minds totally at ease that I'm doing the right thing for myself."
Growing up the way she did, Osbourne always knew what she'd have to sacrifice to make her career work. She said there are no surprises. Osbourne has seen it all in the music industry, but that doesn't mean she hasn't been nervous at some points. That's when she remembers she's doing something she loves. Osbourne doesn't live in her father's shadow.
She escaped a deadly fire that claimed one life at a Hollywood recording studio on May 19, but Osbourne will undoubtedly be back in the recording studio soon. We'll see what she does next.
Source: Read Full Article