Rolling Stones' Tour Manager Dies In A Tragic Freak Accident
Known for managing and directing the likes of legendary acts such as the Rolling Stones, Bob Dylan, and Peter Frampton, Mick Brigden became a staple to so many stars in the music scene. Sadly, the manager and tour director died at age 73 on September 5, as his wife, Julia Dreyer Brigden, confirmed to TMZ. Mick tragically died at their home in Santa Rosa, California, though his exact cause of death has yet to be revealed.
The late entertainment guru was a familiar name in showbiz, having risen to fame as the road manager for the band Mountain, which released the hit song "Mississippi Queen" in 1969 and gave a memorable performance at Woodstock that same year, per the New York Post. He eventually became a protégé to iconic rock promoter Bill Graham, and later went on to direct Mick Jagger and the Rolling Stones, as well as manage Humble Pie, Eddie Money, and Sammy Hagar, among others, as an obituary posted on Mick's website reads.  
Joe Satriani, a Grammy-nominated guitarist whom Mick managed for decades, paid tribute to his longtime friend's death shortly after the news was revealed. Sharing two photos of Mick via Instagram on September 7, Satriani remembered his pal for being the "ultimate music business mentor," as well as praised Mick for being the most "honest, tough, nurturing, hardworking, respectful, tenacious, insightful" man. For more details on Mick Brigden's tragic death and the freak accident that caused it, keep scrolling. 
Mick Brigden died after he was digging a grave for his dog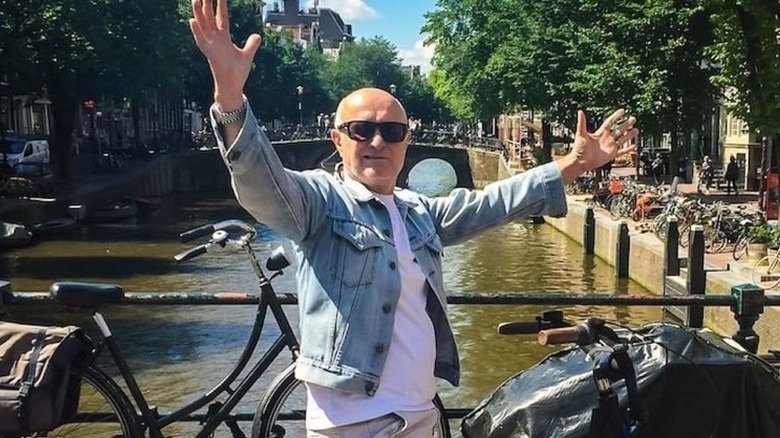 The music industry is mourning the death of beloved manager Mick Bridgen after he died in a devastating freak accident. As the late public figure's wife, Julia Dreyer Brigden, told TMZ, he was digging a grave for their dying dog on their home's property in Santa Rosa, California, on September 5 when something went awry.
Though his cause of death has yet to be announced, Mick's widow said he died after the hole he was digging collapsed on him. A neighbor witnessed the tragic accident and immediately called 911, and while Mick was transported to Santa Rosa Hospital, he was pronounced dead at age 73. Even more heartbreaking, TMZ reported the pair's 14-year-old Australian Shepherd named Travis was put down two days later.
According to an obituary on Mick's website, he lived in Santa Rosa with his wife since 2001, where he "discovered a new-found talent for growing grapes in his vineyard." In addition to making an "exclusive Owl Ridge cabernet," Mick was also "a true cycling enthusiast and old school." The famed manager is survived by his spouse of 34 years, as well as his son, Jack Brigden; step-daughter, Jessica Merz; and grandson David Merz, per the obituary.
Mick Bridgen is remembered for being more than just a manager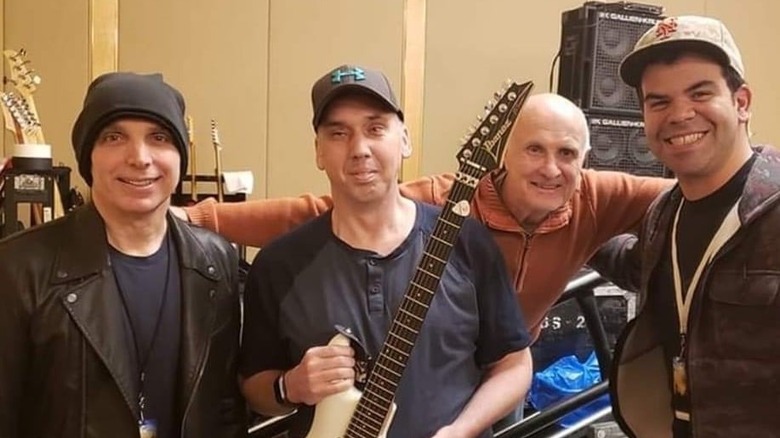 In the wake of Mick Bridgen's death, close friends, loved ones, and musicians posted a sea of tributes for the late music manager and tour director. Among the countless social media messages was one from Sammy Hagar, who Mick managed for several years after he rose to prominence as a singer for the 1970s rock band Montrose. Sharing a tribute on Facebook on September 7, Hager said Mick was "a real soldier and loyal friend" who "was the first person that ever took care of [him] on the road."
In a lengthy Instagram post, Joe Satriani reflected on his "crazy and wonderful 33 years of rock 'n' roll" with his late manager. Pointing out how Mick "worked with the biggest and the best," Satriani expressed his gratitude for the "many worldwide adventures" they shared together. "I learned so much about how to be a good person from Mick," read Satriani's emotional message. "[He] always knew it was important to be kind, be respectful, be cool and do things the right way."
Source: Read Full Article