The Transformation Of Rihanna From 17 To 33
The following article contains references to domestic violence.
As every fan will tell you, the transformation of Rihanna from childhood to present day is one that has always felt organic and authentic to the global superstar. Having once told We Love Pop (via Digital Spy) that Madonna has been her "biggest influence," it's no surprise to have seen the star go from pop stardom to Hollywood fame and business success, all while boasting an ever-changing sense of style.
Her instincts for fashion are something that feed into her music and back again — the two acting as opposite sides to the same coin — and much like her song catalog, her bold style continues to delight and push the envelope. She's long understood that longevity and respect are earned not by sticking to the norm, but by reaching well beyond it, into territory that can often be challenging but rewarding.
When talking to Vogue about fashion, she mentioned how "taking a risk" was the biggest "thrill" for her in terms of putting together a look. "I always look for the most interesting silhouette or something or something that's a little off," she said, "But I have to figure it out. I have to make it me." Arguably, she's applied this same method across her incredible career, too. And you can see that in the transformation of Rihanna from 17 to 33. 
Budding star Rihanna loved to rock 'going out' looks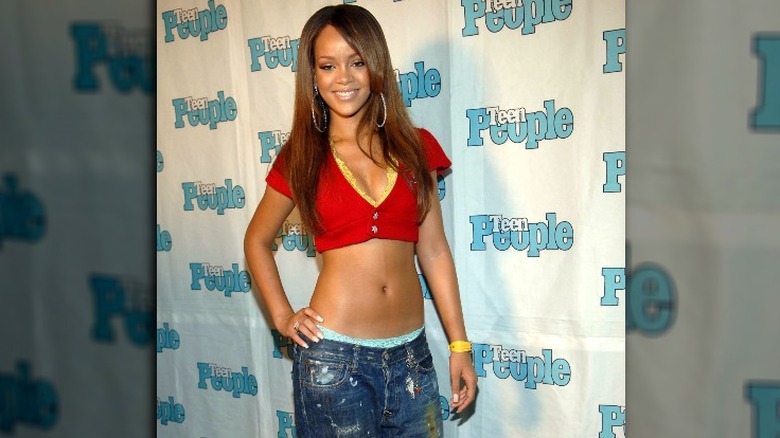 When she was just a teenager, Robyn Rihanna Fenty signed to Def Jam and left her home in Barbados to live and work in Los Angeles full time. The mononymous superstar in training was discovered by producer Evan Rogers whilst he was vacationing in Barbados. As noted in The Baltimore Sun, at the age of 17 she "signed to a deal on the spot" after catching the attention of former Def Jam President Jay-Z, "the first celebrity" she'd ever met.
The instinct to snap this young talent up paid off for Hova. Her dancehall tinged debut "Pon de Replay" became an instant classic, rising to the No. 2 slot on the Billboard Hot 100 — a respectable position for anyone, but especially a newbie. Rihanna had star power, but her aesthetic was understated yet cool. As she emerged in the pop stratosphere, her signature remained a crop top and low-cut jeans combo.
Her style was laid back and a little tomboyish, but as Rihanna told Vogue, this was a conscious choice. She said her wardrobe was based on how she would dress when she first started "going out" as a teen. "I always wanted to be the opposite of everyone else," she said, explaining that her pared-back and boyish choices were so she "would not be dressed like other girls." Of course, it wouldn't take long for Rihanna to figure out that her incredible style instincts would ensure that she'd never be dressed "like other girls" — even when she dropped the tomboy look.
The edgier side of Rihanna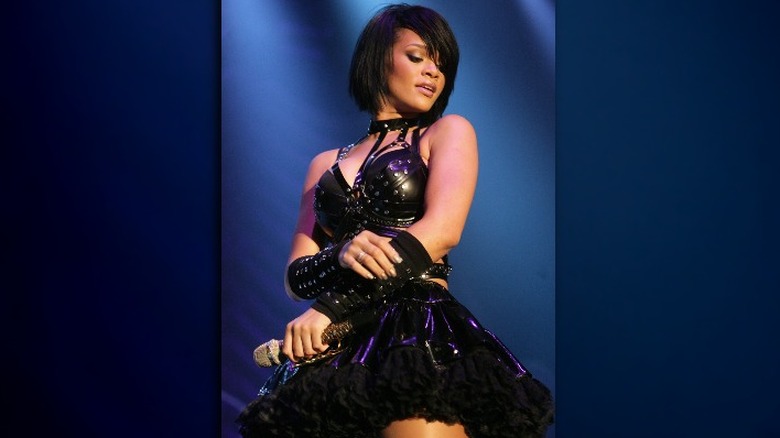 While the Bajan superstar experimented with more feminine looks upon the release of her second album "A Girl Like Me" — dropped just eight months after her debut — it was her critically acclaimed third album "Good Girl Gone Bad" that saw the style chameleon transitioning into a style and sound that was more mature, assured, and darker overall.
Dramatic lead single "Umbrella" both dominated the charts and earned Rihanna her first golden gramophone. At the 2008 Grammy Awards, the track took home the hardware for Best Rap/Sung Collaboration, and was nominated for Record of the Year. RiRi was also up for Best Dance Recording ("Don't Stop The Music") and Best R&B Performance by a Duo or Group with Vocals ("Hate That I Love You"). 
It would be the song and album that would change everything for the artist, who started experimenting with black latex ensembles — suitably waterproof for all those soggy "Umbrella" performances — and demanded people take notice when she chopped her hair short and dyed it black. Rihanna was serving R&B pop from a punk rock palette, and something just clicked. She told Vogue, "When I cut my hair, the whole sound changed, my style changed." It was a teenage rebellion moment that youth around the world could relate to; Rihanna didn't want to exist within someone else's cookie cutter version of herself. She was growing up, and she finally knew herself, telling Entertainment Weekly that she "had to break away" from the "innocent image" being forced upon her.
Rihanna's star continued to rise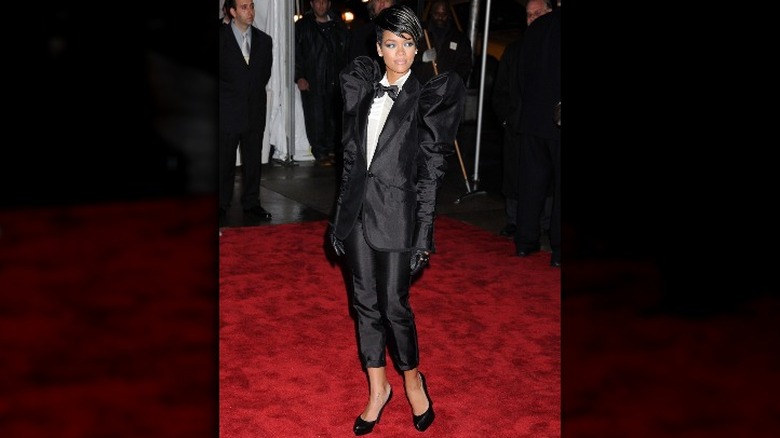 Proving that her "Good Girl Gone Bad" rebellion wasn't just a phase, Rihanna followed up the success of the album with the 2008 goth hit "Disturbia." The song was written by her then-boyfriend Chris Brown, and the lyrics delve into mental anguish — an unconventional subject matter for a mainstream pop track. As producer LA Reid told MTV News, the track was the "first time" Rihanna had approached him with a song that she wanted to put out. "That was her taking control," he said. "She understands what hits are, and she knows what she wants to say."
Aesthetically, Rihanna's style similarly reflected a young woman who was suddenly in charge of her life and career. On the red carpet, she flourished in designer couture that wasn't run-of-the-mill teenybopper fare, but which made interesting statements with odd cuts, shapes, and concepts that announced Rihanna as a true artist with a keen eye for expression. She was a sensation.
Just as she appeared to be on top of everything, Brown was charged with assaulting Rihanna in 2009 (per Guardian). Speaking to Vanity Fair in 2015, Rihanna said that the way the media fixated on the assault made her feel "punished over and over." For the next decade she'd do everything in her power to push her best looks, sounds, and business acumen to the forefront of her narrative instead.
If you or someone you know is dealing with domestic abuse, you can call the National Domestic Violence Hotline at 1−800−799−7233. You can also find more information, resources, and support at their website.
The red and loud era of Rihanna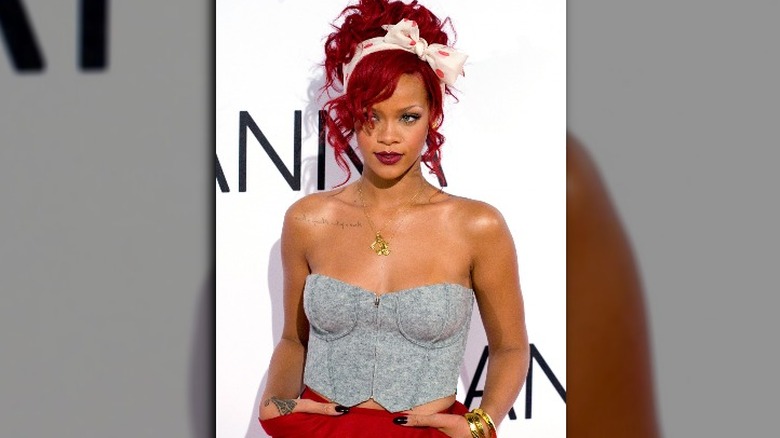 Instead of shrinking away from the attention brought on by the Chris Brown assault, Rihanna instead made a huge statement by materializing from the drama with vibrant Jessica Rabbit-esque red hair. She was a phoenix not just rising from the ashes of a very public pain, but also dragging the fire with her and allowing it to illuminate, rather than burn, her.
With the release of 2010's "Loud," her tenth album, Rihanna shook off the darkness whilst still maintaining her edge. The result was an effervescent, upbeat marvel that felt almost nostalgic for her early releases, with songs like "Only Girl (In the World)," "S&M," and "What's My Name?" reminding the universe of her incredible vocal talent and versatility as an artist.
Though critics were praising the album, people were also obsessed with RiRi's new look. When her "fiery" new hair colour was brought to attention during an interview with Total Kiss, she joked, "Yeah, it's loud." Her style and her music were basically one and the same, an expression loop that fed off each other. She also confirmed that her latest aesthetic made her feel different. "It's really liberating," she said, "because it's something so bold and you have to be fearless to do something like this."
Rihanna kept leveling up in the fashion world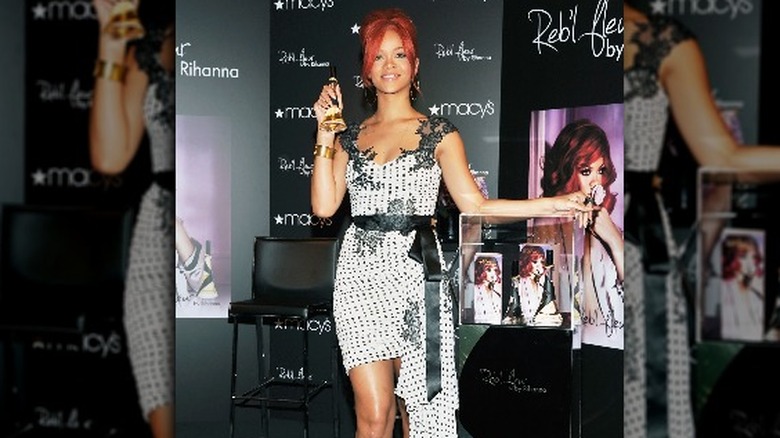 The bold fearlessness that permeated "Loud," as well as her new look, extended for the year following the release of the album. In addition to releasing her first fragrance, Reb'l Fleur — which she said was about "being expressive and empowering … but also emotional and intriguing" (via Cosmopolitan) — 2011 would be the year that Rihanna would enjoy her first fashion collaboration.
The Barbadian dynamo created a capsule collection with Armani Jeans and Emporio Armani Underwear which included, as Elle noted, "modern, quintessential streetwear" that also captured "Rihanna's unapologetic rock-star swagger." Unsurprisingly, perhaps, Rihanna's style became a little more refined — when she took fashion risks, it was within the traditional confines of a really solid gown or a bold floral print, for instance — but her aesthetic was still undeniably her own. RiRi's brand was starting to become better defined, and so were her ambitions.
And on top of all of that? She dropped "Talk That Talk" at the end of 2011. The album spawned several major singles, including the Calvin Harris collaboration "We Found Love." The song was paired with a video directed by Melina Matsoukas — a clip that earned controversy, a Grammy, and lots of praise. Speaking to Pitchfork, Matsoukas admitted she "was surprised" by how good Rihanna's acting skills were. This was only the start of bigger things to come for the star.
Hollywood starlet Rihanna hit the red carpet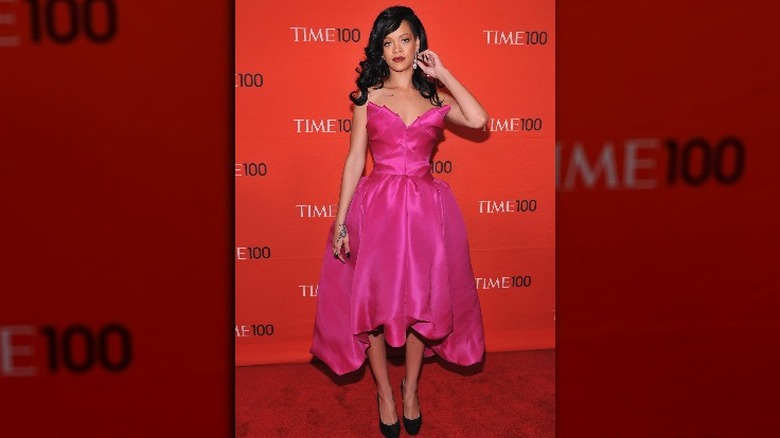 By 2012, Rihanna had proved herself to be an indomitable musical force and she'd begun to flash the beginnings of a promising career in fashion. But there was one arena left to conquer: Hollywood. Peter Berg's board-game-turned-movie "Battleship" may have been a poorly received gleefully dumb blockbuster, but critics were generally in agreement that RiRi was something of a highlight as one of several Navy recruits who, as The Guardian put it, "run about decks getting fetchingly wet."
The film may not have been winning any awards anytime soon, but Rihanna started hitting red carpets like she was Oscar gold, regardless. In the year that saw the star enjoy her major movie debut, she started stepping out with platinum blonde locks and dramatic gowns that referenced golden era Hollywood: a slinky Stella McCartney sensation which made her look as though she was entering the world stage through a set of decadent cabaret curtains (via HuffPost); a dazzling Givenchy couture knockout she paired with long leather gloves to the Brit Awards (via Vogue); and a structured magenta Marchesa dress that made her look like a warrior-princess-slash-actor (via MTV) worn to TIME's 100 Most Influential People in the World event.
Rihanna was a walking power pose, and she was ready to flex even bigger and better than ever before.
Money on Rihanna's mind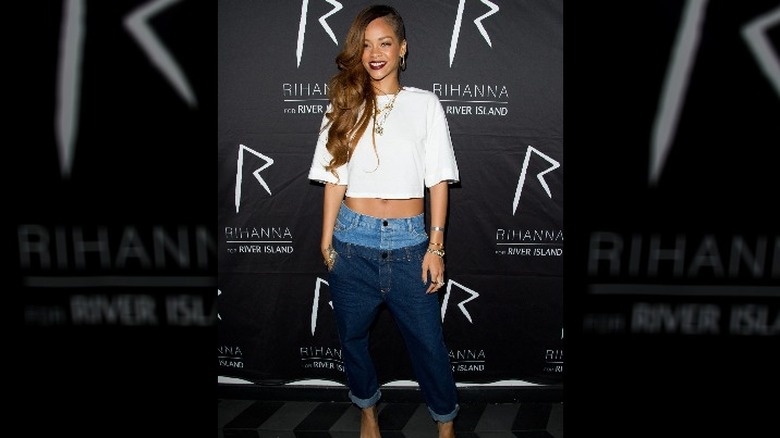 A year later, Rihanna was still serving high glamour, but she'd also sartorially returned to her roots by rocking a variety of crop top combo ensembles. The big difference? They were a thousand times more high-end than the ones she wore at the beginning of her career. The flex paid into her next big step: A collaboration collection with UK high street store River Island which The Guardian described as veering "between eccentric quirkiness, avant-garde fashionista, steely dominatrix and classical elegance." It was an accessible line of Rihanna's greatest signature style hits, at an affordable price point.
But just because RiRi was suddenly looking to her past for inspiration didn't mean she wasn't still pushing forward and innovating her sound and look as an artist. The release of her cash brag anthem "Pour It Up" reminded the world that Rihanna wasn't about to get comfortable any time soon. Featuring the star in a short platinum blonde wig (and little else) whilst sat in a throne surrounded by pole performers, the music video had been hastily removed from her official VEVO channel within just ten minutes (via Glamour), with the company asking the artist (on Twitter) for access to a less explicit cut.
The video, and Rihanna's scantily clad look, drew controversy amid criticisms that it's demeaning to women (via Daily Mail). However, others such as Vice and The Guardian praised the song and video for depicting "a Black woman in control."
Rihanna called the shots in nudes and furs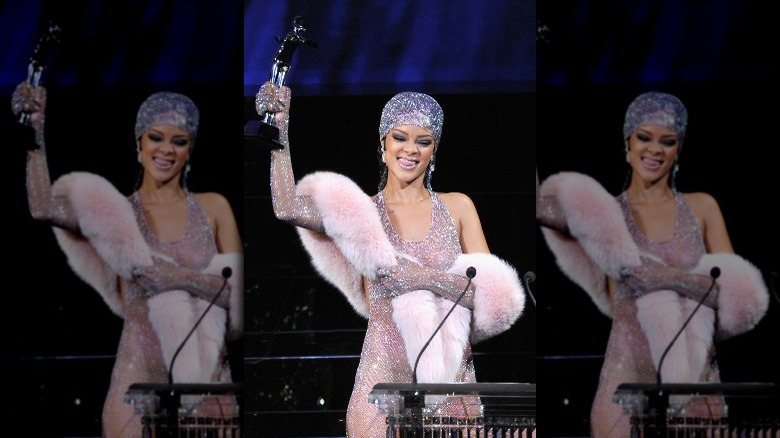 If her critics clutched their pearls at her "Pour It Up" look, then they were about to crumble at what Rihanna had next in store. For the 2014 CFDA Awards, where the fashion star was awarded the Style Icon accolade, Rihanna dropped jaws with an Adam Selman designed naked dress which was… super naked. She looked like a "woman who isn't even aware of her nakedness," as she once discussed in a New York Times interview. 
Inspired by the designs of naked dress pioneer Bob Mackie, Selman told Elle that the "lightweight and liquid" gown featured 230,000 beaded crystals which made the star glow in front of every stage light and flash bulb. The outfit was finished with a pink fur scarf — a look that would become something of a staple during this swaggering boss period, wherein she'd blend feminine and masculine basics topped off with fake fur in a bold colour.
By the time she released the controversial song and video for "B**ch Better Have My Money," she was fully flexing the look with confidence, looking like a mob boss and the boss' moll. Whether she was smiling pretty for a cop as a deranged kidnapper in the explicit music video for the song or popping by a Fendi event (via Daily Mail), Ri's propensity for matching lots of skin with furrows of fur felt like a statement of pure, unadulterated power: I own this. 
Building a bankable business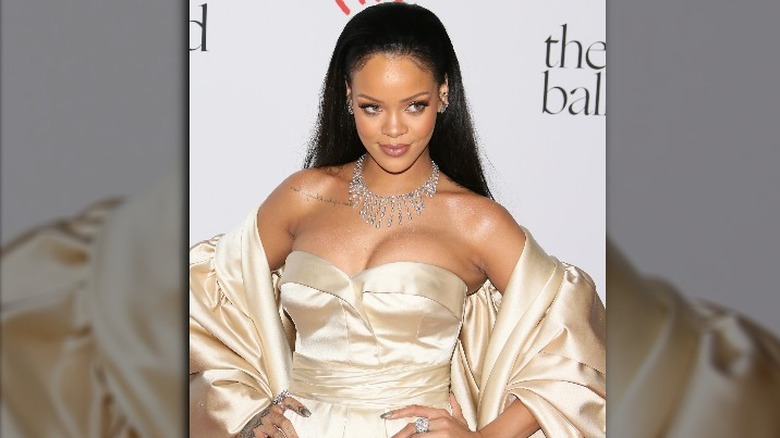 After spending a few years loudly reminding the world of her power and that she's deeply in charge of it, Rihanna invested some time in mastering her brand and knuckling down to some hard business. This translated into Rihanna rocking more traditionally tasteful looks as she was caught out and about in outfits that screamed luxe sophistication — a Balenciaga stole over a silk slip dress (via Laia Magazine), or a cape over a Balmain woven and fringed dress with matching accessories (via Tom and Lorenzo), for instance. 
Clearly, she was trying to assert an aesthetic of a certain status. In a 2015 New York Times interview with artist and filmmaker Miranda July, Rihanna admitted she'd started to "experience the difference" of doing business deals as a young Black woman, where people had made incorrect assumptions about her based on her appearance. "It almost excites me," she said. "I know what they're expecting and I can't wait to show them that I'm here to exceed those expectations."
After being named the creative director of Puma's women's collections in 2014, Rihanna proved that she wasn't playing when it came to exceeding those expectations when she finally released her critically acclaimed debut Fenty x Puma collection. As Billboard noted, the sneaker brand reported a 92% increase for the quarter thanks to Rihanna's involvement, and her universally adored Fenty x Puma creeper was voted best shoe of the year by Footwear News.
The start of the great Fenty empire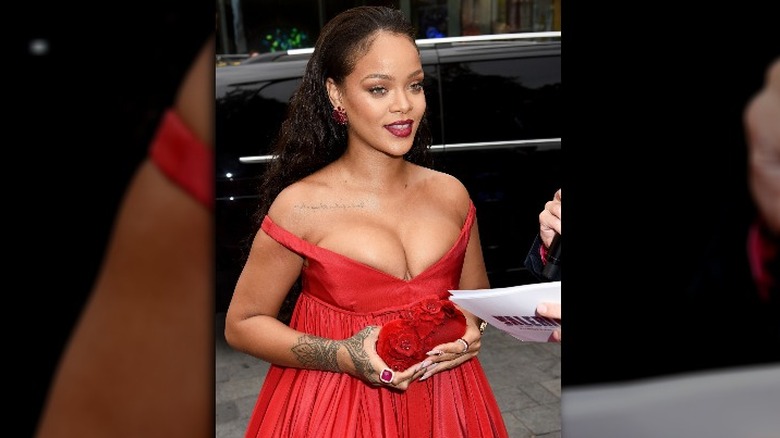 Those big business moves kept on coming with the launch of Fenty Beauty in 2017. Yes, the make-up brand could have been just another celebrity cash-in, but this one was breaking new ground. According to InStyle, the beauty line immediately "earned raves from both the industry and the general public" and included a range of matte foundations in 40 shades for women of all skin tones. "That was very important to me," Rihanna told the magazine. "I wanted everyone to feel included." The inclusive range of shades was so in-demand that some of the darker shades — often missing from foundation lines — were selling out almost immediately.
Fenty x Beauty was a bold business success from the get-go, and Rihanna's new look reflected it, boasting romantic, voluminous outfits that allowed the star to take up all the space she deserved, such as the piled plumage of the Comme des Garçons petal gown worn to the Met Gala (via Vogue); the lilac awestruck bouffant minidress she wore to a Fenty Beauty launch event (via Harvey Nichols); and the cleavage-baring, voluminous Giambattisa Valli couture number she wore to the "Valerian and The City of a Thousand Planets" premiere (via Glamour). 
Rihanna was dressing like a woman who had fallen into a self-made dreamworld and didn't want to leave. The good news was that she wouldn't have to: Fenty as a brand name would continue to go from strength to strength.
Rihanna became the first Black woman to lead a luxury brand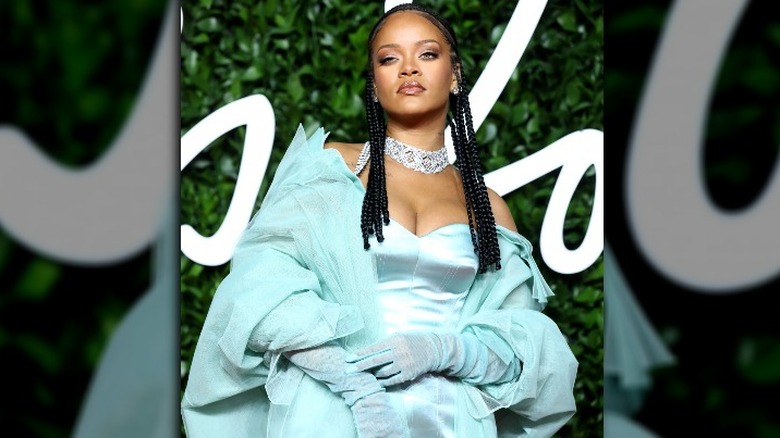 Having cornered the beauty industry, Rihanna returned her sights to fashion and launched Savage x Fenty, an intimates collection that caters to a variety of body sizes, shapes, and shades. Rihanna's mission plan reflected the ethos of her own personal style journey with the star hoping to inspire women to "own their beauty" by encouraging playfulness, experimentation, and confidence. "Women should be wearing lingerie for their damn selves," she said in Vogue. "I want people to wear Savage x Fenty and think, I'm a bad b**ch."
In 2019, Fenty partnered with luxury conglomerate LVMH — a big deal made all the grander by Rihanna making history. As Vanity Fair noted, she became "the first Black woman to head a luxury brand." And she did it without compromising her style or her vision, pushing designs that felt authentically her own. "I'm not the face of my brand, but I am the muse," she told Vogue. "My DNA has to run all the way through it." 
Naturally, this meant Rihanna would often put her money where her mouth — and her body — is, by rocking her own designs regularly. Including her standout Fenty moment at the British Fashion Awards in 2019, where Ri rolled up in a powder blue Fenty minidress that made fashionista hearts everywhere simply burst with joy (via Harper's Bazaar). Rihanna announced in 2021 she'd be shuttering her Fenty line due to pandemic-related issues, but it's safe to assume she has exciting plans up her sleeve. 
Rihanna isn't the only girl in the music world, but she sure is the richest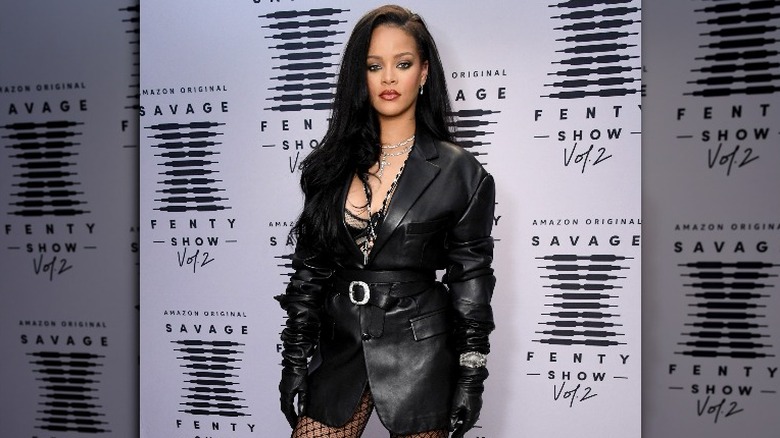 What does a woman worth $1.7 billion wear? In 2021, Rihanna the billionaire answered that question with confidence and swagger in looks that screamed money without having to compromise her identity. This renewed look — like the leather blazer dress she wore to the Savage x Fenty vol. 2 show (via Vogue) — was one dripping with sexiness and clout. They were looks that were grandiose in their self-belief, the style of a woman making serious bank from trusting in her vision and stepping out in it daily. 
As reported by Forbes, Rihanna became the wealthiest female musician in the world "and second only to Oprah Winfrey as the richest female entertainer." While her earnings as a musical artist and actor were hardly anything to sneer at, "the bulk of her fortune" reportedly came from Fenty Value — which she owned 50% of — and her stake in Savage x Fenty, which was worth an estimated $270 million. 
But true to her brand, that didn't mean that Rihanna had lost sight of herself or her signature playfulness. Not long before her billionaire status was confirmed by the media, she was spotted dressed in clashing neons, draped by a fat hot-pink fur, while filming a music video with boyfriend A$AP Rocky (via Harper's Bazaar). She had transformed, sure. But at her core Bad Girl RiRi still proudly remained.
Source: Read Full Article