The True Meaning Behind 'Stay' By The Kid LAROI & Justin Bieber
The Kid LAROI and Justin Bieber have teamed up to drop the summer bop "Stay." While the song has an upbeat sound and is delivered by both artists with high energy, the lyrics are much more heartbreaking. "Stay" officially dropped on July 9, 2021, after both The Kid LAROI and Bieber teased the song on Twitter, with the "Peaches" singer retweeting The Kid LAROI's hashtag #StayIsComing." This wasn't the first time that the two came together on a single. They had previously collaborated on the song "Unstable," which was featured on Bieber's album "Justice." 
The Australian rapper opened up to NME about how he got Bieber on the song. He explained, "One day I was just listening to it and was like, f***, Justin [Bieber] would sound perfect on this." He continued, "So I actually pulled up to the studio that he works at, and I just came with the f***ing file. I was like, 'You ready?' and he was like, 'Yup'. And he just did it. He just went into the booth and just freestyled the sh** off top."
The Kid LAROI added that it was actually "Attention" singer Charlie Puth who came up with the melody for the song. He revealed, "We were all just hanging out, and Charlie went over to the keyboard and just started playing stuff." He added, "It was probably the most organic way of making a song I've ever done." With a group of talented musicians working together, it's clear why the song is already a hit. 
"Stay" is about pleading with a lover to not leave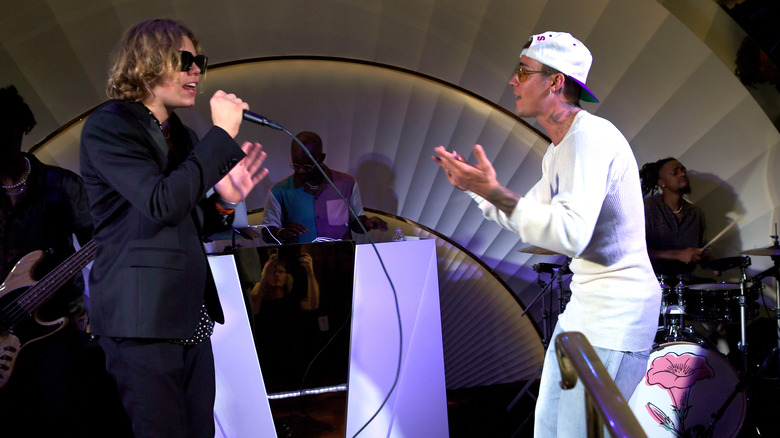 The Kid LAROI and Justin Bieber's song "Stay" may sound like an upbeat bop, but in the lyrics, both artists wear their hearts on their sleeves as they plead for their love to not leave them despite their flaws. Both express this in the chorus by singing, "I do the same thing I told you that I never would. I told you I'd change, even when I knew I never could. I know that I can't find nobody else as good as you. I need you to stay, need you to stay."
The Kid LAROI continues to show his desperation in wanting his lover to stay with his verse, "I feel like you can't feel the way I feel. Oh, I'll be f**ked up if you can't be right here." Bieber's verse on the other hand blames his own issues for his lover's distance, by singing, "You're the reason I believe in love. It's been difficult for me to trust. And I'm afraid that I'ma f**k it up."
Both artists appear in the music video for "Stay," that at first shows The Kid LAROI trying to get through a typical day in a city but stuck with the sad feeling of missing his love. Bieber is also shown passionately singing on the edge of a building, before both seem to dance out their frustration together. It appears that when it comes to catchy yet honest pop songs, The Kid LAROI and Bieber make a great team.
Source: Read Full Article