The Truth About Billie Eilish's Relationship With Her Brother Finneas
Even if you have been hiding under a rock these past years, you've probably still heard of Billie Eilish. The teen sensation is undoubtedly one of music's most successful artists of today and has a huge fanbase all around the world that continues to grow.
Eilish first debuted onto the scene in 2016 with the release of her stunning single "Ocean Eyes," which was taken from her first project "Don't Smile At Me." The singer's unique sound and style quickly captivated audiences globally and helped propel her into a superstar. Her debut album, "When We All Fall Asleep, Where Do We Go?", topped the charts and saw Eilish take many prestigious awards.
It's no secret that Eilish works one-on-one with her brother, Finneas, when creating her music. As of this writing, Finneas has won eight Grammy Awards for the material he's made with his younger sister, which includes Album of the Year and Producer of the Year, Non-Classical. As Eilish's career has continued to rise, Finneas has ventured into making music of his own. In 2019, he dropped his first EP, "Blood Harmony," and is gearing up for the release of his debut album, "Optimist," which is due out on October 15, per Pitchfork.
In a recent interview, Finneas explained how Eilish's career helped him embark on a solo one. Keep reading to find out more.
Finneas says he learned a lot from Billie Eilish's career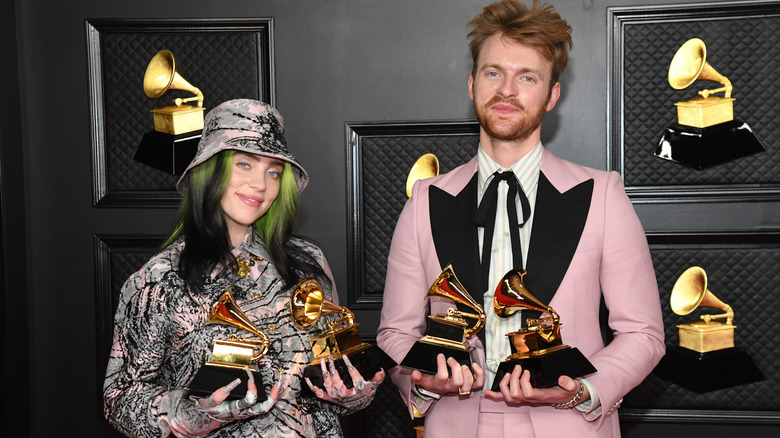 Billie Eilish has worked closely with her older brother Finneas from the very beginning of her career. The duo has seen Eilish go from a regular teen who wanted to pursue singing to a worldwide phenomenon. While working behind the scenes with his little sister, Finneas has been able to learn from her experiences over the years. In an interview with Hanuman Welch on "ALT CTRL" on Apple Music 1, he opened up about her journey helped him out with his solo music, per Music News.
"The way I work on my solo stuff is like, I feel like being involved in Billie's career has been like college. It's been such a learning experience for me. And she has such an incredible team who have such good insight. And so I really piggybacked off of just watching them kind of learn stuff," he said, adding, "I think the way that I focus on my music and what I release is based on what I call audience appetite. And so to me, like in 2018, I was just doing singles because I just was like, I don't have a big audience, if I just ask for like three minutes every six weeks that seems fair, they'll tune into one song."
After releasing an EP, Finneas realized that listeners wanted more, which influenced him to create his debut album, "Optimist."
Billie Eilish says her brother is the only reason she's alive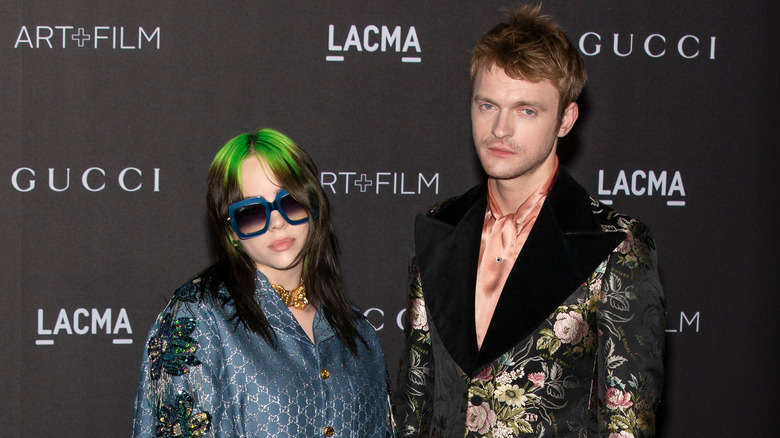 When accepting an award at Variety's Hitmakers brunch on December 7, 2019, Billie Eilish explained that she had no intentions of making her debut album a hit and was told that it wouldn't produce any popular songs anyway. "When we were working on ['When We All Fall Asleep, Where Do We Go?'], somebody told me and my brother, Finneas who's my co-writer, that there was no hit on the album. I don't know how that was supposed to help anyone, but that fool was wrong!" she said.
The "When The Party's Over" hitmaker thanked her brother and went as far as to say he is the reason she is alive. "A big thank you to my big brother Finneas. Finneas is my best friend, my big brother, he's four years older than me and we've been best friends forever," Eilish continued, adding, "We started making music together when I was 13 and he was 17; he produces everything. He's the only reason I'm anywhere in the whole world and he's probably the only reason I'm alive."
Finneas ended up joining his sister on stage and returned the love. "There's a lot of bulls**t articles about me now, about how I'm not just Billie Eilish's brother," Finneas mentioned. "Just being Billie Eilish's brother is all I ever wanna be. I love Billie more than anything else and I'm so grateful to you and I love you."
Source: Read Full Article