Apple TV+ Throws Down The Gauntlet With Newly Announced Pricing Model
Streaming customers have already begun shopping around to decide which platforms they'll keep, which they'll try, and which they'll avoid altogether.
With so much content to choose from, these companies aren't making it easy for us to decide, and now Apple TV+ just threw their price model into the ring and it's not what people were expecting.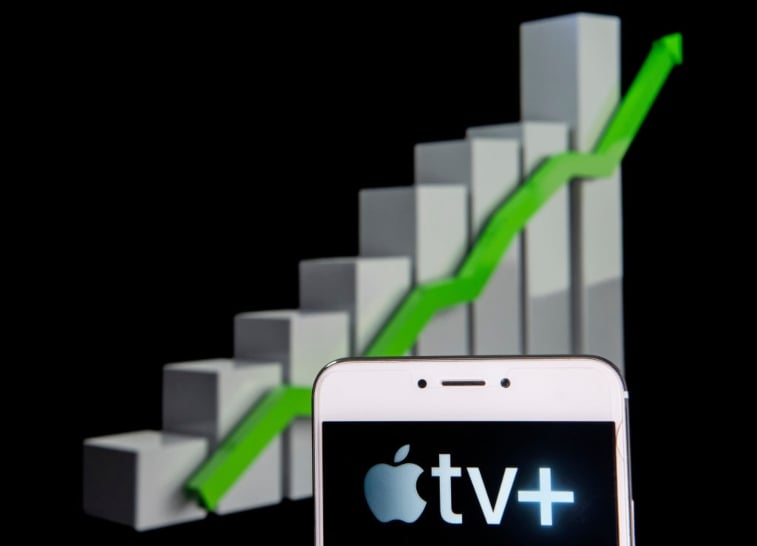 Apple's pricing news was significant enough to tumble stock prices
On Tuesday, the tech giant released its pricing model forApple TV+ and it's just $4.99 per month. Before the announcement, peoplebelieved the fee would be closer to $10 a month. According to MarketWatch,shares of Roku, Netflix, and Disney dropped a bit yesterday afternoon afterApple's reveal. Roku decreased by 12%.
But this could be misleading as Roku is not a competitor ofApple's; the company provides streaming devices that enable users to watchcontent from Amazon Prime Video, Netflix,and a host of other providers. Via the Apple TV app, Apple TV+ will be availableon Roku (and Amazon Fire devices) sometime in the future.
And Apple's stock? It went up a smidgeon to .3% after theannouncement.
How will Apple TV+ work for subscribers?
Per Apple'spress release, Apple TV+ is a separate offering that will feature originalcontent only and is something that can be purchased via regular Apple TV. Whenit launches on Nov. 1, a subscription for Apple TV+ will be available for afree seven-day trial and then will automatically be billed at the monthly rateof $4.99.
The press statement explains which devices Apple TV+ willrun on for its November start date:
"The service will be available on the Apple TVapp on iPhone, iPad, Apple TV, iPod touch, Mac and other platforms,including online at tv.apple.com, for $4.99 permonth with a seven-day free trial. Starting today, customers who purchase anyiPhone, iPad, Apple TV, iPod touch or Mac can enjoy one year of Apple TV+ forfree."
The one-year free deal is effective Sept. 10, and users withSamsung, Vizio, or LG smart TVs must update their Apple software to run iOS12.3 or later. Apple TV+ will be available on other non-Apple devices later in 2019.
Will viewers be tempted to pick up an Apple TV+ subscription?
Currently, the Apple TV app streams content from premiumchannels, cable providers, and film studios. Apple TV+ is worth a buy if you'reinto the content that's being streamed, which will include movies,documentaries, and shows. At launch, there will be nine original titles availableon the platform.
Apple executive Zack Van Amburg spoke on what audiences canexpect:
"With Apple TV+, we are presenting all-original stories from the best, brightest and most creative minds, and we know viewers will find their new favorite show or movie on our service. Each Apple TV+ original offers its own unique story, fresh perspective and powerful message — all meant to entertain, connect and inspire cultural conversations."
Compared to the other streaming options, how does Apple TV+ stack up?
The streaming world is about to get a little crowded as oldcontent gets shuffled between owners, new content is created, and subscribersfigure out what they want to buy. Some aren't interested in the family-friendlyonly offerings that Disney+will carry, regardless of its massive Marvel library.
But for $7 a month, many will sign up for the Disney basicplan to watch its original Star Wars, Marvel, Pixar, and National Geographicshows. Fans have said that if the company offers a la carte options for ESPNand other channels, they'll get on board.
Although Netflix is losing properties from Marvel and NBC,it continues to up its programming game with new shows, fan favorites, and a freshmonthly rotation. Lately, the streaming giant has been attracting star power suchas Martin Scorsese, Robert De Niro, Eddie Murphy, and Scarlett Johansson toproduce high-quality originals.
The other thing it has on its side is no ads. Compared to Hulu,whose basic cost is just $5.99, that's a bonus. People still love Netflix.
As BusinessInsider points out, HBO Max has Game of Thrones and Friends alongwith its extensive cache of Warner Bros., HBO, TNT, Cartoon Network, The CW,and other Warner Media properties. For many fans, Apple TV+ will have to proveit's worth the extra few dollars each month compared to Netflix, Amazon Prime,Disney+, and HBO Now.
Source: Read Full Article