'Cobra Kai': Courtney Henggeler's Elisabeth Shue Scene Didn't Silence Amanda Haters
TL;DR:
Playing Daniel LaRusso's wife on Cobra Kai put Courtney Henggeler in the crosshairs of fans.
Cobra Kai fans still want Daniel to end up with Karate Kid love interest Ali, played by Elisabeth Shue.
Henggeler's scene with Shue in season 3 only added fuel to the fire.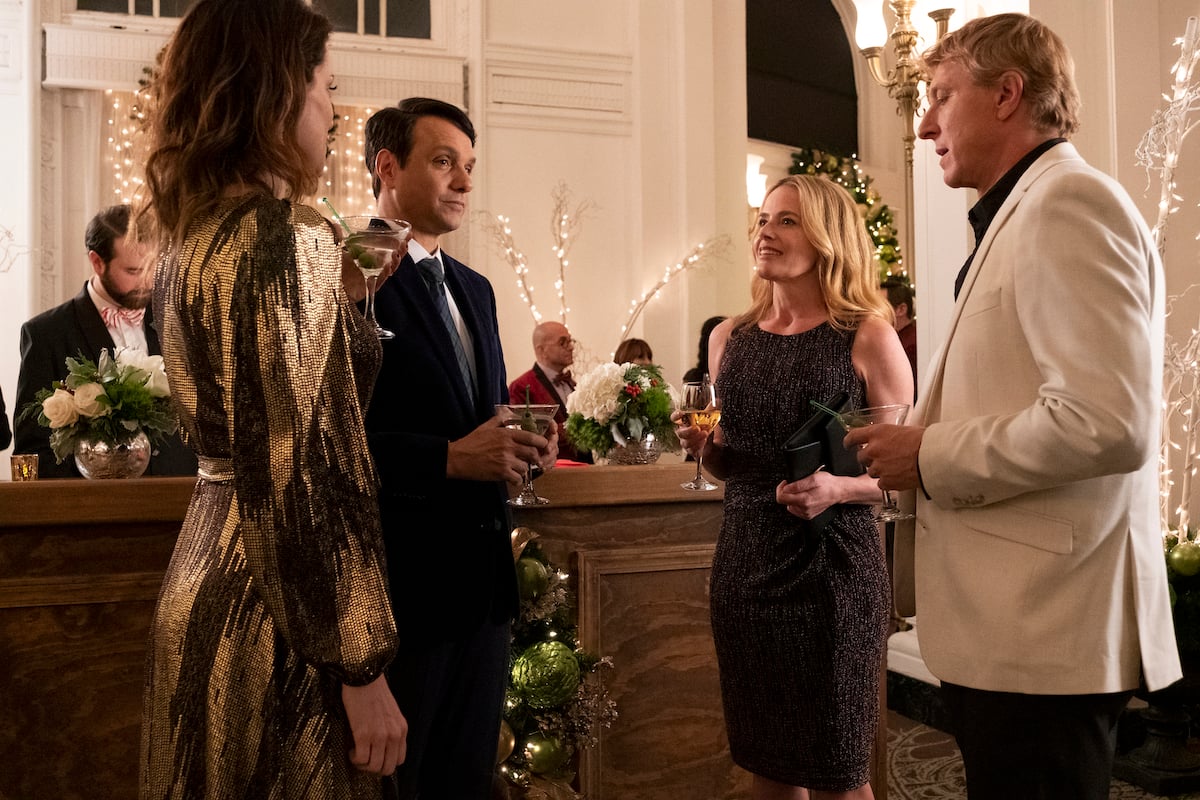 Cobra Kai cast Courtney Henggeler as a new character to the Karate Kid universe. Daniel LaRusso (Ralph Macchio) married Amanda (Henggeler) sometime after The Karate Kid Part III. Daniel may have gotten over his first love, Ali (Elisabeth Shue), but Henggeler said the fans never did. 
Henggeler was at Cobra Kai: Live and Badass with the cast of the show on May 5. Showbiz Cheat Sheet was there to hear all of their stories. Here are Henggeler's comments about the relief she felt when she finally had a scene with Shue in season 3. Cobra Kai returns for season 5 Sept. 9 on Netflix. 
'Cobra Kai' fans told Courtney Henggeler they prefer Ali 
The promise of Ali returning lingered over the first two and a half seasons of Cobra Kai. Johnny Lawrence (William Zabka) found Ali on Facebook and sent a friend request. In the season 2 finale, he got the notification that she accepted his request. Shue finally guest starred in season 3. The wait was even longer for Henggeler. 
"People who are hardcore Karate Kid fans, everybody wants him to end up with Ali," Henggeler said. "I get a lot of #yourenotAli."
Some 'Cobra Kai' fans still hoped Ali would cause Daniel and Amanda's divorce
Ali's appearance in season 3 still wasn't enough for some Cobra Kai fans. Apparently they were hoping Daniel would leave Amanda for Ali. Even though he and Amanda have two kids, Samantha (Mary Mouser) and Anthony (Griffin Santopietro). 
"Oh yeah, finally, she's there to take your crown," Henggeler said.
Henggeler, however, appreciated the scene. At a holiday party, Ali and Amanda bond over Johnny and Daniel keeping their high school rivalry going. Henggeler appreciated that Amanda was not threatened by Ali in the least.  
"That was fun," Henggeler said. "I feel like you could take it a different direction and they didn't. It's high school. I'm not worried about the guy['s old girlfriend]. It's like oh, you were that kid he dated in high school."
Courtney Henggeler appreciated Amanda's season 4 drama, too
Cobra Kai Season 4 revealed more of Amanda's past, before she met Daniel and long before Cobra Kai began. When Amanda stepped in with Tory (Peyton List) she recognized the hard life Tory was leading. It reminded Amanda of her own childhood. Adding that bit of backstory to Amanda was valuable to Henggeler too.
"It was fun to give a little dimension and context too because she just showed up one day," Henggeler said. "I told the creators, 'Amanda's amazing but she's too soft. Can we give her just something to edge up a bit?" They were like she was a thug as a child. I think it was brilliant."
Source: Read Full Article