Here's Everything You Need to Know About Your New Fav Star, Hunter Schafer From 'Euphoria'
If you watched the first episode of Euphoria, you're definitely (rightfully) obsessed with the whole damn cast. You might recognize some of them; Cassie is played by Sydney Sweeney (Sharp Objects), Nate is played by Jacob Elordi (The Kissing Booth), and Rue is played by Zendaya from…um, everything? But there's probably one new face you couldn't get enough of, and that's Rue's best friend, Jules, who is played by Hunter Schafer. Hunter is brand new to this acting thing, but as a trans model and activist, she's already made a name for herself. Here's everything you should know about the ridiculously cool Hunter Schafer.
A few quick basics:
Hunter is a 20-year-old from Raleigh, North Carolina. She moved to New York after graduating high school in 2017. Hunter's pronouns are she/her, but she uses the nongendered "Mx." as a formal title.
🍒another from @asos mag's summer issue shot by @tylersphotos
A post shared by Hunter Schafer (@hunterschafer) on
Hunter is a kickass fashion model.
"Walking runway has been something I didn't even think would be a possibility in my lifetime with my circumstances and my origins," she told the New York Times. Despite that, Hunter's walked in shows for Versus Versace, Helmut Lang, and Miu Miu.
I mean, she is LITERALLY an angel. Here's hunter opening the Alice McCall show at New York Fashion Week.
opened alice mccall yesterday for their return to NYFW- thank you @alicemccallptyltd @elitenyc
A post shared by Hunter Schafer (@hunterschafer) on
And um…this Versace look? Iconic.
@versus_versace today!!! 💚💚💚feeling hella lucky to be introduced to the CSM this way- THANK YOU @versus_versace @donatella_versace @premiermodels @elitenyc @hookerthebooker @pg_dmcasting @voguerunway #lfw #versusversace
A post shared by Hunter Schafer (@hunterschafer) on
Here's a casual Teen Vogue cover.
thank you thank you 💛 📷 @petrafcollins @teenvogue @elainewelteroth @lynettesaid @trentaxelson
A post shared by Hunter Schafer (@hunterschafer) on
Her recent Paper cover is absolutely unreal.
thank you @papermagazine for enabling my fantasy of shooting vines (or honestly anything) out of my hands, and for hyping up @euphoria and my beautiful castmates 💙☄️💦 big thank you to the image-makers: Photographer: @bryanhuynh 3D Artist: @rodolfo_design Retoucher: @hamzahamin Writer: @jeena11 Stylist: @cc_looo Hair: @mararoszak Makeup: @melaniemakeup Nails: @chelseaqueen
A post shared by Hunter Schafer (@hunterschafer) on
"What I'm trying to do in all senses is deconstruct our idea of gender, and use the privileges that come with looking like a model to bring attention to that," she said. You truly just have to stan.
She's an LGBTQ activist.
In 2016, Hunter was a plaintiff in the lawsuit against the North Carolina House Bill 2, AKA "the bathroom bill" that required people to use the restroom for the sex they were assigned at birth. She also published an essay in i-D speaking out against the bill, in which she detailed her own experience as a trans woman attending public school in North Carolina.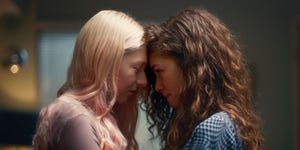 Despite the visibility Hunter has brought to the trans community, she doesn't totally consider herself an activist.
"I don't know if I would call myself an activist as much as someone who's just vocal about being trans, which can sometimes feel like activism, because just existing as a trans person can often be hard enough, particularly for people of color or people who don't pass," she explained.
Euphoria is her first acting experience!
Yep, you read that correctly. It's kind of impossible to believe that Hunter's never acted before, because she's so effing amazing. Plus, she's sooo humble.
"I went to an arts high school, and was surrounded by drama students who dreamed of working in the industry," she told W. "I almost feel a sense of guilt, because I didn't go to acting school. I think I got the role because I was perhaps the best contender for telling Jules's story."
#EUPHORIA
A post shared by euphoria (@euphoria) on
Hunter also said that playing Jules has been therapeutic, because it's given her the opportunity to readdress her high school years.
Zendaya's more obsessed with Hunter than you are.
"She's like a little angel. Like I just want her to be mean for two seconds because I don't believe she has it in her because she's just so sweet and kind and really a wonderful person," Zendaya told Entertainment Weekly. Are you two…looking for a third best friend? Because, I'm in.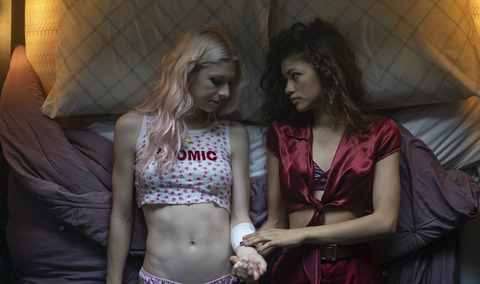 If anyone needs me, I'll be turning notifications on for Hunter's Instagram account so I never miss another thing that she does. Oh, and, I'll leave you with this ridiculously adorable pic of her having a moment with Jacob Elordi and Maude Apatow.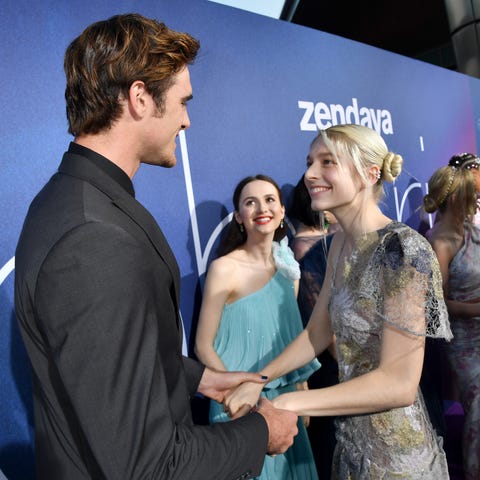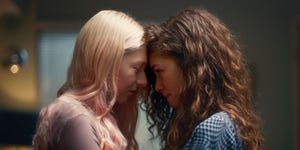 Source: Read Full Article