Michael Strahan returns to GMA and faces tough conversation with co-hosts
Michael Strahan's return to Good Morning America was a tough one as he faced an emotional moment with his co-stars regarding his former career.
The TV host finally rejoined the popular morning show alongside Robin Roberts and George Stephanopoulos on Thursday.
TRENDING NOW: Damar Hamlin's Buffalo Bills teammates share bittersweet health update
But as seen in the video below, Michael had to address a tough news story regarding Damar Hamlin's collapse on the NFL field.
WATCH: Michael Strahan faced with tough questions from co-stars upon long-awaited return to GMA
As a former American footballer, the father-of-four was particularly touched by the story of the 24-year-old's cardiac arrest on the field.
Despite being able to share positive news on Damar, Michael was clearly feeling emotional.
POPULAR NOW: Prince Harry details alleged fight with Prince William in extract from his book Spare
"From having a 15 year career and you see something like that," he said. "It's hard. It's gig to be tough for these players."
The GMA team have been reunited after Michael took some time away for work on other projects
Michael then surprised Robin by saying: "I wonder how I did that for so long. You feel lucky when you get out without any incident."
George then chimed in and asked: "Are they going to have to make chnages to the game?"
MORE: Jennifer Aniston wows in black string bikini as she strides into 2023 with confidence
To which Michael immediately clapped back: "I don't understand what changes you could make. It looked like something routine, that you see every day, except for the outcome obviously."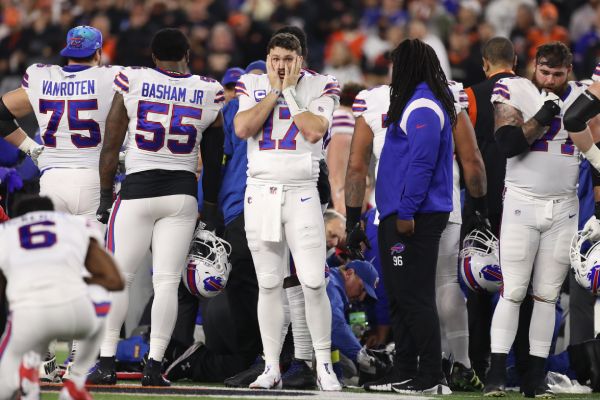 Damar's teammates were understandably stunned and concerned at the moment on pitch
George then attempted to ask another question but Michael spoke over him until Robin thanked her co-host for his insight and George did too.
The sportsman suffered a cardiac arrest during the game against the Cincinnati Bengals on Monday night and was rushed to hospital following CPR on the pitch.
RELATED: Damar Hamlin's little brother shares heartbreaking post following NFL star's cardiac arrest
MORE: Inside NFL star Matthew Stafford and wife Kelly Stafford's home life
His family released a statement which read: "On behalf of our family, we want to express our sincere gratitude for the love and support shown to Damar during this challenging time. We are deeply moved by the prayers, kind words, and donations from fans around the country.
https://www.instagram.com/p/Clrovx6O27n/
A post shared by michaelstrahan (@michaelstrahan)
Before his TV career Michael spent 15 years as an NFL player
"We also want to acknowledge the dedicated first responders and healthcare professionals at the University of Cincinnati Medical Center who have provided exceptional care to Damar. We feel so blessed to be part of the Buffalo Bills organization and to have their support.
"We also want to thank Coach Taylor and the Bengals for everything they've done. Your generosity and compassion mean the world to us. Please keep Damar in your prayers. We will release updates as soon as we have them."
Source: Read Full Article