The 20 Craziest TV Moments We Have Ryan Murphy to Thank For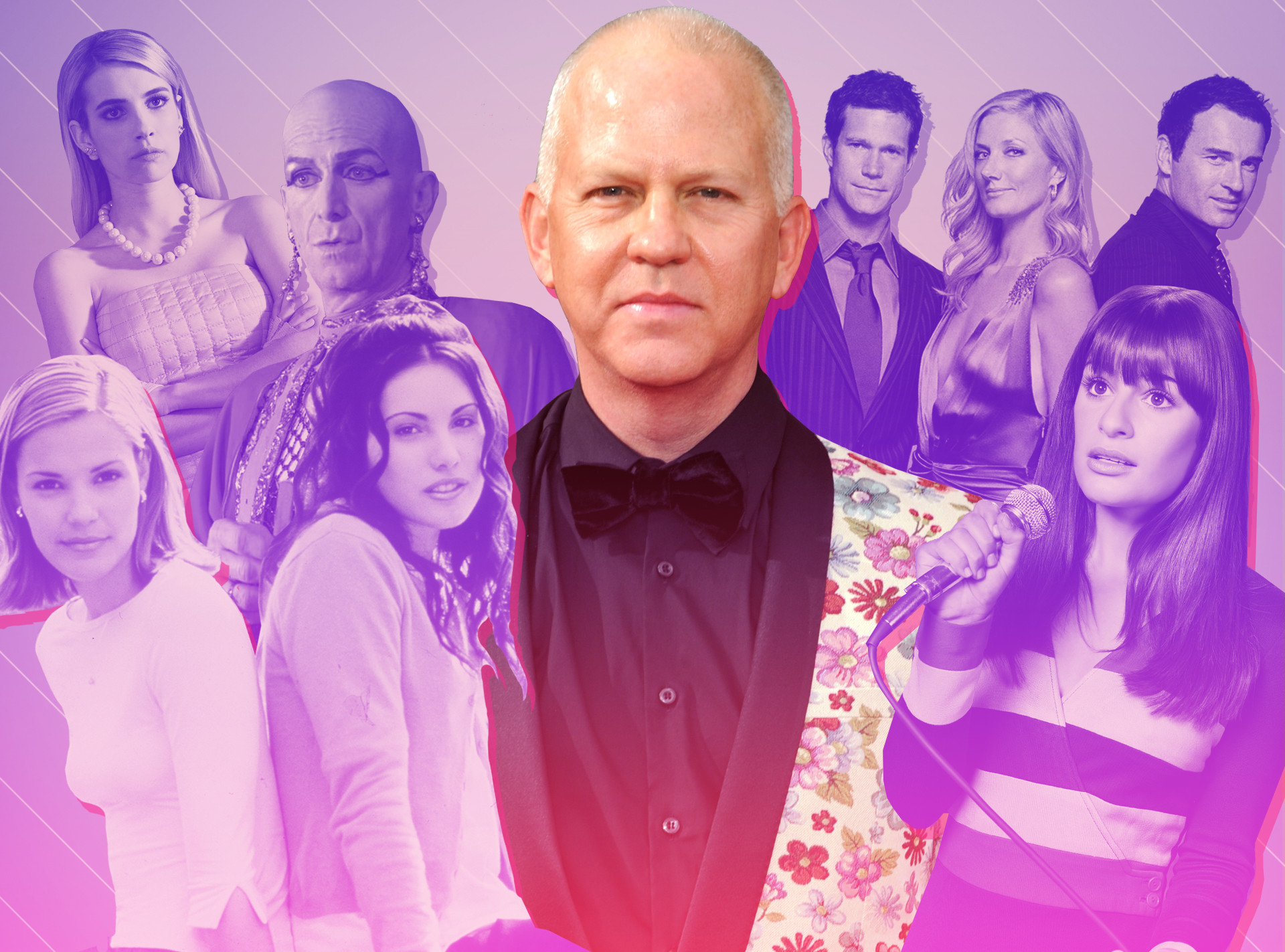 Lindsay Scheinberg/E! Illustration
It's been two decades since Ryan Murphy first put his signature stamp on the small screen.
Though it may have been short-lived, the arrival of Popular, which ran for two seasons on the WB after debuting on September 29, 1999, helped kickstart one of the most prolific, groundbreaking careers in television. His experience as a first-time, openly gay showrunner with a unique set of sensibilities may remain such a painful one for him that when he was honored by the Producers Guild of America with the Norman Lear Achievement Award in 2017, he didn't include the show on the placard listing his productions–"I don't think they understood who they had on their hands," Leslie Grossman, who starred on the show and has since returned to the Murphy fold as a recent addition to his American Horror Story family, told The New Yorker last year–but it also served to introduce the world to a true visionary.
From there, he went on to create Nip/Tuck, Glee, the aforementioned American Horror Story, American Crime Story, Feud, Scream Queens, 9-1-1, Pose and The Politician, the first series in his upcoming slate at Netflix, which just dropped on the streaming service on Friday, Sept. 27. With each successive series, Ryan has challenged the very idea of what television could be, not to mention what it can get away with, while delivering some of the most jaw-dropping moments the medium has ever seen.
"Baroque is a sensibility I can get behind," he told The New Yorker, bristling at the idea that his work falls into camp. "Baroque is a maximalist approach to storytelling that I've always liked. Baroque is a choice. And everything I do is an absolute choice."
In honor of 20 years of Ryan Murphy, we're taking a look at the 20 absolute craziest moments to ever grace the small screen courtesy of the auteur's choices. And before you ask, no, not every one of his shows is represented on the list. First of all, we only had so much time. And second of all, not all of his shows lend themselves to the theme so easily. You know the ones, his more elevated fare. They're wonderful, yes. But crazy? When compared to the likes of American Horror Story and Glee, not so much.
Without much further ado, the list!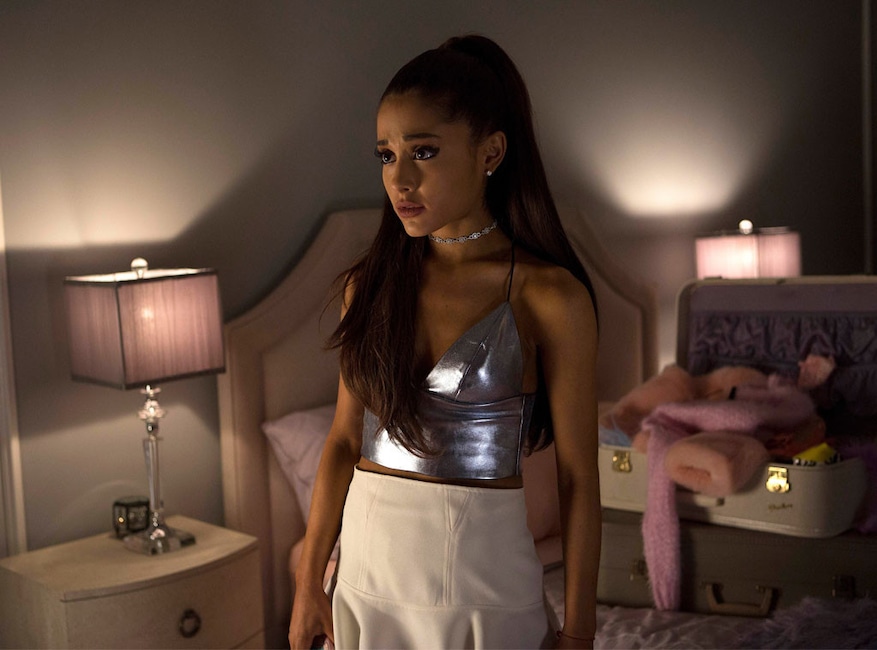 FOX Image Collection via Getty Images
Scream Queens: Chanel #2's Death
We all knew Ariana Grande's character in season one of Ryan Murphy's short-lived Fox horror-comedy wasn't long for this world, but we had no idea she'd get such a ridiculous death. Watching her text back and forth with the Red Devil as he stood right in front of her—"I'm going to kill you now." "Wait whaaaaat???"—before composing a tweet about being murdered (and popping up after being delivered a fatal stab to hit send) instead of, you know, trying to get away was truly the silliest thing we've ever seen.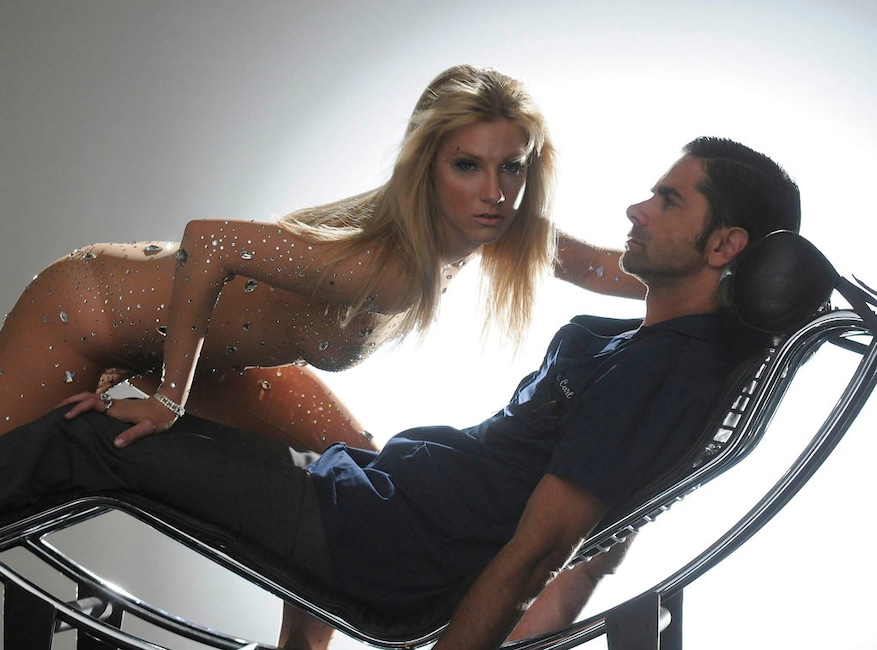 FOX Image Collection via Getty Images
Glee: The Britney Spears Episode
In the second season of Glee, some of the members of New Directions (all of whom were minors) began visiting John Stamos' dentist Carl so that they may have anesthesia-induced hallucinations of Britney Spears. Yes, really.
FX
American Horror Story: Myrtle's Execution
AHS moments don't have to be terrifying or disgusting to go down as crazy. Case in point? Myrtle Snow's (Frances Conroy) death by immolation (she was burnt at the stake) in the show's third installment, Coven. As the flames swallowed the fashionable witch whole, she shouted (what we thought) were her last words: "Balenciaga!" Can you say iconic?
Article continues below
FX
Nip/Tuck: The Impromptu Amputation
In one particular episode of Murphy's plastic surgery drama Nip/Tuck, which ran for six seasons on FX, Christian Troy (played by Julian McMahon) refused to perform a mastectomy on a patient who feared a family history of breast cancer. So she returned to the McNamara/Troy offices with a motorized saw, removed her shirt, and proceeded to take matters into her own hands right there in the waiting room, hacking away at her own flesh.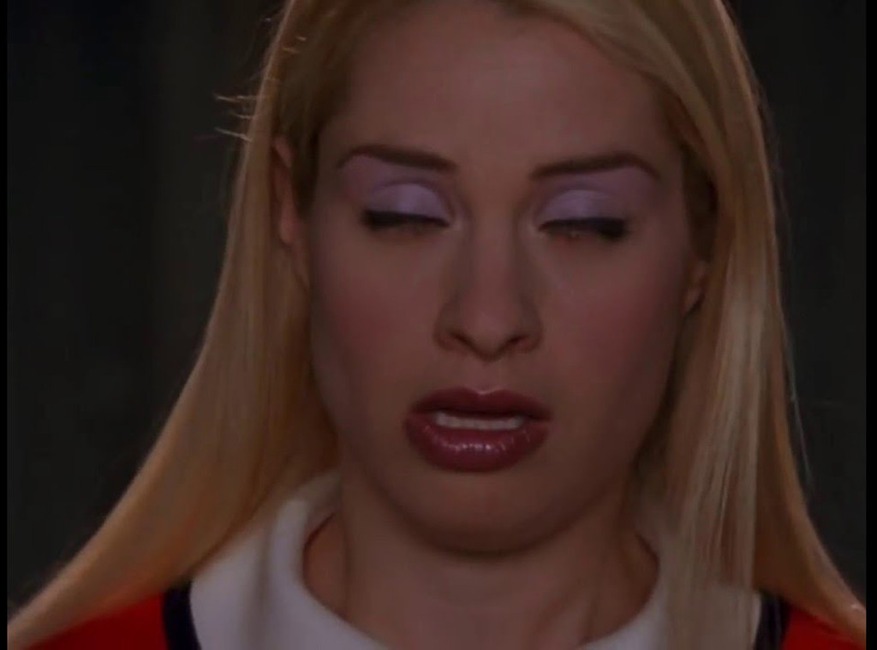 The WB
Popular: Mary Cherry's Daddy
In the second (and, ultimately, last) season finale of Murphy's first series, Popular on the WB, Leslie Grossman's breakout villain Mary Cherry was sent to an orphanage despite nearly being a legal adult (where she lip syncs to the Annie-sampling intro to Jay Z's "Hard Knock Life" while dressed like the iconic orphan) where she finds out that her father is a drag queen going by the name of Sweet Honey Child, played by none other than RuPaul.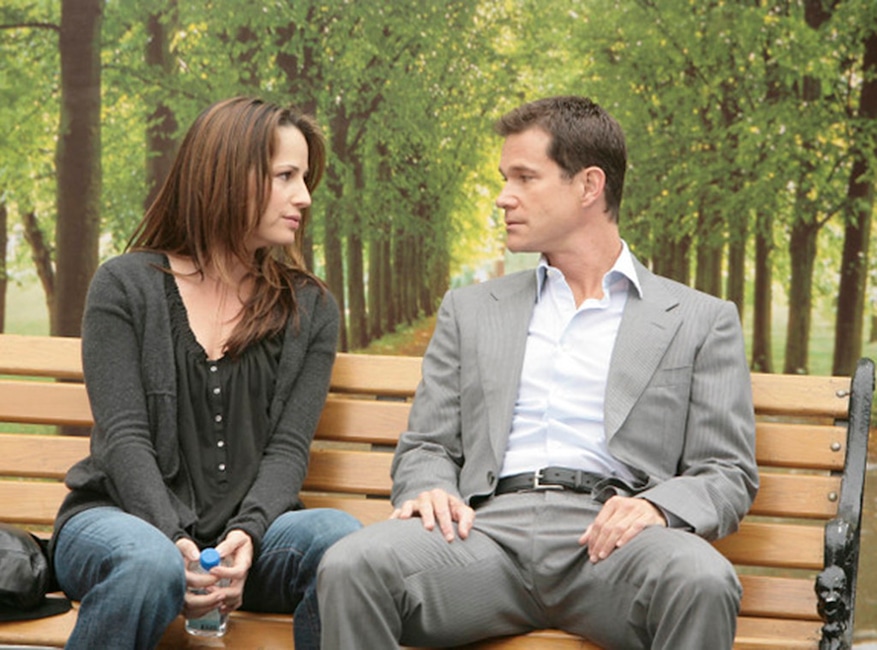 FX
Nip/Tuck: The Hot Tub Brownout
After the show moved Sean (Dylan Walsh) and Christian to Los Angeles in season five, we were treated to a disturbing scene in which Sean's new actress girlfriend Kate (played by Paula Marshall) took too many laxatives in her quest to be camera-ready and completely evacuated her bowels while the two were getting romantic in his hot tub. Be grateful we didn't attach the aerial shot of the water becoming brown all around them because it's something that we've never been able to shake.
Article continues below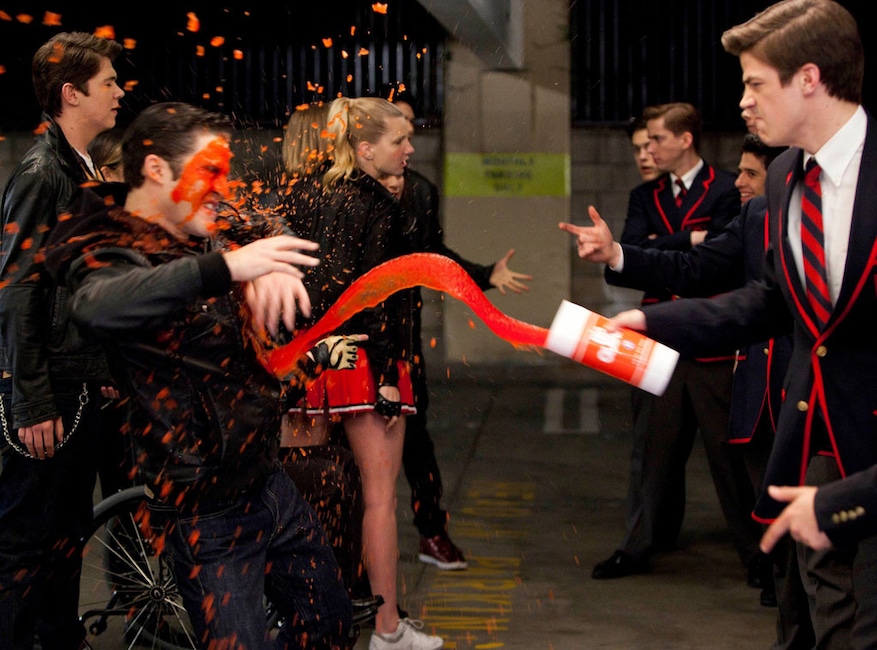 FOX Image Collection via Getty Images
Glee: The Rock Slushie
Slushies to the face were commonplace on Glee. Slushies with rocks in them, less so. But that's the fate that befell Blaine in the sesaon three episode "Michael" when rival Sebastian Smythe (played by future The Flash star Grant Gustin) hit him with one full of rock salt, leaving him injured so that Darren Criss could go star in How to Succeed in Business Without Really Trying on Broadway during the month of January 2012.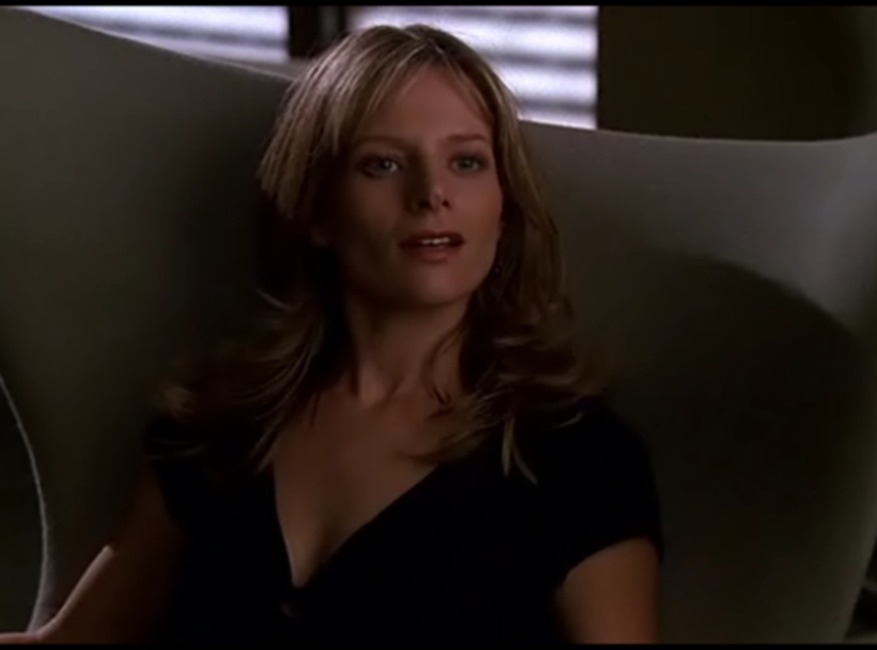 FX
Nip/Tuck: Gina's Demise
Jessalyn Gilsig's Gina Russo was a thorn in Christian's side for the first five seasons of Nip/Tuck. Suffering from borderline personality disorder, she was one of the show's most volatile and unpredictable characters. That all came to an end in the fifth season when, while having sex on the roof of the new office in L.A., they begin to have sex, she climbs on the ledge as she's climaxing, and is thrown backward over the ledge to her death. Splat.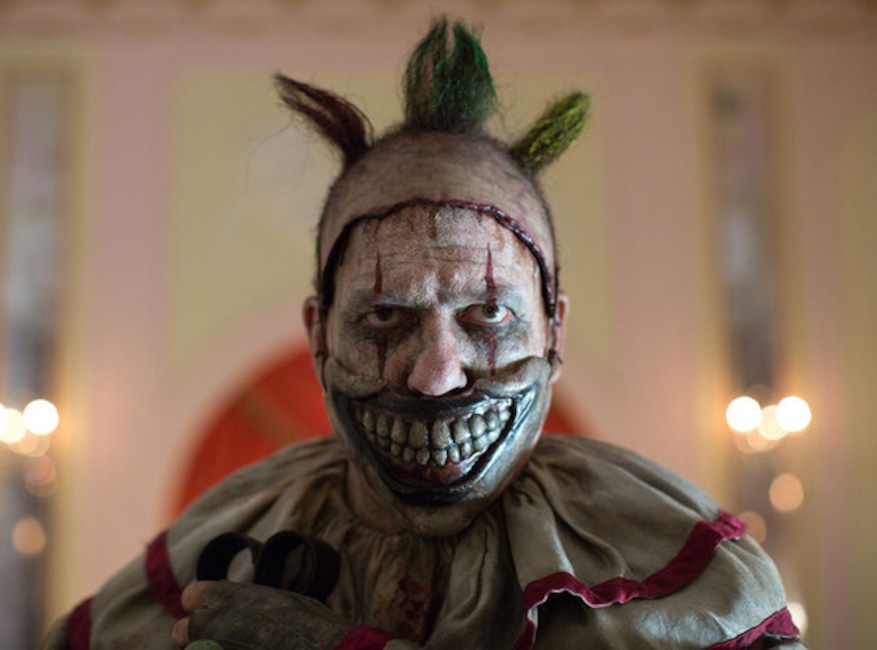 Michele K. Short/FX
American Horror Story: Twisty's Mouth
After terrorizing audiences during the first three episodes of Freak Show, the fourth installment in the American Horror Story franchise, Twisty the Clown (played by John Carrol Lynch) shares the tragic backstory of an aborted suicide attempt that only left his lower jaw mutilated. To tell the tale, he had to take his mask off, revealing one of the more repulsive sights the show had ever delivered. And that's saying something.
Article continues below
FX
Nip/Tuck: The Gay Fantasies
The entire subtext of Nip/Tuck was that Christian and Sean couldn't live without one another, lending a homoerotic thread to just about everything that ever happened between the two of them. But in season four, subtext nearly became text as Christian began having sex dreams involving Sean, nearly bringing plenty of fanfic to life. The gay pool party dream in the season's sixth episode was especially ridiculous.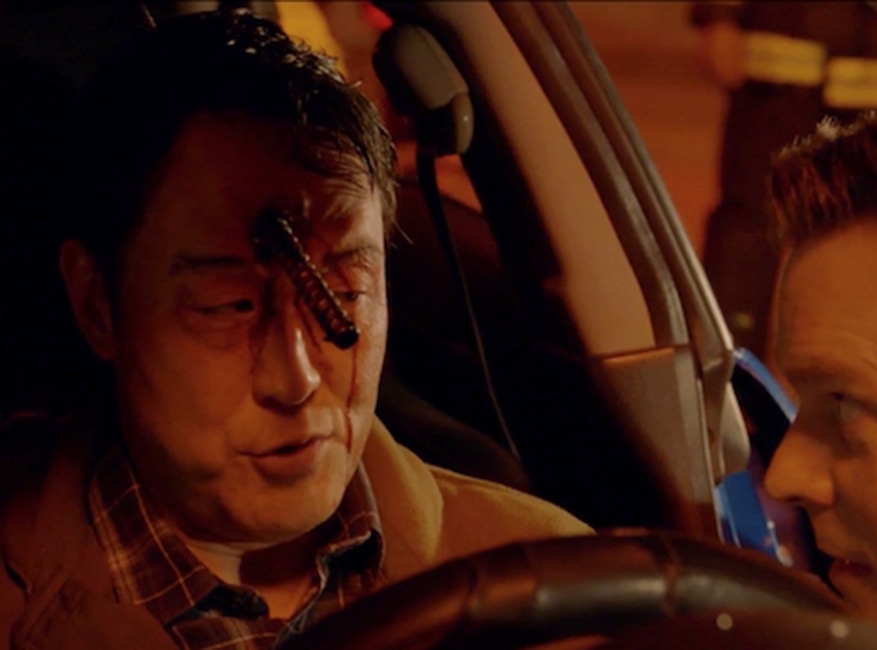 Fox
9-1-1: The Rebar to the Head
Murphy's latest creation for Fox, the first responder procedural 9-1-1, has had no shortage of truly insane moments over the course of its three seasons, but nothing has been as wild as the season one moment when series regular Kenneth Choi's Chimney was critically injured in the show's third episode ever. A car accident resulted in the firefighter/paramedic taking a piece of rebar through the head, only to survive with nary a scar. We repeat, through the head.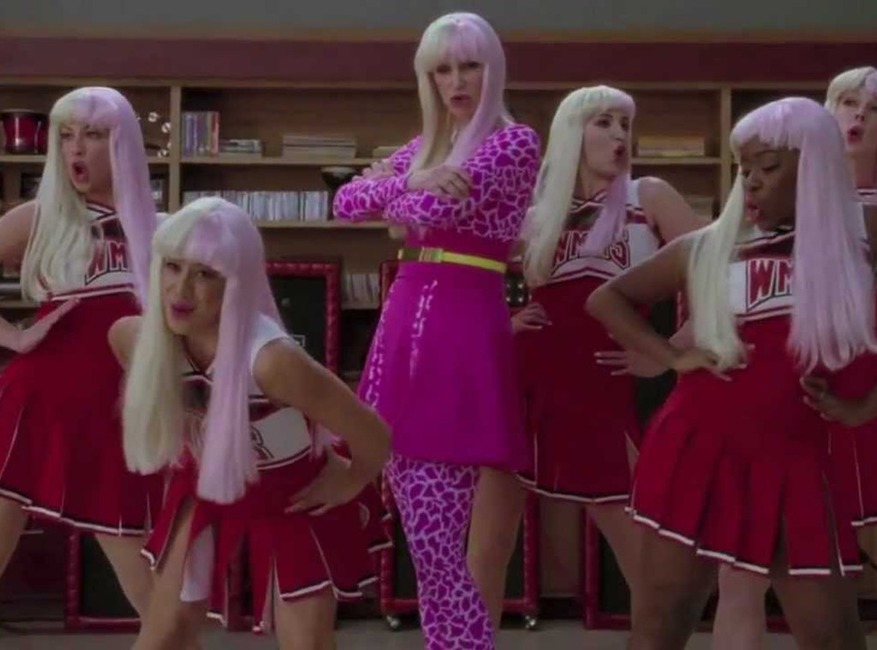 Fox
Glee: Sue Sylvester's Wedding
Very few characters created by Murphy have been as consistently insane as Sue Sylvester, Glee's main antagonist. Played by Jane Lynch, she was a heinous bully who routinely harassed children, once sought to shoot at least one of them from out of a cannon, and occasionally dressed up like Nicki Minaj, as seen here. But nothing was as crazy as the season two episode where she married herself while wearing a blue Adidas track suit dress. Glee was nuts, you guys.
Article continues below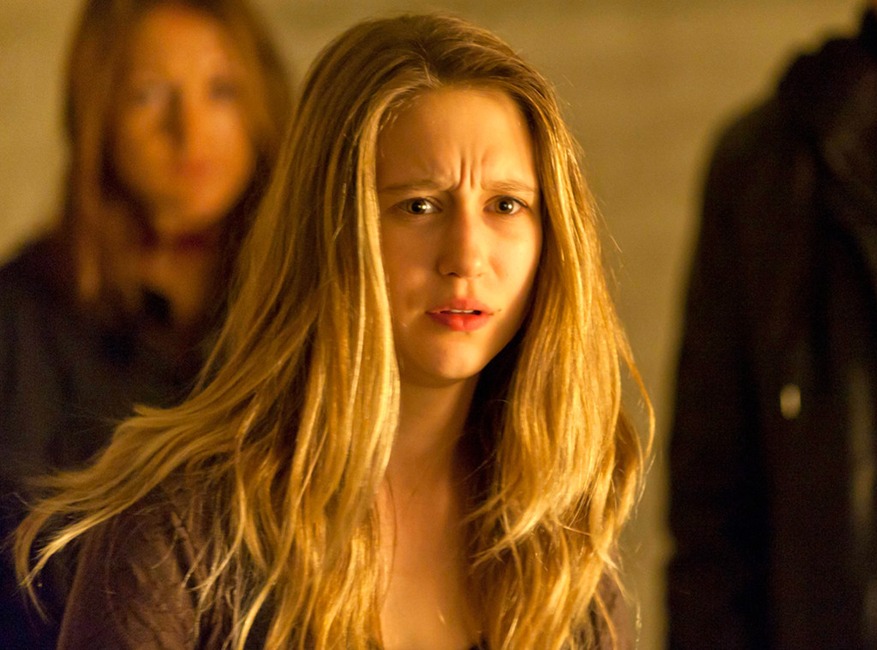 Ray Mickshaw/FX
American Horror Story: Violet's Shock
Much of Murder House, AHS' initial installment, seems tame in comparison to all the insanity that came in subsequent seasons, but the late-in-the-game discovery by poor Violet Langdon (played by Taissa Farmiga) that she'd been dead for some time and was now a ghost, trapped in the confines of her spooky house, remains one of Murphy's all-time great twists.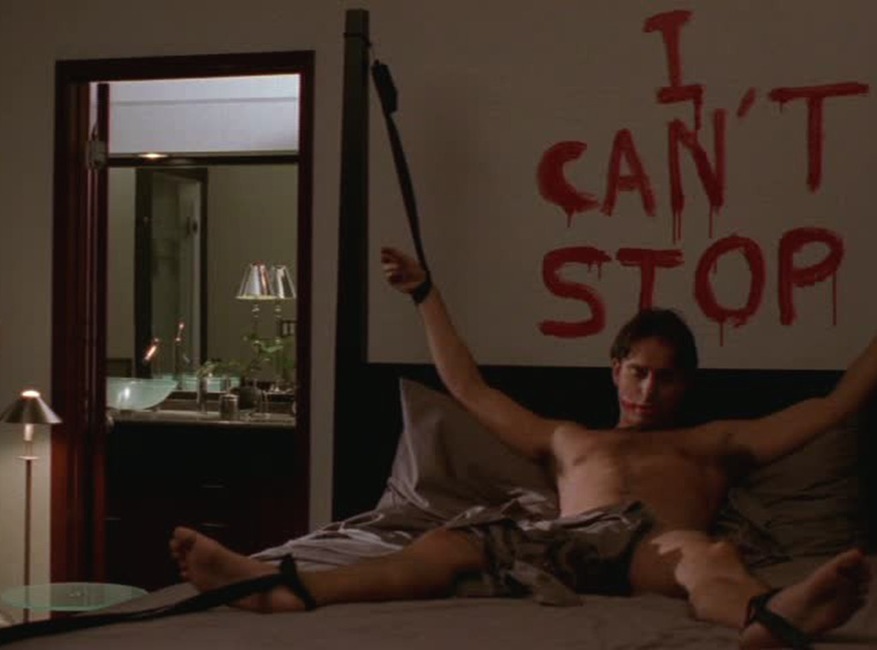 FX
Nip/Tuck: The Carver Conundrum
When the season three finale of Nip/Tuck revealed that the masked serial rapist known as The Carver who'd been haunting Miami since season two was none other than recent hire at McNamara/Troy Quentin Costa (played by Bruno Campos), whose sister also happened to be the detective working the case while also aiding and abetting his many violent crimes. Oh, and it turned out that he was lacking a penis thanks to a rare genetic disorder caused by his being a product of incest, something none of the people he bedded throughout his time on the show (Christian, Julia, Kimber, his own sister!) apparently ever discovered somehow.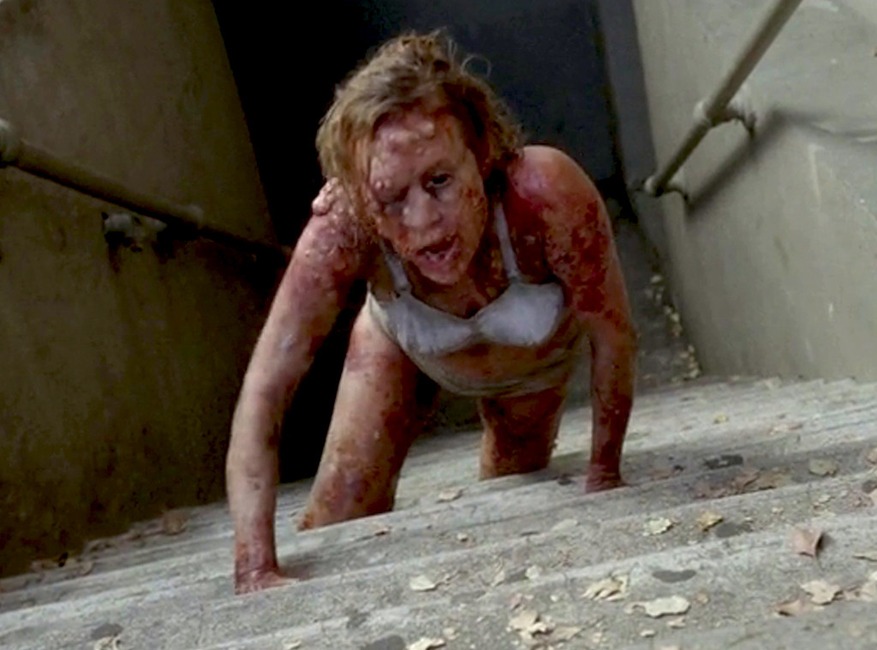 FOX
American Horror Story: Shelly's Transformation
Poor Shelly. Played by Chloe Sevigny, the poor nymphomaniac didn't deserve being remanded at Asylum's Briarcliff. Nor did she deserve the horrific experimentation inflicted upon her by Nazi Dr. Arden (James Cromwell), who also amputated both her legs. Her discovery by a group of frightened school children still sends a chill down our spine.
Article continues below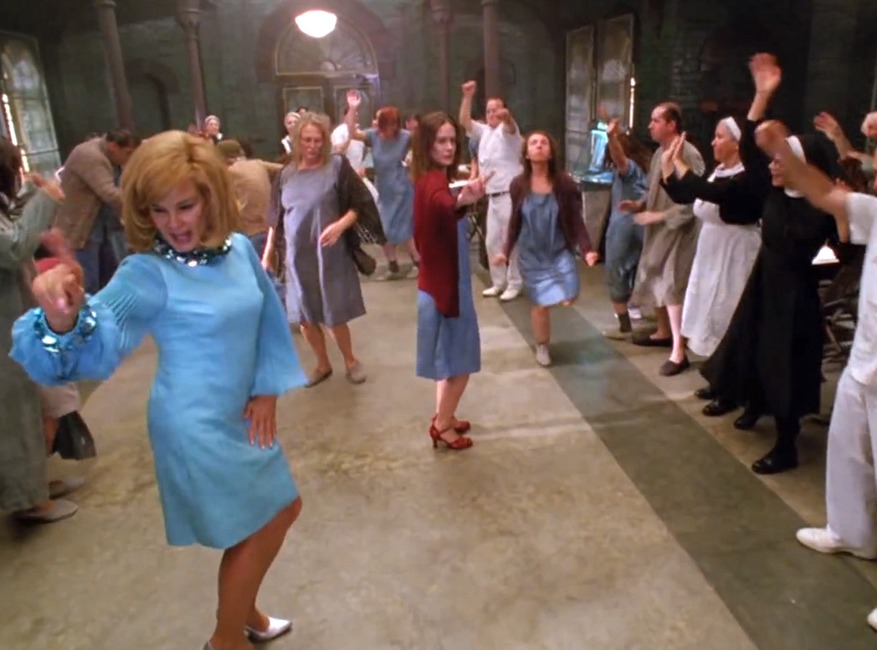 FOX
American Horror Story: The Name Game
Look, we don't really know why Sister Jude's electroshock therapy in Asylum's 10th episode prompted a hallucination in which Jessica Lange performed "The Name Game" with the rest of the cast in a moment more joyous than any single other second of that dark and depressing season, either. But we're sure glad it did.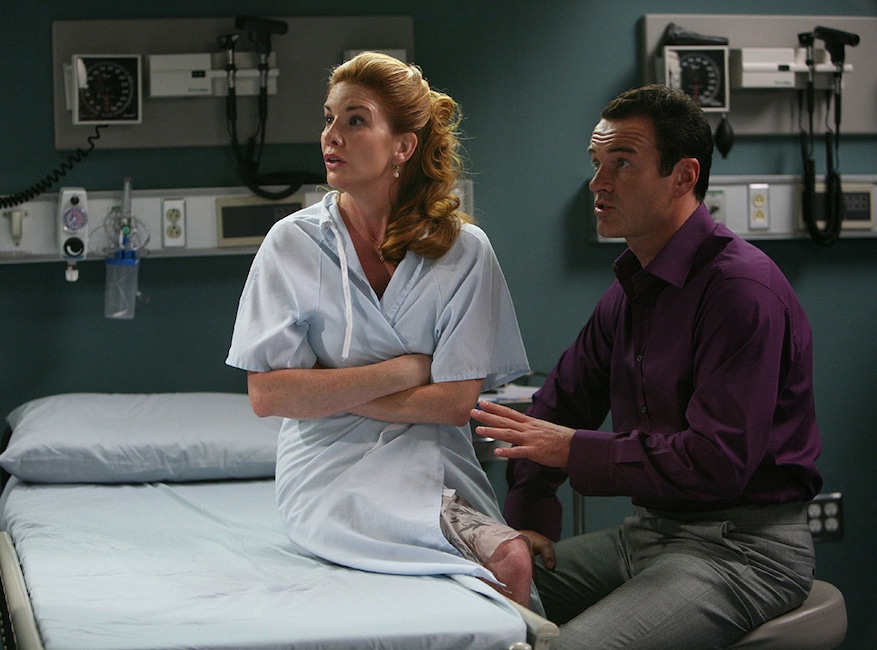 FX
Nip/Tuck: The Dog and the Peanut Butter
We will never forget the season four episode featuring Melissa Gilbert as Shari Noble, a woman needing her nipple reattached after her pitbull bit it off, Dean Norris as her husband returning home from a deployment in Iraq, and the revelation that Shari's accident actually occurred while she'd been using peanut butter to lure her dog, um, sexually. Naturally, during her follow-up consult, the husband showed up with the dog, now deceased, in a duffel bag. Naturally.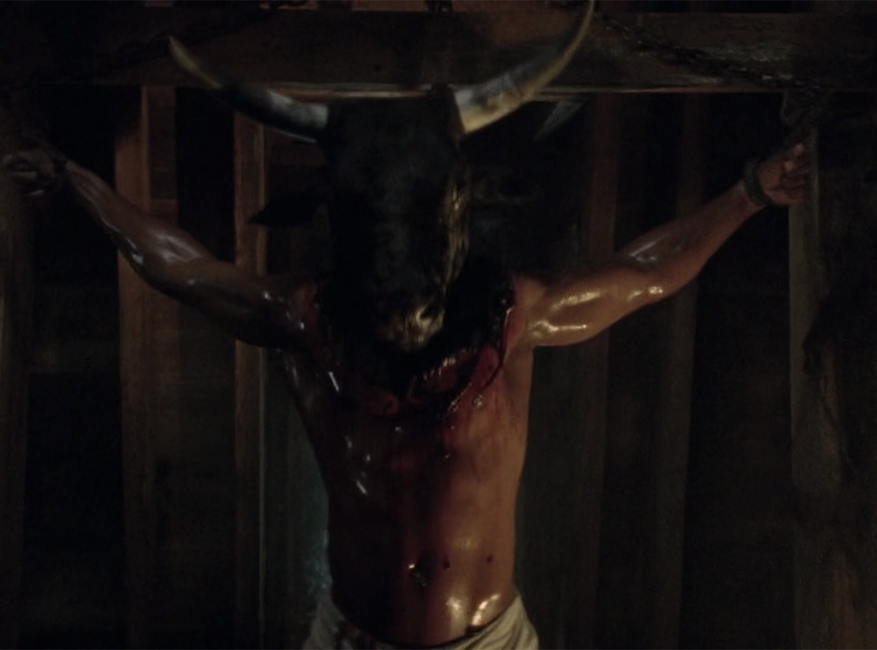 FX
American Horror Story: Queenie and the Minotaur
Remember when a Minotaur (head and tail of a horse, body of a man) was sent to menace Miss Robichaux's Academy in the third episode of Coven and Queenie (Gabourey Sidibe) responded by coming on to and having sex with it, only to be left bloodied and half-dead afterwards? Because we do.
Article continues below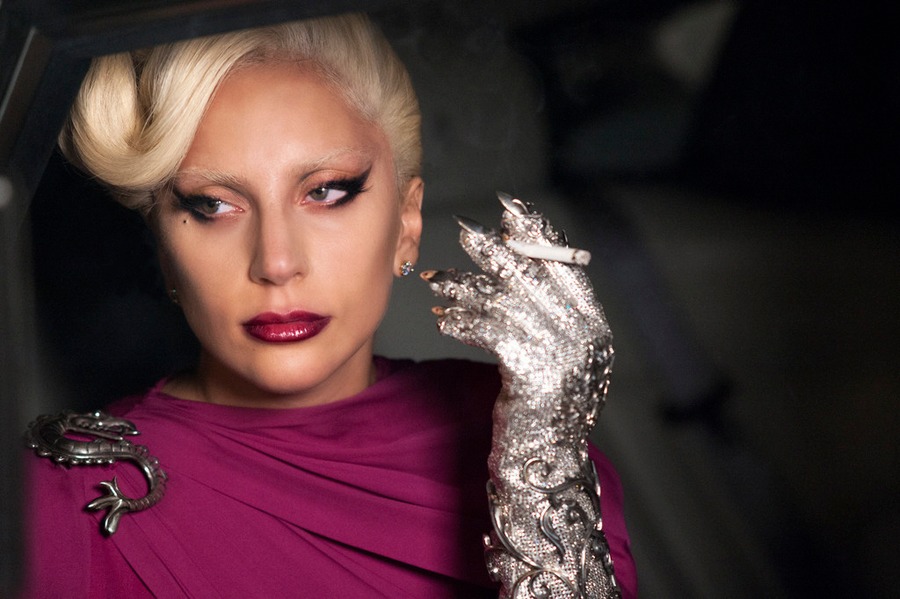 Suzanne Tenner/FX
American Horror Story: Meet the Countess
It wasn't until well into the premiere of Hotel, AHS' fifth installment, that we met new star Lady Gaga's character The Countess. But it was well worth the wait. She and her pal Donovan (Matt Bomer) go out for the evening, find a hot couple to bring back to the bed, get naked, and then slit their throats, drinking and basking in the blood, all while She Wants Revenge's "Tear You Apart" provides the perfect soundtrack. Needless to say, the character's introduction made quite a splash. Pun intended.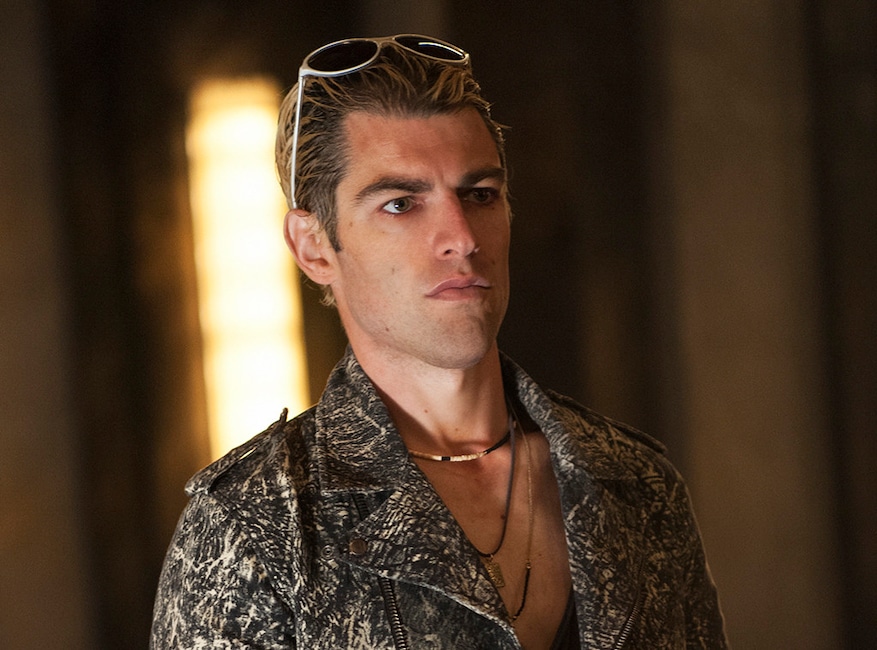 FX
American Horror Story: The Addiction Demon
Elsewhere in Hotel's premiere, we witnessed what Murphy hailed as "the most disturbing scene we've ever done" when Max Greenfield's addict Gabriel checked into the Cortez to do a little heroin and was violently raped by the faceless Addiction Demon and his gigantic, sharp metal dildo. Turned out that Murphy wasn't lying. We still have nightmares about this thing.
Thanks for the memories, Ryan. Here's to 20 more years!
Source: Read Full Article