The Strange Reason Matt James Grew His Beard Out
Shortly after filming "The Bachelor," Matt James decided to grow out his facial hair. He showed up at the "Women Tell All" special with a full, bushy beard, much to the surprise of many. In fact, several memes were created, poking fun at Matt's new look, according to Parade. As the outlet pointed out, several people took to Instagram to let Matt know exactly how they felt about his unkempt look, some simply writing "Shave" in the comments section of his bearded photos. At the time, the "Bachelor" finale hadn't yet aired, and many wondered if the beard meant that Matt was single, perhaps choosing no one in the end — or breaking things off with his season pick — according to Decider. 
Turns out, that's not exactly what happened. Matt ended up choosing Rachael Kirkconnell on the finale, though the two were on somewhat of a break when they filmed the "After the Final Rose" special, which aired back on March 15, according to Entertainment Tonight. Matt still had a full beard on the show — and he kept it for several months, even after he got back together with Rachael a few weeks later. Matt sported his full beard up until September 1, when he finally decided that it was time for a change. The reason? Keep reading to find out — and to learn why he actually grew it out in the first place.
Matt James opened up about why he decided to shave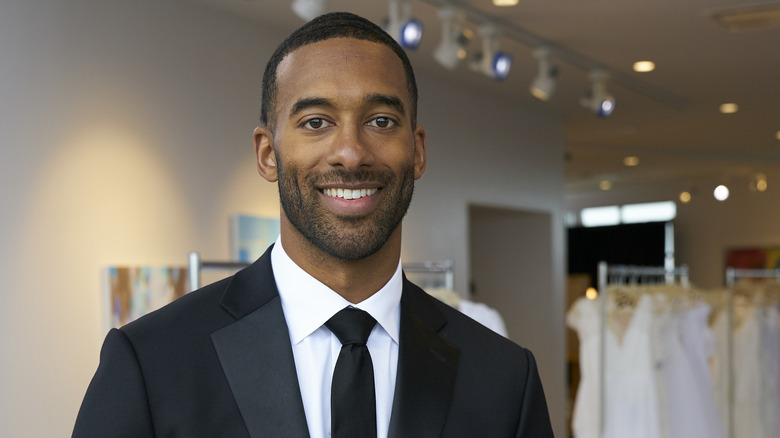 Matt James shaved his beard ahead of his upcoming appearance on "Dancing With the Stars." According to People magazine, the reality star spoke about his new look during a presser after the new "DWTS" cast was announced by ABC. "There wasn't an emotional connection to the beard. It was time to go. It's a new chapter," Matt said, before explaining the real reason that he grew out his facial hair in the first place. "Growing the beard was to get away from looking like the Bachelor because that was something I did. It's not who I am," Matt said, adding, "after the show's over, they're expecting you to act a certain way, look a certain way. I'm Matt James. I'm not here to please anyone. I'm here to be the best version of myself. My appearance has nothing to do with how I treat people."
While it's unclear (though presumed) whether or not Matt's new "DWTS" deal had anything to do with his decision to ditch his facial hair, he will indeed be clean-shaven and fresh-faced for his ballroom debut on September 20. 
How did Rachael Kirkconnell feel about Matt James' beard?
Matt James' girlfriend, Rachael Kirkconnell, seemed super happy that Matt finally shaved. According to Us Weekly, she took to the comments section of an Instagram post in which Matt showed off his new look and wrote, "Do you got a girlfriend," along with two heart-eye emoji. Interestingly, however, Matt told the press that Rachael fully supported his beard. "She was the only person who seemed to love my beard so that's love right there," he said, according to People magazine.
Matt and Rachael have been going strong for several months now, and spent the summer traveling all over the United States together. Although Rachael went to New York City for fashion week and Matt stayed back in Los Angeles for "DWTS" rehearsals, she is expected to be in the audience cheering him on when the show premieres in a couple of weeks. Matt opened up to People magazine about how Rachael has been helping him with his routines when he's back from practice. "She's been my dance partner outside of 'Dancing with the Stars.' I come back and try to apply the same lessons that I learned during my rehearsals. She's been keeping me in shape," he told the outlet. 
Source: Read Full Article