The 'Unwritten' Remix That 'The Hills: New Beginnings' Is Using as a Theme Song Will Give You Chills
Have you heard? MTV is bringing The Hills back. That's right, the show that gave us Lauren's single mascara tear, Speidi, and Kristin's iconic "piranhas" moment is returning with new episodes and story lines—and hopefully many more epicly quotable moments.
The cast gave us some exclusive deets on what to expect in the new show, which you can read all about in our April issue, but here's what else we know about the reboot so far.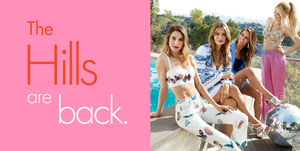 It's called The Hills: New Beginnings.
A teaser trailer dropped during the 2018 MTV Video Music Awards, not long after some of the OG cast members reunited on the carpet. Now the official trailer is out, and it brings back a huge wave of nostalgia.
We all know one trailer wasn't enough, so MTV has hooked us up with a few. Here's one of Spencer and Heidi being the adorable parents that they are, Audrina and Stephanie catching up, and Brody and Justin Bobby catching some waves.
Oh, and here's one where Audrina and Justin Bobby TOTALLY look like they're on a date?! What is even going on there? Also…Mischa looks like she's prepared to bring some serious drama to the show, and I am here for it.
It premieres Monday, June 24.
It's almost here! Do you feel the rain on your skin?! You can watch The Hills: New Beginnings at 10 p.m. on MTV!
The theme song is an 'Unwritten' remix.
I am NOT okay. MTV has unveiled the opening credits, and they are everything I never knew I needed. Obviously, Spencer brought crystals, and everyone looks mad hot. But there's also a remix of the original theme song, "Unwritten" by Natasha Bedingfield. If anyone needs me, I'll be playing it on repeat until I'm sick of it.
Most of the original cast is coming back.
Along with Stephanie, expect to see brother Spencer, sister-in-law Heidi, and their son Gunner, who was born on October 1, 2017. During the big announcement, the Pratts posed on the carpet with Audrina Patridge, Frankie Delgado, Justin Bobby (!), and Jason Wahler and his wife, Ashley. Although Whitney Port didn't make it to the VMAs, she did confirm her return to the show via Instagram the next day.
Throw back to my first VMAs look. Good thing I get to go back and make up for my insane looks on #thehills on the NEW HILLS REBOOT!!! Maybe they'll let me out of the fashion closet this time. #mtv
A post shared by Whitney Port (@whitneyeveport) on
Brody Jenner finally signed on weeks after everyone else made the official announcement.
In September 2018, Brody, who's had his fair share of reality TV (bring back Princes of Malibu, please), announced he's officially joining the cast but mandated it shan't be called a comeback. According to a Hollywood Reporter source, "Everybody wants Brody to come back. He was such a big part of the show." Along with Brody, you can expect his wife, Kaitlynn Carter, to pop up from time to time.
Don't call it a comeback. THE HILLS: New Beginings coming soon to @mtv #haterswillsayitsphotoshopped
A post shared by Brody Jenner (@brodyjenner) on
The show will also feature the next generation, aka adorable babies.
Make way for Delilah (daughter of Jason and Ashley), Kirra (daughter of Audrina), and miracle baby Gunner (son of Speidi).
Thinking of fall while sweating in this ashy air at the fair…. hope everyone is staying safe from the #holyfire . . . #lilahandlou #happiness #family #recovery #bettertogether #love
A post shared by Ashley (Slack) Wahler (@ashleywahler) on
Pool day with this little mermaid 🧜‍♀️
A post shared by Audrina Patridge (@audrinapatridge) on
My bff
A post shared by gunner stone (@gunnerpratt) on
Lauren Conrad and Kristin Cavallari won't be on the reboot.
According to a People source, Lauren is "in a different place in her life," working on her Kohl's line, launching her new podcast, and getting ready for bb number two. Kristin has her own show, Very Cavallari, on E! and is unable to break her contract. Per another People source, Kristin is "still close with Heidi and Spencer and is excited for them."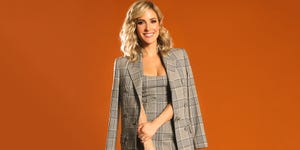 They've been filming since August 30, 2018.
Heidi posted Instagram Stories where she was with the entire cast, and it looked like there was a camera crew in the background. And Audrina and Stephanie were seen on the streets of L.A. with a camera crew.
Mischa Barton—yes, that Mischa Barton—joined the cast in October 2018.
Yes, this casting might feel random, but we're always here for a Mischa Barton television event. Per a Page Six source, the actress who gave life to Marissa Cooper (then took it away when *SPOILER* Marissa died at the end of season three) was "around back in the day and went to all the clubs." That, and the fact that "she could make for good TV."
I ♥️ this woman @whitneyeveport @cosmopolitan women making women feel strong on #internationalwomensday 💪🏼
A post shared by Mischa Barton (@mischabarton) on
A few of the cast members were even filmed reading iconic lines from The O.C. It's hilarious. Also, it might be time for Stephanie Pratt to venture into (openly) scripted television. The girl's got talent!
Mischa Barton sits back in the director's chair and watches her fellow cast members read some of The OC's most iconic lines, she even gives us a Marissa Cooper revival! 🤩 #TheHills: New Beginnings premieres Monday, June 24 on @MTV!
A post shared by the hills (@thehills) on
Heidi was not down for Mischa to join the cast.
Drama already! (I mean, are you surprised?) Heidi was not super thrilled to see Mischa join the cast. She was clearly just feeling a little territorial.
"I think it was a little frustrating for me at first, because, like, we've put our whole lives into this show before and after, so to have someone come in and, like, be so reserved was a little bit frustrating," Heidi told Us Weekly.
Expect to see Pamela Anderson and Tommy Lee's son.
Brandon Thomas Lee, the 22-year-old son of Pam and Tommy, officially joined the reboot cast on October 15, 2018. Per Deadline, details of exactly what he'll be doing on the show have been kept under wraps. Brandon, who loves selfies, most recently appeared in Netflix's Sierra Burgess Is a Loser opposite Internet Boyf Noah Centineo, who will most likely not be on The Hills (he's too busy filming the TATBILB sequel!).
The Hills Have Eyes 👀 @mtv @mtvthehills Let's get ready for a ride!!! 🌹❤️
A post shared by Brando (@brandonthomaslee) on
The cast went back to Les Deux to celebrate the premiere.
Well, I did NOT expect to be so emotional at the thought of a reality TV show cast revisiting their old stomping grounds, but 2019 is just full of surprises, isn't it?
About last night… 🤩 It's only right we bring everyone back to Les Deux! 🥂 In FOUR days, get ready for their New Beginnings! (📸 : Getty Images / Michael Tran
A post shared by the hills (@thehills) on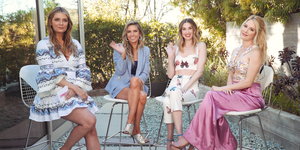 Source: Read Full Article