Uh…Netflix's New Show 'Extreme Engagement' Is Super Problematic
Uh…quick question: who the hell signed off on the new Netflix series, Extreme Engagement? This show is a disaster. It's not even the fun kind of mess where there's some crazy drama that keeps you entertained, like The Bachelorette or something. It's just straight up problematic.
Extreme Engagement is about an engaged Australian couple named PJ Madam and Tim Noonan. They embark on a year-long journey to "explore marriage customs in diverse cultures." Tim is a filmmaker and TV presenter for BBC and Discovery who does this kind of thing all of the time, and PJ is a TV journalist.
But, the problem with the show is that they're not really "exploring" other cultures. They're actually just exploiting them to create content. Here's why.
In the first episode, PJ explains that they've had a rough engagement already. For the past two years, Tim has been traveling around the world for his own projects, and they've hardly spent any time together. They also talk about the fact that their sex life is basically nonexistent, to which I say…did you guys want to maybe address that issue before planning this huge trip? IDK, I'm not a professional, but if one of your top complaints about your relationship is that it's sexless, maybe something actually productive, like couple's therapy, would be a better solution than hurdling yourselves into some ridiculous reality show.
Ok, so I'm not really the Acai breakfast bowl posting type (although ironically, I did have one today). So it's lucky we had a fancy photo shoot the other day so I have something to post. Phew. 😅 Hey check out that … camera rig! Just kidding @PJmadam … the tripod is pretty sexy too. 😉 A few years back we started a company called Wildman Films to make #extremeengagement for @Netflix. If you're wondering who's boss, for heaven's sake don't ask – you're bound to upset one of us. Not sure what has been harder – surviving a year in the wild together or be initiated into the world of business, but I wouldn't have done it with any other. 😍 Photography by: @jeremychohphoto Styling by: @cheryltanstylist Hair (obviously not mine) by: @richi_grisillo Make up by: @mikelesimonbeauty
A post shared by Tim Noonan Extreme Engagement (@timnoonantv) on
Anyway, PJ and Tim's first stop is Cameroon. They stay with a tribe that claims to have the happiest marriages in the world, and hope to pick up a few pointers. PJ explains that the tribe has a possession ritual in which female spirits enter the body and give the secrets to being a good wife and having a happy marriage. Of course, she tries it out.
PJ goes into the ritual with a terrible attitude, and says that she is 100 percent certain that it won't work. Once the ceremony begins, she becomes completely uncooperative, calling it "disgusting" and repeatedly asking "what the fuck is happening?" Tim's also doing a pretty awful job at assimilating, and keeps interrupting the ceremony to bring PJ pillows and blankets. The women in the tribe grow frustrated with both of them, and end up calling the whole thing off. It gets even worse the next day, when PJ says, "I don't mean to be disrespectful, but I think it was probably ambitious to think that a white woman could be possessed, anyway. I gave it a go, I did it my best, but all it was was a sleepless night."
TBH, PJ's response to the situation that she voluntarily entered is extremely ethnocentric. The point of the trip was to learn from other cultures, but instead, she's judging them for not fixing her rocky relationship based on her own inability to participate. I honestly cannot think of a worse look. Unsurprisingly, Twitter has some pretty similar feelings, too.
Just watched the first episode of @netflix 's #ExtremeEngagement and all I can say is it's the most ridiculous colonial BS I've ever experienced. White people talking about how they're white and how they people they're visiting do things that are gross and weird is BLATANT RACISM
Started to watch extreme engagement on Netflix, wow how insensitive to other cultures. I could not watch another minute of two people who clearly are out for themselves whilst disrespecting others. Shame on you both.
I can't wrap my head around my opinions of Extreme Engagement.
The bottom line is that PJ and Tim aren't out to learn about other cultures and apply those lessons to their own failing engagement. They seem to think that roughing it in conditions that they find harsh, but many people live in everyday, will somehow make them stronger. It's totally insensitive to champion themselves for surviving in communities that are simply different from what they're used to.
Besides all of the reasons that Extreme Engagement is problematic…it's not even good. All of PJ and Tim's conversations feel extremely forced and scripted. If you can look past the show's yikes premise, it's still not even worth your time. Basically, in the same way that travel bloggers posing for sponsored content at Macchu Picchu are performing for an audience instead of actually traveling and becoming cultured…Tim and PJ are just out here trying to make a dramatic TV show.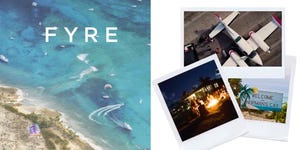 Source: Read Full Article