What You Don't Know About Becca Kufrin
If you don't know who Becca Kufrin is, then you might not be a fan of "The Bachelor" franchise, or you're a newbie when it comes to romance-based reality TV. Becca was first a contestant on Season 22 of "The Bachelor" when she vied for and won the heart of Arie Luyendyk Jr. The two ended up getting engaged before he changed his mind and broke up with Becca in order to ask his runner-up, Lauren Burnham, to take him back. FYI: Arie and Lauren are now married and are the parents of three children. As for Becca, she moved on and became the Bachelorette, which is when she again got engaged, this time to Garrett Yrigoyen. However, after filming ended, Becca became aware of a controversy surrounding Garrett and his beliefs. In time, Becca Kufrin and Garrett Yrigoyen broke up.
Although it would be understandable if Becca was ready to be done with anything and everything having to do with "The Bachelor" and "The Bachelorette," she stuck with Bachelor Nation by acting as the co-host of "Bachelor Happy Hour" and "Bachelor Live." She also dove back into the action when she joined "Bachelor in Paradise."
With all of that happening, you might think you know everything there is to know about the reality TV star. But we've tracked down some intriguing, heartbreaking, and heartwarming facts about this particular celebrity that you might not have been aware of.
Becca Kufrin is open about her political opinions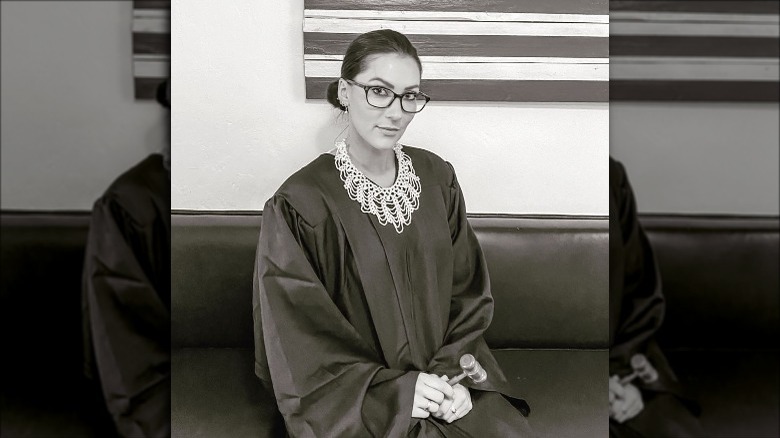 One of the reasons why Becca Kufrin's relationship with her former fiancé Garrett Yrigoyen didn't work out was because of their different views. For instance, Page Six notes that Garrett "came under fire for allegedly 'liking' insensitive content on social media, which included posts that mocked immigrants and the LGBTQ+ community." On top of that, he "showed support for law enforcement … amid the resurgence of the Black Lives Matter movement in the wake of George Floyd's death in police custody." On the other hand, Becca is a Democrat with left-leaning beliefs.
How do we know that? Well, Becca has taken to Instagram to share that she voted for Hillary Clinton and to show her support for Joe Biden. She's also dressed up as the late Ruth Bader Ginsburg and showed up at the Capitol for the Women's March.
In light of the fact that Becca takes politics so seriously that a difference in political opinions ended her relationship with Garrett, she told Insider that while talking to Bachelor Matt James, she explained, "If I was the Bachelorette again, the second I walked into the house after meeting everyone I would say, 'Who did you vote for and why? Let's talk about it.'" Although she added that "there's no way in hell [those behind the scenes would] show that conversation," she still noted that considering what she'd been through with Garrett, "it would be so important" to her.
Becca Kufrin won't quit her day job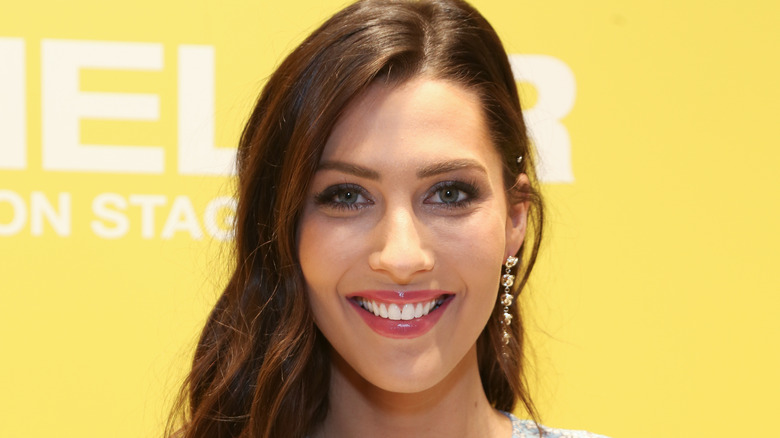 Becca Kufrin may be known for being on reality TV; however, before she became famous, she worked in a different field. Becca was a server at Johnny B's while attending Minnesota State University at Mankato, according to her LinkedIn profile. The university is where she earned a bachelor's degree in mass communications and graduated Magna Cum Laude.
Becca then took a role as an intern at the Cystic Fibrosis Foundation and was there for three months before landing a job with Skyya, which "is an award-winning, full-service PR and strategic marketing communications agency." She started as an account executive and became a senior account executive who works with brands like Oddlot Labs, Cobra Electronics, Unicorn Sleep, and more.
Although it would be understandable if Becca opted to leave her job behind in order to purely pursue her fame-related endeavors, that's not what she wants. "At the end of the day too, I love my career and I love having the drive to wake up and go to work every day. So I still always want that," she told Us Weekly. Saying that she wanted to "eventually start a family, have children, and have a career," as well as have a "partner [with] his own career," she added, "I don't want [the reality TV experience] to change me too much. I still want to be the same old Becca that I was at the beginning."
Becca Kufrin launched her own brand of wine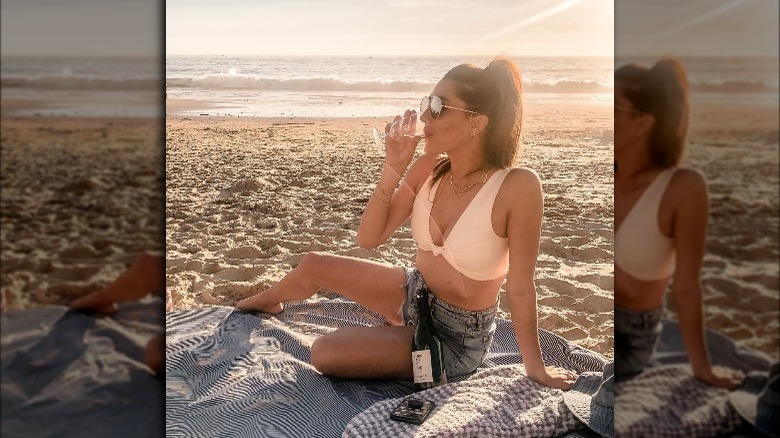 Becca Kufrin may work primarily in PR and communications, but she also has a side gig that involves one of her loves: wine. The reality TV star is the famous face behind Bourdon, a brand that was launched in November 2020, per Instagram, and gets its name from the French word for "bumblebee." That's surely why the company's community group is called the Wine Hive.
As for the motivation behind this endeavor, Becca took to Instagram to explain that she "believe[s] no moment is too small to not have a bottle of crisp, cold bubbly in the fridge at any given moment." That's why her wine is "meant for all of life's moments that deserve to be celebrated and savored."
Becca teamed up with E2 Family Winery to create her wine, debuting with two choices. Bourdon Grand Cuvée is "a pear and pineapple-fronted bubbly balanced with the crisp flavor of green apple and rounded off with toasty coconut and a hint of vanilla for a velvety finish." Bourdon Brut Rosé "offers delicate upfront notes of cherry, pomegranate, and peach that balance off a dry finish with hints of strawberry, watermelon, and blood orange." While Becca may still have a way to go before her brand reaches the level of Aviation Gin by Ryan Reynolds or George Clooney's Casamigos tequila (which were both sold by the stars for staggering amounts of money), it definitely sounds like Becca is offering some tasty wine.
Becca Kufrin got in trouble with the law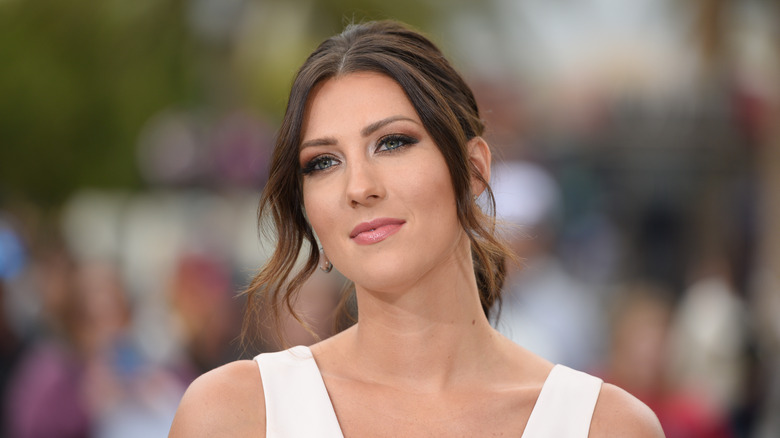 Becca Kufrin clearly loves to drink wine. Unfortunately, it was alcohol that led to trouble with the law for this reality TV celebrity. Indeed, Becca may have wanted to think twice before making a questionable decision where alcohol was concerned. She allegedly indulged in drinking at a time when she wasn't legally allowed.
Back in December 2017, Radar reported that an incident had happened on January 17, 2009. That's when Becca was on the receiving end of a summons that had to do with "underage consumption." In a complaint that was dealt with by the Blue Earth County District Court in Minnesota, which is the star's home state, the situation was supposedly settled when she "pled guilty to the misdemeanor" and "was ordered to pay at least $431 in fines."
While we assume that Becca handed over the money without any objections, it doesn't seem like she's publicly talked about her mix-up with the law. However, what we do know is that the incident obviously didn't ruin her overall lasting enthusiasm for wine.
Becca Kufrin's dad died when she was a teenager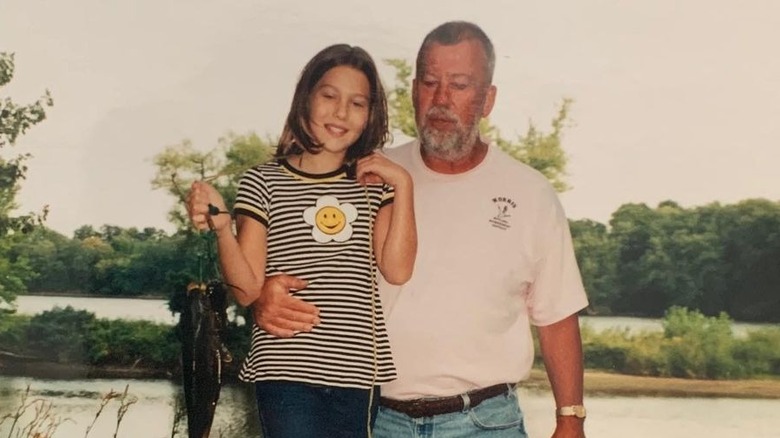 Becca Kufrin endured the tragic loss of her father when she was still young. Becca touched on the subject while appearing on "The Bachelor" (via Bustle), revealing that she was 14 when her dad, Steve Kufrin, had been diagnosed with glioblastoma brain cancer. Johns Hopkins Medicine explains that gliomas are "a common type of tumor originating in the brain," and are a "group of tumors" which "includes glioblastomas."
While Becca's father was "lucky" to live for another five years, he died when she was 19. There's no doubt that his memory has remained an important part of her life. The star regularly posts about him on Instagram, sharing pictures of father and daughter, adding captions like, "Happy Father's Day to my first love. Thank you for showing me what a true man, father, friend, partner, and fighter should be. I'll always think of you when I see the wildflowers [green heart]."
On Sept. 20, 2020, Becca posted a collection of photos of her father as well as a handwritten note he had given to her and wrote that it had "been 4,015 days since I last held my dad's hand and looked into his beautiful blue eyes." She continued, "It's sad and still hard to know my dad isn't here to walk me through some of my biggest life moments, but looking at the bright side — I've had 4,015 days with the best guardian angel ever."
Becca Kufrin's mom had breast cancer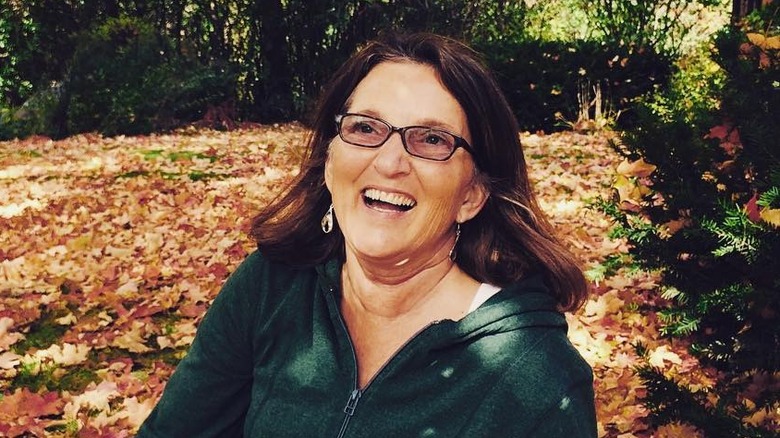 Becca Kufrin has, sadly, watched her mom Jill be diagnosed with and treated for breast cancer. Becca appears to be close to her mother, calling her "momma bear" and her "best friend" on Instagram, even adding a WCW (Woman Crush Wednesday) hashtag.
A former schoolteacher who is now retired, according to Prior Lake American, Jill can be spotted occasionally on her daughter's Instagram account, where Becca opens up about what her mom has been through and what she means to the star. "This beautiful soul never ceases to amaze me. She has endured two major surgeries in the past couple weeks, countless appointments with surgeons and oncologists, and continually deals with uncertainties that come holding cancer's hand," Becca wrote in 2015 alongside a photo of her mother smiling. It was captured "just two days after her initial surgery." Becca also said her mom had "shown more strength, grace, and positivity than most people will ever have in an entire lifetime."
Because, as Becca noted on IG, "cancer is something that runs in [her] bloodline," and is "something [she's] seen far too often in so many members of [her] family," she also uses social media to explain that she gets checked for the disease. Becca urges others to do the same because she wants "everyone … to live the longest, happiest, most meaningful life possible."
Becca Kufrin has a charitable side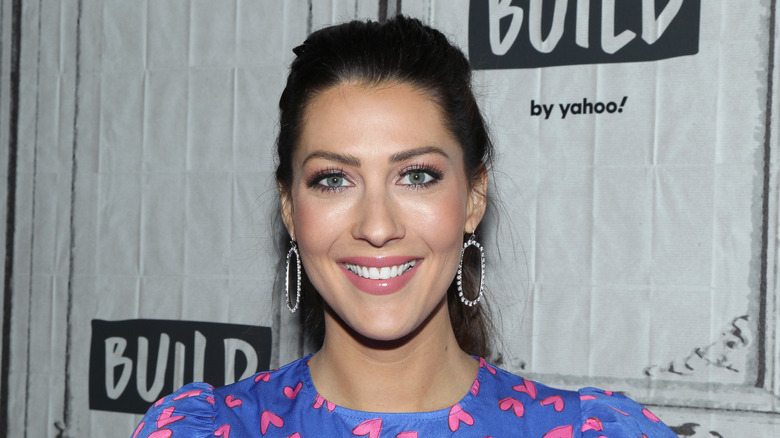 Becca Kufrin definitely likes to help others when she gets the opportunity. That's why she auctioned off a double date with fellow Bachelorette alum Andi Dorfman to raise money for St. Jude Children's Research Hospital in 2020. On top of that, when Arie Luyendyk Jr. broke off their engagement, she ended up combining her love of wine and her charitable side in an unexpected way.
E! News explained in 2018 that after Becca first found fame on "The Bachelor," viewers who had seen what went down on the show took action to help her through her breakup. During the show's "After the Final Rose" special, host Chris Harrison told the reality TV star that fans had pitched in to donate money through Venmo so that Becca could buy herself a drink. Granted, the total amount that was collected ended up being over $6,000, which could certainly pay for a lot of alcohol. That prompted Becca to admit, "I don't even know what to think. I love my wine don't get me wrong, but I don't think I can drink that much."
That's why Becca decided to do something else with the money that had been raised by sympathetic fans. "Donate it!" she told Chris when asked what she intended to do with the cash. "Give it to some cause that needs it." Specifically, she pledged to donate to Stand Up to Cancer. What an awesome way to turn a heartbreaking circumstance into a heartwarming gesture!
Becca Kufrin has a soft spot for Corgis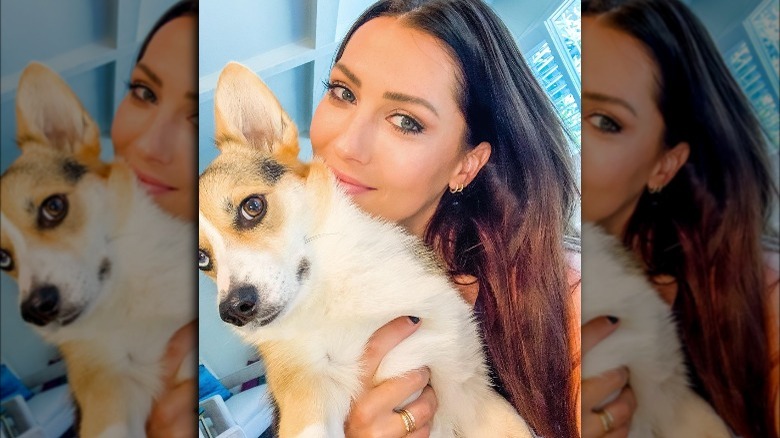 There are famous folks that treat their pets like human children, stars who allegedly treat their pets terribly, and even celebrities who have owned illegal pets. As for Becca Kufrin, her love of animals is simply sweet. Even her Instagram bio identifies her as "just a girl who loves corgis & sweatpants," which is basically a dream, is it not? It certainly seems to be for this reality TV star. She shared a photo of herself on Instagram which shows her holding one pup while getting a visit from another curious canine with the caption, "Adding dog whisperer to the resume."
Although we have a feeling that Becca adores all dogs, she has a special soft spot for Corgis. That's why it's not surprising to find out that she has her own dog from the short-legged breed, named Miss Minno, who, of course, has a social media account with over 37,000 IG followers.
As for how Becca feels about her canine companion, she shared a pic of Miss Minno on the pup's second birthday that showed the dog wearing a birthday hat and sitting in front of cupcakes with candles. "[Y]ou've made my life and heart so full," the star wrote. She went on to add that she doesn't "know what [she would] do without [Miss Minno's] ear kisses, morning snuggles, and vocal sass," ending her message with, "Keep peein on every bush you walk by baby, the world is your oyster."
Becca Kufrin is a Stevie Nicks superfan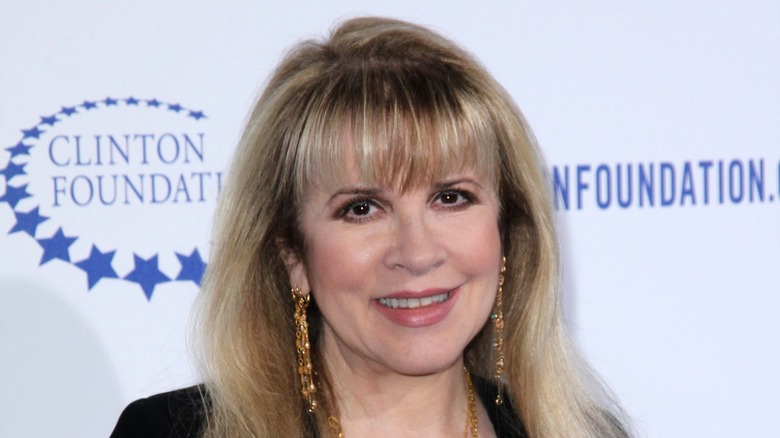 Becca Kufrin clearly thinks highly of both her family and her pets, and that's why we know she's a massive fan of Fleetwood Mac singer Stevie Nicks. Back in 2017, she shared a photo of the music industry icon from a performance at the Minnesota State Fair and added, "Vintage is in and all of my children and dogs will be named after this angel." She also included hashtags like "golddustwoman" and "bowinthepresenceofgreatness."
On top of that, if you click on the "Beats" highlight on Becca's Instagram profile, the very first story is a shot of Nicks' "Show Them The Way." Later in the story highlight, there's also a glimpse of a copy of Fleetwood Mac's classic "Rumors" album on vinyl that Becca apparently tracked down.
In fact, Becca is so smitten with the woman behind "Go Your Own Way" and "Dreams" that she uses comparisons to Stevie Nicks to compliment others. On a special occasion, she hopped onto IG to write, "Happy birthday to sister and one true soulmate @kufyem. You are the Rhiannon to my Stevie Nicks, the pantsuit to my Hillary, the ketchup to my every meal, the habit to my Sister Mary Clarence, the RuPaul to my Michelle, the good hair to my Becky…" What a politics-savvy, pop culture-filled post of props!
Becca Kufrin appeared in a music video before she was famous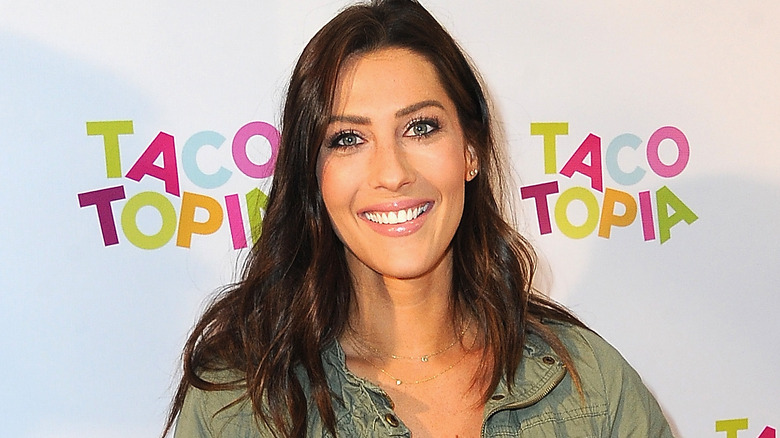 If you recognized Becca Kufrin when she turned up on "The Bachelor" but couldn't figure out where you had seen her before, it may have been in a music video. "My kind of #trouble," she wrote on Instagram in 2016, along with a shot of her appearance in the video for "Uh Oh." She added, "Treat yoself and get the album, my friends [SmithNThompson]."
A pair of performers that hail from Minnetonka, Minnesota, the website for the duo — which is made up of Tyler Thompson and Collin Smith — notes that they have been friends since childhood and have been recording together since 2015. They refer to their sound "as Acoustical Alternative" and cite a blend of country, hip-hop, and blues.
Becca is easy to spot in the video for "Uh Oh," which sees her enjoying a night out with friends. First getting ready with her girls before dancing as the musicians play, she then wanders around on train tracks and acts as a photographer for a casual outdoor photoshoot. Although she likely didn't have as many social media followers back then as she does now, those who watched Becca's appearance in the video liked what they saw, with one leaving a heart eyes emoji and another writing, "Video Vixen!!"
Becca Kufrin made a last-minute move to a new home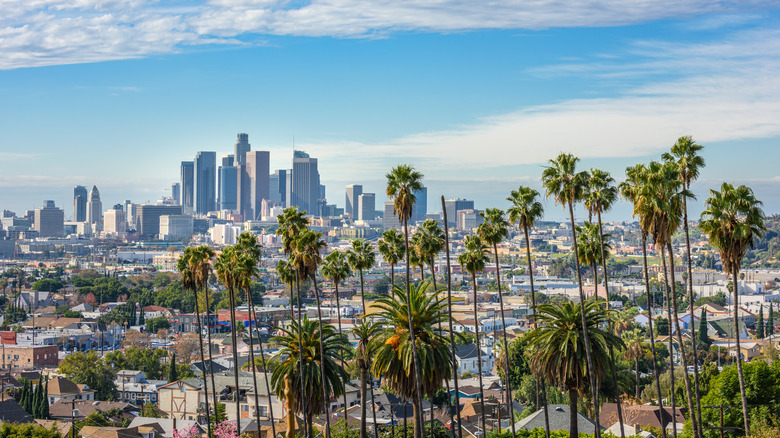 Becca Kufrin is a Minnesota native, but in September 2020, she made a sudden move that was, in part, likely sparked by something that happened in her personal life (but may end up helping her professional endeavors). Entertainment Tonight reported that after breaking up with Garrett Yrigoyen, Becca packed up her belongings and relocated to Los Angeles.
Becca announced her big move on Instagram by sharing a shot of herself standing in front of a wall that says, "Hello, Los Angeles." Noting that she's now "officially an LA resident," she explained the circumstances behind heading west, writing, "After a crazy couple of months, I made the last-minute decision to sign a lease (sight unseen) in an area that I was totally unfamiliar with. But I'm here to embrace this new adventure and put down some roots in the City of Angels during this next chapter in my life."
Asking her IG followers for recommendations for "the best taquerias, mouthwatering bakeries, Farmer's markets, evening cocktail joints," as well as dog parks, beaches, and spots to watch the sunset, Becca found that fellow famous friends were clearly thrilled to have her close by and were happy to help out. Andi Dorfman wrote (via Life & Style), "So many girls nights ahead! I cannot wait!" Cassie Randolph added, "Yess!! Best news!" As for Katie Morton, she was excited about getting their pups together, writing, "Back to the dog park we go."
Source: Read Full Article