What You Don't Know About Robin Roberts
Robin Roberts is no doubt one of the most beloved news anchors in America. The star has been a morning show staple ever since she began appearing on "Good Morning America" in 1995 and she's pretty much gone on to capture the nation's heart with her professional yet personal approach to delivering the news to human interest stories, and pretty much everything in between.
The star has also gone on to host a number of her own shows for ABC, including getting major interviews with some of the biggest celebrities and public figures in the world, including scoring tell-alls with the Obamas (more to come on that later), getting candid about serious racial allegations with "Empire" star Jussie Smollett, and who could forget that infamous sit down with Chris Brown back in 2011?
Now, everyone knows about the journalist's long history with "GMA," but what are a few things you don't know about the woman who wakes up America every morning? Scroll on to find out what you never knew about Robin Roberts.
Robin Roberts is a big-time producer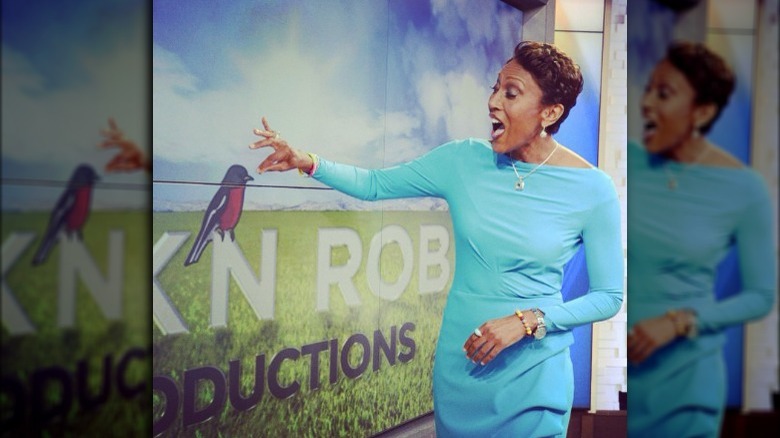 While pretty much everyone knows Robin Roberts is one of "Good Morning America"'s most beloved anchors, not everyone knows that the star actually has a lot going on behind the cameras, too. Roberts is a big-time producer and launched her very own production company, Rock'n Robin Productions, in 2014 (via The Wrap). The company is behind numerous documentaries and specials, including "Shark Attack: The Paige Winter Story" and History's "Tuskegee Airmen: Legacy of Courage," with Roberts acting as the president and "the driving force behind its mission to entertain, enlighten, and inspire," according to Rock'n Robin Productions' official website.
Roberts also has her own line of movies and documentaries under the title Robin Roberts Presents, which air on Lifetime. She first began working with the network in 2018 when The Hollywood Reporter confirmed Roberts had signed on the dotted line to create specials based on the lives of world-renowned activist Mahalia Jackson and kidnapping survivor Alexis Manigo. It seems like Roberts' productions are certainly a hit, too. In 2020, Deadline reported that the news anchor's contract with Lifetime had been extended for four more new movies.
Roberts also serves as executive producer on a number of projects and teamed up with none other than LeBron James on her Disney+ series, "Turning the Tables with Robin Roberts," which sees her chat with a wide range of female celebrities about all sorts of topics (via Business Wire).
A country radio station got Robin Roberts into the broadcasting game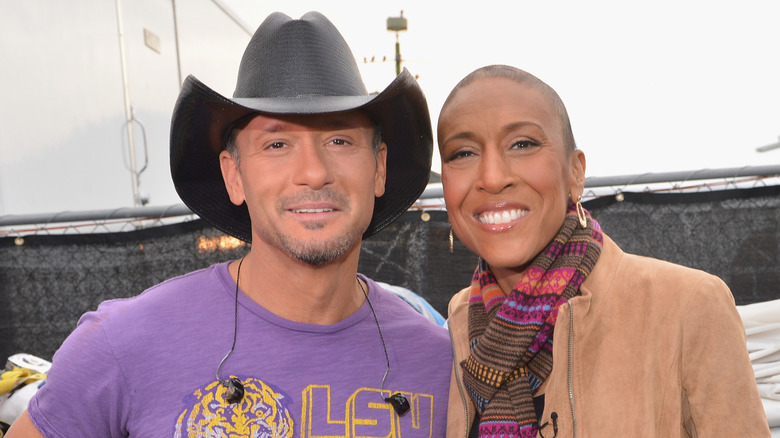 Robin Roberts is a big country music fan, so much so the genre actually gave her her big broadcasting break. Yes, Roberts started out her glittering career at the country music radio station WFPR-AM in Hammond, Louisiana, which is where she started learning all the tricks of the trade while spinning the biggest country hits (via ABC News). At the time, Roberts went by the pseudonym Robin Rene (via The Boot), which is her first and middle name.
Despite now living in the bright lights of New York City, the Mississippi native hasn't lost her passion for the genre. Roberts has chatted to country music's biggest stars on "In the Spotlight with Robin Roberts," including specials chatting with Carrie Underwood, Brad Paisley, and LeAnn Rimes, often in preparation for the CMA Awards.
"I began my broadcasting career as a country music DJ in college. So the trade-off was I wanted to be the sports reporter, and they were like, 'Okay, you can, but you have got to DJ,' and I was like 'Okay, what kind of music do you play?' and they were like 'country,'" Roberts recalled to USA Today in 2013 of how her country music love began. "I have had from that early age a genuine fondness for it and have seen it grow and have gotten to know so many of the artists and they are so down to earth. And it's just refreshing."
Robin Roberts makes serious bank from Good Morning America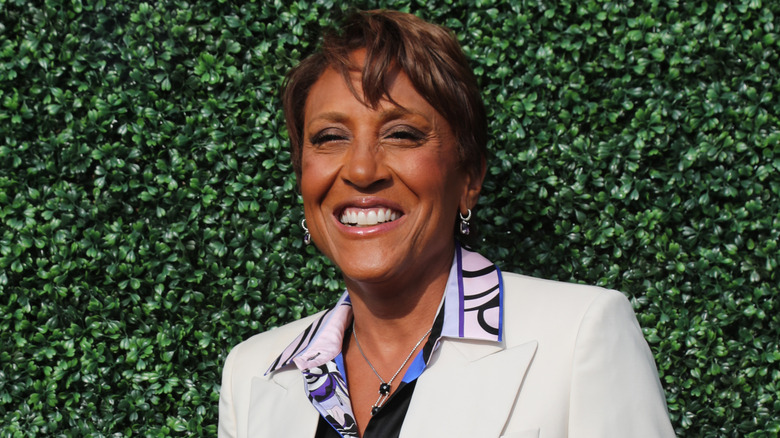 Robin Roberts makes bank. And we mean bank. While it's no secret that big-time TV gigs pay a lot of cash, exactly how much Roberts makes may come as a surprise to people. To get an idea of how much the star is really raking in from her various TV jobs, Celebrity Net Worth estimates Roberts' net worth to be a whopping $45 million. Woah!
As for how much she specifically gets paid to appear morning after morning on "Good Morning America," Radar claimed back in 2013 that her contract on the ABC series earned her $20 million a year, much higher than the $14 million originally reported. While that's no doubt a sum not many would turn down, it sounds like Roberts could have gotten even more cash from ABC. 
"The reason 'GMA' skyrocketed to number one in the ratings is because of Robin, and everyone involved in the contract talks recognized that. Frankly, Robin could have demanded $25 million, and ABC would have paid it to her," a source claimed to the outlet at the time. They added that the star "is worth it, and deserves the hefty payday." Well, we're certainly not denying that. There's been a little speculation about exactly how much Roberts gets to kick-off America's day, though. The Richest claimed in 2016 that her salary is a little closer to $18 million a year, which, frankly, is still seriously impressive.
Robin Roberts is all about giving back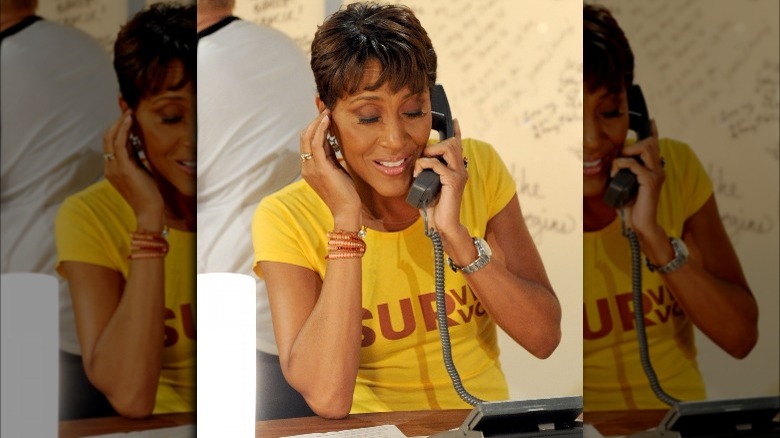 With a serious bank balance comes a serious dedication to giving back for Robin Roberts. Over the years, the star has been a big advocate for giving back, supporting and bringing attention to multiple important charities. One of Roberts' biggest non-profit crusades has been as an ambassador for Be The Match, as she teamed up with the charity in 2012 to raise awareness of the importance of bone marrow donations. The star joined forces with the charity not long after confirming she herself needed a bone marrow transplant after being diagnosed with myelodysplastic syndrome (MDS), but was lucky enough to receive a donation from her sister.
Roberts has also been a very big supporter of the V Foundation, working tirelessly to raise money to better improve the chances of cancer patients surviving the disease. The star — who was diagnosed with breast cancer in 2007 — even has her own donation page to drum up funding that goes towards cancer research and programs.
Roberts has also used her star power to raise awareness for a slew of other charitable causes, including the American Heart Association, American Stroke Association, City of Hope, the Sherry Lansing Foundation, and Stand Up To Cancer. Roberts also puts her charitable side on show as the host of the "Good Morning America"'s "Thriver Thursday" segment, in which she helps others experiencing health and personal issues.
Robin Roberts witnessed a miracle with her own eyes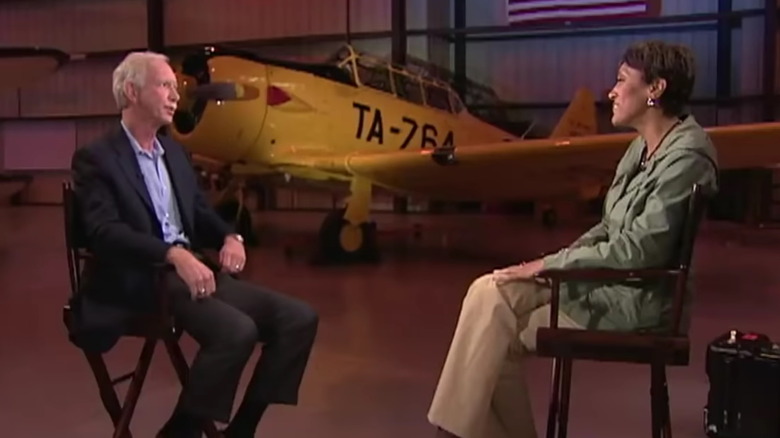 Robin Roberts may be responsible for a few miracles through her charitable efforts, but she's also witness to a real-life miracle firsthand too. Roberts was one of the many New Yorkers who saw with her own eyes the horror of US Airways Flight 1549 having to make an emergency landing in the Hudson River in January 2009, as she saw the whole thing from her apartment which looks out over the iconic body of water.
Roberts has spoken out a few times about what she saw that day, including sharing her experience with Tom Hanks on "Good Morning America" in 2016 when he appeared on the morning show to promote "Sully," his movie about the incident. Hanks portrayed Chesley "Sully" Sullenberger in the movie, the pilot who managed to land the plane safely on the water with everyone on board surviving. Roberts told Hanks she thought she was witnessing a second 9/11 when she first saw the plane flying low over Manhattan, and she was actually the second person to call 911 about the incident. A month earlier, Roberts teased Hanks' appearance on "GMA" after a fan tweeted her about witnessing what could have been one of the worst air disasters in history. "I did call 911..saw the landing from my apt balcony. Truly a miracle!" Roberts wrote on Twitter.
In 2010, Roberts even met up with Sully for a flight in a small jet for a "Good Morning America" segment.
Robin Roberts is a member of the Women's Basketball Hall of Fame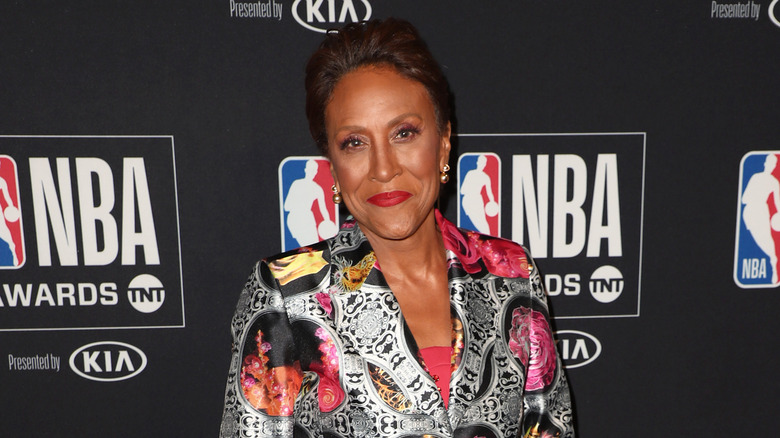 Who knew? Before becoming a household name, Robin Roberts was actually a basketball master. Yes, the star is super sporty — so much so she's actually a member of the Women's Basketball Hall of Fame. Roberts was inducted into the prestigious club back in 2012 for "having significantly impacted the game of women's basketball" (per Yahoo! News).
Equally impressive is Roberts becoming the 10th honorary member of the Harlem Globetrotters in 2015. Yes, really! The team announced on Facebook that she'd been chosen because of her dedication to her charity work. They're not the only big honors she's received in the sporting world, either. In 2001, she also received the Mel Greenberg Media Award, presented by the Women's Basketball Coaches Association. According to the award's official website, the honor "recognizes a media, marketing or sports communications professional who has best displayed a commitment to women's basketball and to advancing the role of the media in promoting the women's game."
So, what exactly is Roberts' connection to the sport? She was an avid player during her time at Southeastern Louisiana University (where she also played tennis) and went on to cover many sporting events in her career. Per her Women's Basketball Hall of Fame bio, she started her TV broadcasting carer as a sports reporter in Mississippi before going on to work for ESPN in 1990.
Robin Roberts has a long list of very important firsts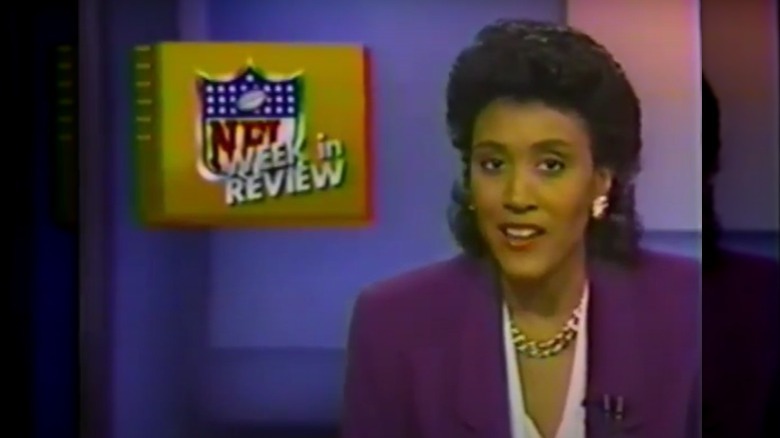 In regards to Robin Roberts' sportscasting career, it's her hard work bringing sports to the masses that allowed her to break down some very important barriers and achieve some major firsts.
Roberts was ESPN's first-ever Black female sports journalist when she joined the team back in 1990, per her biography. But that's not all, she was also the first female Black female host of the sports show "Wide World of Sports," as well as being the first woman ever to host a National Football League pre-game show on network television. Now that's seriously impressive.
Roberts has been vocal about how she wanted to change the world of sportscasting for the better for her fellow females and people of color but admitted to AZ Central in 2014 she could "feel beer cans pelting the TV sets" when she first started her career. She explained she had a lot of "admiration" for the men who came before her but "didn't want to be stuck talking to the coaches' wives" and wanted to be in the thick of things as a sports anchor. "No one wanted a woman sports broadcaster in the deep South but news was a four-letter word to me. I was just so passionate about sports," Roberts said of how she had to persevere just to get her foot in the door. Fortunately, she never gave up, and the rest, as they say, was history.
Robin Roberts was voted the 'most trusted person on television'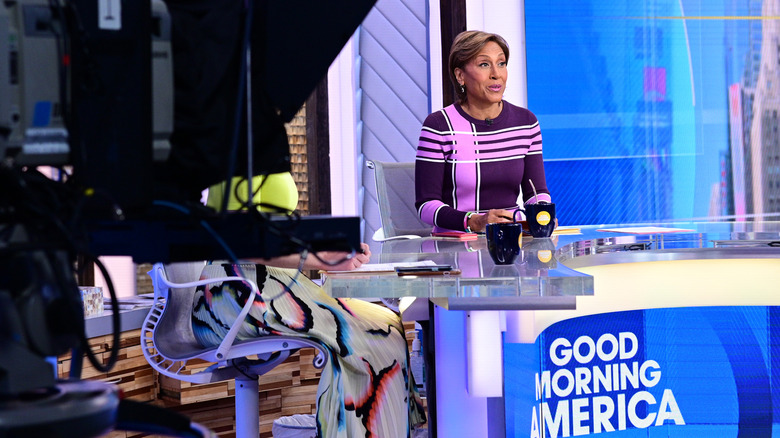 It may have been that determination and perseverance that played a big part in the next thing you probably never knew about Robin Roberts. Back in 2013, almost 20 years after debuting on "Good Morning America," it was revealed that the star had been voted "the most trusted woman on television" in a nationwide poll.
In the since-deleted Reader's Digest study (via PR Newswire), 1,000 Americans were asked to vote on how trustworthy they found 200 famous faces, including Katie Couric, Barbara Walters, and Anderson Cooper. Roberts came in 12th place on the list after a whopping 56% of Americans polled claimed they trust her, putting her in the position of being the most trustworthy TV personality, right behind Alex Trebek.
Speaking about the honor, Roberts responded by saying "it means everything" for her to be bestowed the title and wished her parents were still alive to hear about it (via Jezebel). "It would mean so much to them because all they wanted was for us to grow up to be good people. They didn't care that sister is a social worker and brother is a teacher and that two of us are on TV. All they wanted was for us to be trustworthy citizens," she said. Roberts added, "There's a responsibility that goes with that, and it's not something I take lightly."
Morning meditation gets Robin Roberts ready for the day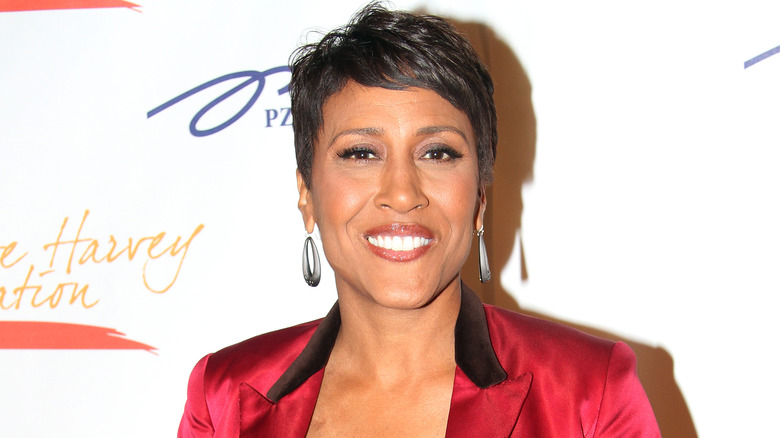 Ever wondered how Robin Roberts is able to face the day every day in such a calm and collected manner? Well, all her years of experience and natural journalistic ability probably play a part in her never-flustered demeanor on "Good Morning America" day after day, but it turns out Roberts also has a little secret.
She told Women's World in 2020 that she'd started meditating every morning a few years earlier, which went a long way in helping her to stay calm. Roberts confessed she "wasn't sure about it at first" because she thought she'd have to completely "clear" her mind, but really got into it after realizing that was "a myth." She explained, "For me, it's about quieting my mind and body, which is great for easing stress, but is also calming and invigorating at the same time. Feeling my heartbeat slow and listening to my breath is very energizing for me."
It turns out it's not just in the morning where the star gets in a little mediation time, either. The "Jeopardy!" guest host shared she's been trying to fit what she described as "a second short meditation break" into her day a little later because it has such "wonderful effects" on her body and mind. "It really does bring me so much energy and peace," she said. How this busy lady finds time to meditate twice a day, we don't know!
A career-defining moment made Robin Roberts think she was going to get fired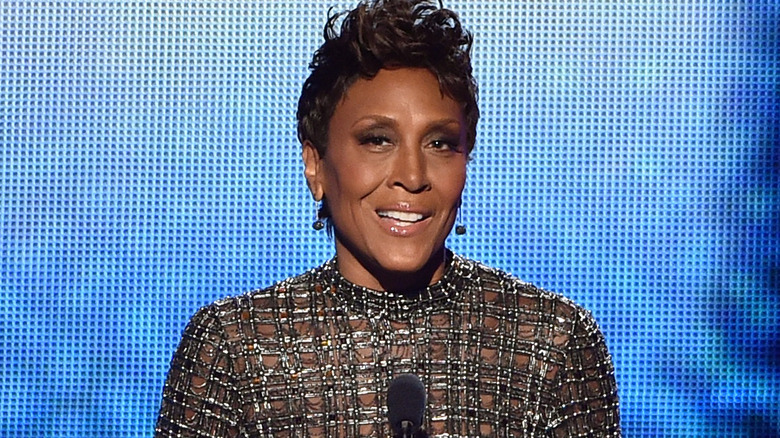 A moment that went on to be lauded as one of Robin Roberts' most touching and real was actually the moment Roberts thought would end her career. Many fans may still remember the "Good Morning America" footage of the anchor in her adopted home state of Mississippi, where she saw firsthand the devastation caused by Hurricane Katrina in 2005.
Roberts was born in Alabama but grew up in Mississippi and returned to the town her family still lived in to report on the horrific natural disaster — which, understandably, left her highly emotional. "When I went on the air, I cried, because it was my home that was devastated along the Mississippi Gulf Coast," Roberts recalled of the career-defining moment in a 2019 interview with ET. She thought becoming so overwhelmed would get her "fired" from her prestigious "GMA" gig, admitting, "This was 2005. No one showed emotion on the air as an anchor." But quite the opposite actually happened, and Roberts instead learned an invaluable skill. "The way people responded and told me I can be authentic, I really appreciated that. It really helped me with my storytelling and the authenticity… I think being vulnerable and showing people that, that truly was a defining moment for me," she said.
Roberts has spoken out about the disaster a few times since and returned with the "GMA" cameras in 2010 to see the progress being made.
Robin Roberts considers the Obamas personal friends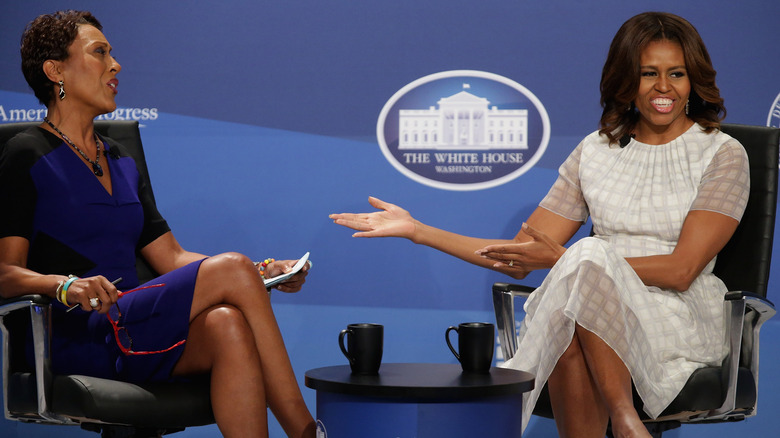 Not many people can claim to be besties with the Obamas, but that's yet another impressive accolade Robin Roberts holds that we're totally jealous of. Roberts considers Michelle Obama and former President Barack Obama to be personal friends, so much so that her rapport with the couple has allowed her to score some major exclusives with the two over the years.
Back in 2012, it was Roberts who got the scoop for Barack's infamous interview regarding gay marriage, with a source claiming to Politico that he chose to go to Roberts because sitting down with her was considered "friendly turf." It's thought Roberts' love of sports also created a great foundation for their friendship, as the insider noted that their mutual passion is "part of that rapport." But it's not just Barack who turned to Roberts to share big news. Roberts also scooped an exclusive with Michelle in November 2018 when the former First Lady candidly spoke out about her childhood, her struggles with infertility (including her experience with a miscarriage), and marriage counseling sessions with Barack.
A few years earlier in 2013, Michelle was also very vocal in her support for Roberts after she formally came out as gay. "@RobinRoberts, I am so happy for you and Amber! You continue to make us all proud," Michelle tweeted from her now archived First Lady Twitter account.
Robin Roberts was in a private relationship for almost a decade before coming out as gay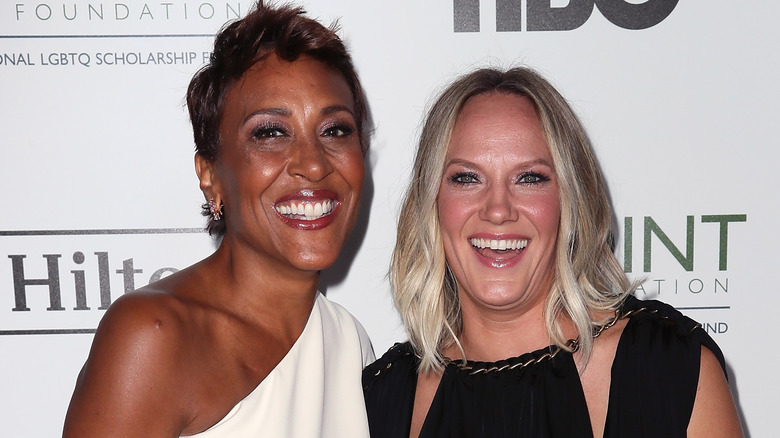 Robin Roberts made the decision to not formally address her sexuality for several years after stepping into the public eye and kept her relationship with her girlfriend, Amber Laign very much under wraps for almost a decade.
Per TMZ, the two first started dating in 2005, but Roberts didn't publicly acknowledge her sexuality or her relationship in any kind of major way until she shared the news via Facebook in December 2013, referring to Laign as her "long time girlfriend." But that doesn't mean it was a big secret. The outlet claimed that Roberts was very much out to her family and friends — who also knew about her relationship — and described Laign as Roberts' "rock" during both her breast cancer and Myelodysplastic Syndrome diagnoses. 
As for why Roberts made the decision to publicly come out to her fans when she did? Well, TMZ claimed that she simply "never felt the need to tell the world" about that side of her personal life, "but at the end of such a difficult year she wanted to acknowledge what Amber did for her." Aww! Can you say total couple goals? Roberts has since gone on to help others share their truth with the world, including former "The Bachelor" star Colton Underwood, who publicly came out during a bombshell "GMA" interview in April 2021.
Robin Roberts has the most cringeworthy worst interview story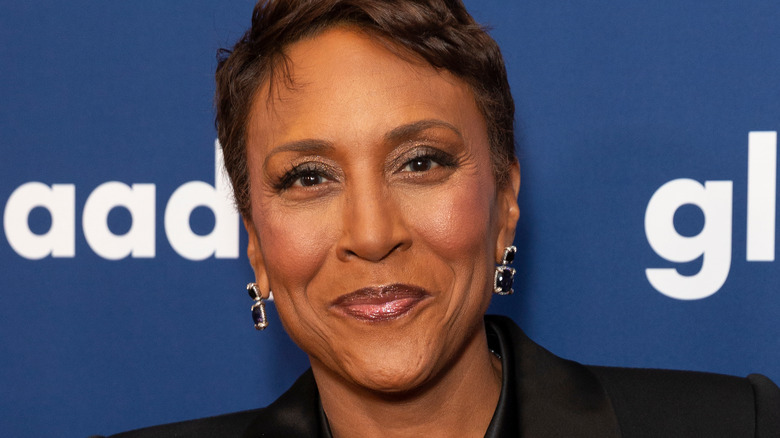 Yikes. While Robin Roberts is pretty much always cool and collected on "Good Morning America" – even while delivering some heart-wrenching and difficult hard-hitting news stories — even she's not immune to a super awkward interview moment. Roberts was asked to recall her most embarrassing interview during a March 2021 appearance on "The Ellen DeGeneres Show" and, yep, this one's a humdinger. The anchor recalled that she was all excited for what she described as her "first big interview" while still in college when she, erm, wet herself. Yes, really.
DeGeneres being DeGeneres, she asked for clarification on what happened, joking, "You spilled water on yourself?" to which Roberts teasingly responded, "Oh yes, I'll go with that. I wish. No, it was like, clean up on aisle one after I did the big interview." Fortunately, it seemed like no one noticed the mishap as Roberts confessed it was luckily "pretty hard to notice." Phew!
As for why she couldn't seem to control her bladder, Roberts confessed she was just really "nervous" and wanted to make a good impression on the unnamed interviewer and the media team. "I think I really did," she joked, before admitting to DeGeneres, "I can't believe I've gone this long with knowing you and being on your show and haven't shared it until now." Well, at least she got that embarrassing moment out the way before sitting down with Michelle or Barack Obama, right?
Source: Read Full Article